Animanima Festival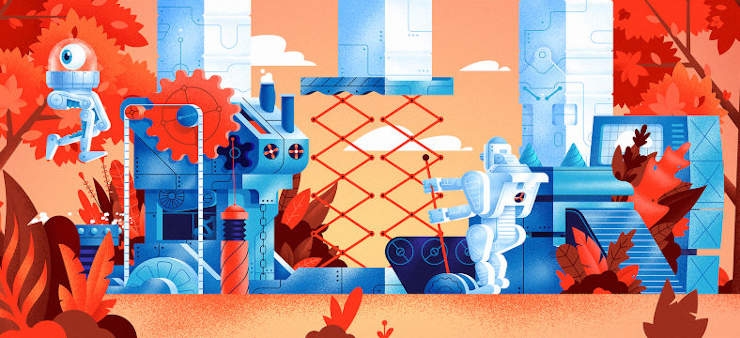 Category
ANIMATION & FILM FESTIVALS
Deadline | Event Dates (period)
Email
This email address is being protected from spambots. You need JavaScript enabled to view it.
Final submission deadline
2020-11-07
Submission/Registration Fee
No
Festival Description
The festival is based on a concept of international review programmes, including presentations of animators' portraits, the school of animation, authors retrospective and presentations of animated films studios, as well as accompanying fringe programmes (lectures, exhibitions, multimedia events).
(Archive)
2022 Festival Coverage
2020 Festival Coverage:

(Festival Statement): The general health situation caused by the COVID-19 Virus pandemics, as well as the incomplete and uncertain predictions regarding its further development have posed a brief dilemma regarding the format for this year's Animanima Festival edition. Determined however to behave in a responsible and professional manner in line with expectations of our fellow citizens, we have decided to prevent any risk and stage an ONLINE edition of the Animanima 2020 Festival.
You are welcome to watch the auteur animated films from the latest world production, animated commercials, children's programme and other featured contents from your home, at any time that best suits you between 5th and 7th November this year. We hope that our next edition planned for autumn 2021 will be a time for reunion at the cinema hall!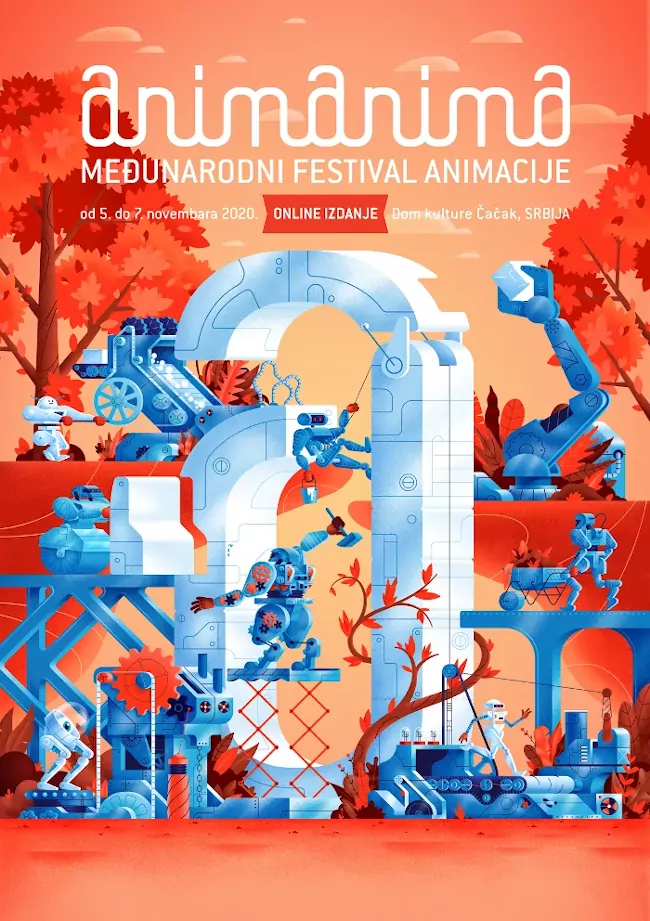 2019 Festival Coverage:
Selection results
40  films from 23 countries, taking part in this year's competition programme
COMPETITION 01 Wednesday, September 4th | Grand Hall | 8:30 pm
My Generation, Ludovic Houplain
The Call, Anca Damian
1 Meter/Hour, Nicolas Deveaux
Matches, Géza M. Tóth
Selfies, Claudius Gentinetta
Mr. Mare, Luca Tóth
No Gravity, Charline Parisot, Maud Lemaître-Blanchart, Ludovic Abraham
Bavure, Donato Sansone
COMPETITION 02
Thursday, September 5th | Grand Hall | 7:00 pm
Around the Stairway, Die Wimmelgruppe
Monster, Martin Snopek
Kids, Michael Frei
Flowing through Wonder, Joanna Lurie
One of Many, Petra Zlonoga
Gravity, Amir Admoni
Paper or Plastic, Nata Metlukh
Nettle Head, Paul Cabon
COMPETITION 03 Thursday, September 5th | Grand Hall | 8:45 pm
Metamorphosis, Carla Pereira, Juanfran Jacinto
The Opposites Game, Anna Samo, Lisa LaBracio
Movements, Dahee Jeong
Windshriek, Frédéric Doazan
Le Mans 1955, Quentin Baillieux
Fest, Nikita Diakur
I′m coming out for cigarettes, Osman Cerfon

COMPETITION 04 Friday, September 6th | Grand Hall | 7:00 pm
Intermission Expedition, Wiep Teeuwisse
Imbued Life, Ivana Bošnjak, Thomas Johnson
Florigami, Iva Ćirić
Purpleboy, Alexandre Siqueira
Grand Bassin, Héloïse Courtois, Victori Jalabert, Chloé Plat, Adèle Raigneau
Love He Said, Ines Sedan
Deep love, Mykyta Lyskov
From Under Which Rock Did They Crawl Out, Daniel Šuljić
COMPETITION 05 Friday, September 6th | Grand Hall | 8:45 pm
Iron Me, Ivan Rabbiosi
Per tutta la vita, Roberto Catani
Passage, Igor Ćorić
Uncle Thomas, Accounting For The Days, Regina Pessoa
Animals, Tue Sanggaard
Traces, Sophie Tavert Macian, Hugo Frassetto
Count Your Curses, Lorène Yavo
Memorable, Bruno Collet

Jury: Franck Dion:  Paola Bristot, Jossie Malis 
Programme Highlights:
Visiting Studio:

Papy3D  is a production company based in Paris, France founded by a fellowship of animation film directors. As they all had experience in directing animation films, they wanted to create a production company which would allow them to have a better control over their work. Papy 3D are Jérémy Clapin, Gilles Cuvelier, Franck Dion, Sarah Van Den Boom (directors), Pierre Caillet (composer and sound designer) and Richard Van Den Boom (administrator) and Animanima 2019 proudly presents a very special programme of Papy 3D studio.
 CONTEMPORARY ITALIAN ANIMATION: Under the title Anime Italiane, curator of the programme Paola Bristot reveals ten excellent films created by Dario Imbrogno, Valerio Spinelli, Mauro Carraro, Ahmed Ben Nessib, Elisa Talentino, Beatrice Pucci, Michele Bernardi, Emanuele Kabu, Francesco Rosso, Andrea Martignoni & Maria Steinmetz.
The Bendito Machine Universe: Bendito Machine is a series which in many ways is unlike anything else seen at the world animation scene over the past decade or so, the period during which its six episodes were produced. Ironically titled All that you need, Obey his commands or Pull the trigger, his stories are phantasmagorical and occasionally hallucinating, yield a mirroring depiction of the human kind. The Bendito Machine Universe will be presented by its author in person, the designer and animator from Spain, Jossie Mallis.
VISITING SCHOOL: MOME ANIM  Young authors from MOME Anim, animation programme of prestigious Moholy-Nagy University of Art and Design from Budapest, Hungary. Curated by Luca Tóth.
Making of RUBEN BRANDT, COLLECTOR Psychotherapist Ruben Brandt is tormented by nightmares filled with scenes resembling famous works of art. Convinced that his suffering will end once he gets to own these works of art, he hires professional thieves to steal them from the world museums. The first full-feature film of director Milorad Krstić has a fascinating visual appearance, while the process of its creation will be the topic of the talk by Danijel Milošević, sound designer and editor of this film.
The ANIDOX programme is part of the Animation Workshop in Viborg, Denmark. It is a creative platform for development and production of documentary projects comprising a laboratory, professional training courses, residential programme and master classes. ANIDOX LAB brings together documentary producers, animation directors and creative producers within their joint projects, which will be the topic of video-link assisted talk by Uri Kranot, main instructor.
Festival Trailer and Poster

Artist: Vuk Palibrk /  Sound: Katie Woznicki
2018 Festival Coverage (Archive)

Opening Event: Screening of This Magnificent Cake! by Emma De Swaef and Marc James Roels (Tuesday, September 4th, Grand Hall, 7:30 pm)
Lectures and Masterclasses
LECTURES AND PRESENTATIONS
Wednesday | 5th September | Conference Room
JAZZ AND ANIMATED FILM, A HISTORY, 13:00-13:45: Who was Stephin Fetchit? Did Disney love jazz? What was 'jazz-frog cartoon'? Was Mickey Mouse a minstrel? And was Bugs Bunny a bopper? What brings together 'Harlem Renaissance' and Betty Boop? Who was 'squarehead' and who was 'hip'? What was Haye's Code and who were 'Censored Eleven'? This lecture will reveal a plethora of amazing details about common history of jazz and animated films. Speaker: Milen Alempijević (Serbia)
Presentation: THE CONTACT POINT OF THE TWO WORLDS, 18:00-19:00: Author of cult comic books Scourge of God and Drako, Aleksa Gajić has been the good spirit of the Serbian comic scene for almost two decades now. He is also the author of the first Serbian full-feature animated film, Technotise-Edith & I , as well as numerous animated shorts. An opus big and diverse enough, equally challenging for the audience and the analysts. The border areas of the comic art and animation, the art credo, experiments, world scene, expectations and plans. Speaker: Aleksa Gajić (Serbia)
Saturday | 8th September | Conference Room
Making-of NOCTURNAL ADVENTURE OF AN EXTRAORDINARY GUY: 12:00-12:45
The film by Špela Čadež Nighthawk (2016) has a true pedigreed festival record: it was selected for the competition programme at Sundance, Clermont-Ferrand and Annecy, receiving over 20 awards and recognitions, including the Grand Prix awards at the Rotterdam HAFF and the Zagreb Animafest, as well as the 'Golden Peg Bar' awarded by the Animanima in Čačak, in 2017. Špela explains the process of creation, the animation techniques and the challenges of working on this film. Speaker: Špela Čadež (Slovenia)
Presentation: NATIONAL FILM AND TELEVISION SCHOOL (NFTS): 12:55-13:30
Forty-five years of history. World-class facilities. Tutors who are shaping the industry – and have the accolades to prove it. Scholarships that make sure raw talent reaches potential. Working sets on site. Award-winning projects for real industry clients. Once-in-a-lifetime masterclasses with world-famous names. The chance to create the future. Be Part of the Story. Speaker: Kim Noce (UK)
Presentation: STUDIO LES FILMS DE L'ARLEQUIN: 13:40-14:10
What is shared in common by animation directors such as Florance Mailhe, Serge Elissalde, Serge Avedikian, Santiago 'Bou' Grasso, Momoko Seto, Michel and Uri Kranot, to name some of them? Well, it is the fact that all of them have made exceeptional films produced by the Parisian Les Films de l'Arlequin studio. Dora Benousilio, the founder and the main producer will present the creative artists and the new projects of this studio. Speaker: Dora Benousilio (France)
Master Class: MECHANISM OF (UN)EXPECTED ERROR, 14:20-15:05
Spontaneity, randomness, error. Are these the ingredients of a good animated film? There is no doubt they may be, as this is proved by films of Nikita Diakur (Ugly, 2017 and Fest, 2018) supported by dynamic computer simulation which he has made him recognizable as one of the most peculiar auteur artists at the modern European animation scene. Speaker: Nikita Diakur (Germany)
Presentation: NARRATION WITHOUT NARRATION: ANIMATE STORY IN THE SPACE 15:15-16:00
Lea Vidakovic is a multidisciplinary artist, animator and researcher in the area of animated installations, in which she uses the traditional puppet animation technique. In her doctorate studeis at the Academy for Art, Design and Media of the Nanjang Technology University in Singapore, she is doing a research in the area of fragment narration and new narrative approaches in animated installations. Speaker: Lea Vidaković (Serbia)
2018 Trailer
Unusual voyage of an extraordinary space traveller drives this short animated story that brings us into the 2018 edition of Animanima. The new video was created by Belgrade artists, illustrator & graphic designer Bratislav Milenkovic and animator Milos Gojkovic.
2017 Festival Coverage:

ANIMANIMA has existed since 2007, traditionally held under the auspices of the City of Čačak and Ministry of Culture of the Republic of Serbia.
NB: 2023 Festival Dates are tentative
Event Dates
From

05/11/2023

to

07/11/2023