Cardiff Animation Festival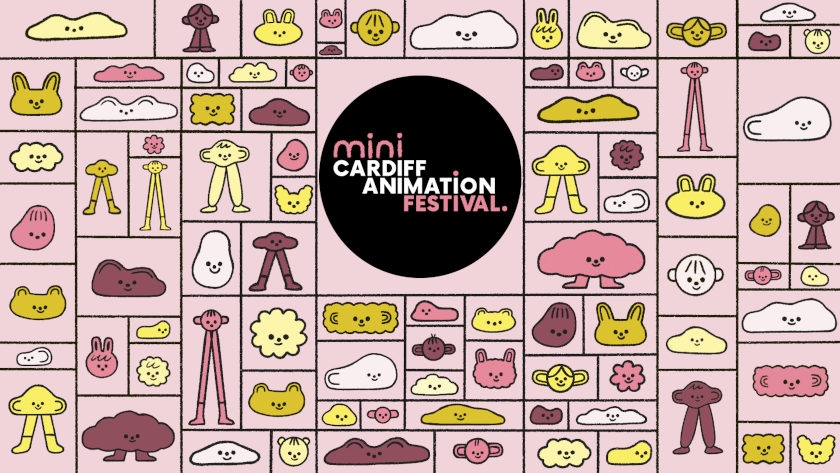 Category
ANIMATION & FILM FESTIVALS
Deadline | Event Dates (period)
Email
This email address is being protected from spambots. You need JavaScript enabled to view it.
Final submission deadline
2023-03-25
Submission/Registration Fee
Yes
2023 Festival Coverage
Cardiff Animation Festival (CAF) is back for a fourth, mini edition in March 2023. Mini-CAF 2023 will celebrate animation for everyone with two days of events in Cardiff and online, featuring masterclasses, feature film screenings, short film screenings, workshops  

The theme for Mini-CAF 2023 is all things miniature, and the festival will celebrate the little things that make animation so special. The mini festival has a brand new poster, designed by Sioned Medi Evans, a Welsh animator and illustrator based in Cardiff. Sioned said:
"When I received the brief, I was so excited to get started! To me, the word 'mini' symbolises all things cute, friendly and sweet, which I tried to represent in these characters. I was thinking Polly Pockets meets The Muppets! I love creating little characters with funny expressions and personalities, I could draw them all day." 
As CAF is biennial, our next big festival will be in spring 2024 – but we couldn't wait that long, so we're really excited to bring our first-ever mini festival to audiences in Cardiff and online in March! We're lining up a brilliant programme and can't wait til we can say more… watch this space! - Lauren Orme, Festival Director

Cardiff Animation Festival also continues its year-round programme, with one-off events throughout January and February. On Saturday 28th January, CAF will host a special screening of Cartoon Saloon's latest Netflix feature 'My Father's Dragon', and audiences can get a glimpse behind the scenes with Oscar®-nominated director Nora Twomey, who will be speaking in Cardiff in-person in conversation with director Joanna Quinn.

Mini-CAF 2023 will run from Friday 24th to Saturday 25th March at Chapter, an independent arts hub and cinema space in Cardiff, and online, and is funded by Ffilm Cymru Wales.

2022 Festival
2020 Festival Coverage
Cardiff Animation Festival will be bringing their full shorts programmes online from Saturday 24th October to Sunday 1st November. 118 world-class animated short films in competition will screen across seven themed programmes for adult audiences and two for children. The selection features unique voices and a diverse range of stories told by animated filmmakers from different backgrounds around the world, all eligible for the Cardiff Animation Festival Awards, which will be presented online on Sunday 1st November. The festival will showcase some of the best new Welsh animated shorts in their Welsh Work programme, a collaboration with Chapter Moviemaker.
Welsh animator Simon Chong will join the festival live from LA on Saturday 24th October, where he now lives and works as a Director on Fox's Bob's Burgers after his fan-made Bob's Burgers and Archer crossover animation got him noticed by show creator Loren Bouchard and landed him a job on one of the most-loved animated series on television around the world. Simon will give insight into his unconventional career path, and join Creative Mornings Cardiff's Melin Edomwonyi for a live Q+A on what it's really like to work on your favourite show.
The festival will invite audiences into the magical Moominvalley, with Episode Director Avgousta Zoureldi giving audiences of all ages a chance to learn more about the making of Gutsy Animations' beautiful TV adaptation of writer-illustrator Tove Jansson's classic stories about the Moomins. Viewers will be able to step into the Heart of Darkness, the world's first sand-animated feature film, currently being made in Cardiff, with Director Gerald Conn taking audiences behind the scenes of the upcoming film adapted from Joseph Conrad's classic novel.
Industry panels will include Storytelling for Animation, chaired by award-winning animation writer and director Evgenia Golubeva, with a panel of creatives across animation discussing what makes a great animated story. The festival will nurture and platform neurodiverse animation talent, with a workshop programme for new and aspiring neurodiverse animators run in collaboration with Biggerhouse Film, inviting audiences to see brand new work and take part in a discussion on neurodiversity in animation on Friday 30th October. Animators will have a chance to gain professional feedback on their work-in-progress at a special online edition of Animation Grill, reignited by Gareth Cavanagh for Cardiff Animation Festival 2020 online.
Opening the online shorts programmes will be a festival edition of Cardiff Animation Nights, the festival team's free monthly independent animation screenings, on Friday 23rd October. Usually held in Cardiff's Kongs bar, the festival has taken Cardiff Animation Nights online since April, with a total of over 1000 viewers from Cardiff and around the world tuning in to watch independent animated short films together apart and share their viewing experience through live chat and clapping hand emojis.
2020 Selection and Highlights
 NB: 2024 Festival Dates are tentative
Event Dates
From

24/03/2024

to

25/03/2024