Hiroshima International Animation Festival, 20-24/8/2020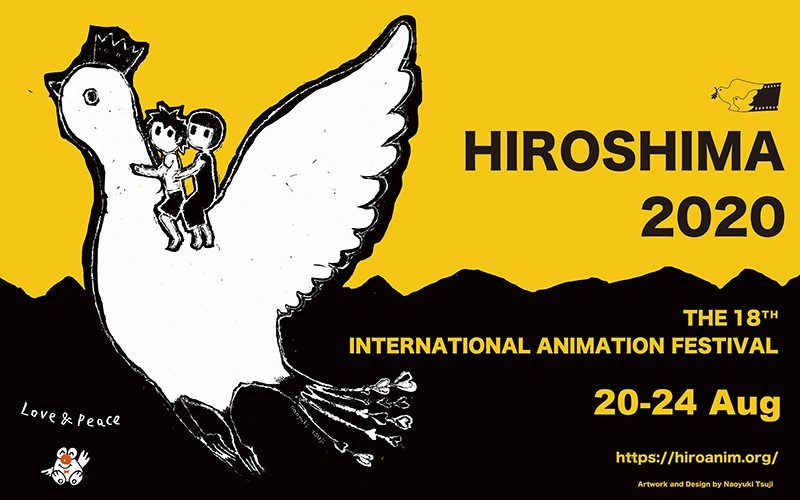 Category
ANIMATION & FILM FESTIVALS
Deadline | Event Dates (period)
Email
This email address is being protected from spambots. You need JavaScript enabled to view it.
Final submission deadline
2020-04-01
Submission/Registration Fee
No
Festival Description:
Hiroshima International Animation Festival is a biennial manifestation held in Hiroshima City in August, endorsed by Association Internationale du Film d'Animation (ASIFA). Under the spirit of LOVE & PEACE, the festival has been dedicating to the advancement of visual media art culture in general, by promoting international cross-cultural exchanges through the development of animation art. Today, Hiroshima Festival is considered as one of the most respected animation festivals in the world. It is also qualified as an Academy Award Short Film Festival as well as ASIFA-Hollywood's Annie Awards Short Film Festival.
2020 Festival Coverage
Winners:
(Comments on the competition result by Yuichi Ito, Chairperson of the Jury: ) Under the influence of COVID-19 where the actual interexchange between people from all over the world has been ceased, and under the arrival of this unimaginable time, we Jury members were impressed and encouraged by all those inspiring animation shorts that gathered to Hiroshima.
Our online deliberation had to take place under an extremely difficult situation due to the time difference between the four countries as well as the telecommunication environment. However, as an independent team consisted of four Jury members, thanks to Otto Alder having much experience, we approached the meeting with positive attitude, and the discussion became more vibrant day by day. On the final day, we almost forgot that we were working online, with heated discussions, and as a result, we could reach a solid consensus at the end.

Each of the 59 In-Competition films, selected from 2,339 entries in total, was very particular about its theme, motif, story, animation expression, sound, etc., and it had been very difficult for us to decide which is better. We discussed the nominated works again and again with a belief and faith as Jury members, and are proud to make a decision that deserves the Hiroshima International Animation Festival.

I would like to express my sincere gratitude, not only to the award-winning directors, but also to Jury members, Selection Committee members, interpreters, festival director Sayoko Kinoshita, her secretary Makiko Nagao, and above all, to all filmmakers who submitted their work for the festival.
Yuichi Ito, Chairperson
Grand Prize
Daughter / Dcera, Daria Kashcheeva / Czech Republic
[Comments on Awarding] A sensational animation experience, never seen before, caused by the signs of disquieting and the atmosphere which is sometimes made by intensive wild camerawork, as well as each gesture of puppets which is even quite simple. However, what is drawn is obviously a human drama, which shows the communication between a daughter and a father, those two who are gradually growing apart even though they care each other. All Jury members agreed that "Daughter" is the best film in competition, for its very pureness and deepness at the same time.
Hiroshima Prize
Am I a Wolf? / Gorgam-o-Gale Mibaram, Amir Houshang Moein / Iran
Jury Comments: This animation blurs our borders between reality, theatrical performances and cinema through outstanding beautiful images and harmonious sounds. An adaptation of the fairytale "The Wolf and the Seven Young Goats", full of suspense.
Debut Prize
Beetle in the Anthill / Жук в Муравейнике, Vasily Efremov
Jury Comments: As a first film, the jury appreciated this particularly well written and designed story as a metaphor about freedom. The title is adapted from a famous science fiction novel of the 1980's, which here turned into a poetical mood when a lonely elephant, released from a zoo, makes friend with homeless people in a city of nowhere.
Renzo Kinoshita Prize
Warm star / Teplaya zvezda, Anna Kuzina / Russia
Jury Comments: What a lovely film! Children's love changes the cold star into a warm star. I'm an adult and I think the world is cold. But on the other side, as a member of a secret religion who believes in love, only love can change the world. This film contains warm faith in children's pure love.
Special International Jury Prize
Per tutta la vita, Roberto Catani / Italy / France
Jury Comments: With richly textured drawings, unpredictable metamorphoses and unique sounds spectator is taken on an enigmatic journey down the rabbit hole.
School of Development / Школа развития, Anastasiya Sokolova / Russia
Jury Comments: A special nomination to this colorful and dynamical animated film, as an ironical day in a modern life of a six years old girl and her friends, scheduled by a clock.
The Rain / Deszcz, Piotr Milczarek / Poland
Jury Comments: This metaphorical animation is simple and humorous. Each superhero would hate this situation. It is impressive that a cold artwork and scene is directing in a static and dynamic drive.
The Physics of Sorrow / Physique de la tristesse, Theodore Ushev / Canada
Jury Comments: This film based on the novel of the same title by Bulgarian writer, Georgi Gospodinov, is a masterpiece depicting the protagonist's agony who lived before the World War II and through the Cold War. This work is in high esteem as the visual effect where the pieces of personalized memory drawn by reminiscence format intersect in multi-layers and the picturesque expression which is the characteristic of the director have become a powerful effect, as well as the fusion with the director's thought.
Orgiastic Hyper-Plastic, Paul Bush / Denmark / U.K.
Jury Comments: A film provides light and adorable impression as in a commercial work. However, as we go through the dance of beautifully designed waste materials, the film makes us feel that the very relationship between human beings and plastic is like a kind of flirtatious love affair. We feel a warning to us human beings who ignore the contemporary situation of our mother earth, caused by the 'subject' that was abandoned by ourselves. The social viewpoint of this film was highly evaluated.
Crab / Kharchang / Shiva Sadegh Asadi / Irann
Jury Comments: "Crab" is a heartbreaking cruel story. It reveals bestiality of human beings. With her impressive rotoscoped drawings and dramatic sounds director holds a mirror up to us.
Traces, Sophie Tavert Macian, Hugo Frassetto / France / Belgium
Jury Comments: The jury gave a special nomination to this fairy tale on prehistory, to congratulate this beautiful and original work, created under camera on glass and with sand.
Special Prize
Kapaemahu, Hinaleimoana Wong-Kalu, Dean Hamer, Joe Wilson, Daniel Sousa / U.S.A.
Jury Comments: This film is about a myth of four legendary Mahu who brought the healing arts from Tahiti to Hawaii few centuries ago. Among them, the leader's name is Kapaemahu. It is an amazing film that describes mysterious light and secret healing power.
How much does the cloud weigh? / Сколько весит облако?, Nina Bisyarina / Russia
Jury Comments: The jury nominated this unusual story about a scientist who is so much concerned with observing the clouds that he finally escaped step by step from his rational world.
NEST, Sonja Rohleder / Germany
Jury Comments: The jury nominated this excellent work as a combination of music and design, showing the aesthetic dynamics of these Paradise's birds.
Mother didn't know / Mor visste Ingenting, Anita Killi / Norway
Jury Comments: A grand barrel symbolizing the mind of a girl, the protagonist. The continuation of extremely sensitive happenings inside the darkness of her mind kept our eyes closely to this film. The attractiveness of this work is the various expressions of stop-motion, used in a crossover manner, made this film not just a mere puppet film, and reminded us of the marvelous power of animation.
Divinity, Farnoosh Abedi / Iran / Oman
Jury Comments: A challenging film, with remarkably high respect to puppet animation, and an enthusiasm toward the reconstruction through using computer were felt strongly from the entire image. The style of direction like a classic horror movie, the texture of puppet which seems to be common at a glance, underlining the good quality of its artistic settings.
No body /Haemin Ko, UK
Jury Comments: With wonderful, under camera painted charcoal drawings director confronts us through personal immigration experiences. By opposing images of bodies with city landscapes, she depicts disconnection and loneliness. With support of coherent sounds, excitement and frustration grow into hope.
Better, Emily Downe / UK
Jury Comments: Is the jungle where main character explores a real forest or is it her inner world? This film is about the connection between the outer world and the inner side of the character, by presenting a mixture of various expressions. Moreover, the use of short live-action films becomes effective.
Previous coverage:
Call for Entries (Archive)
Films are accepted which were completed after 1 April 2018 and don't run above 30 minutes.
Message from the Festival Director
Dear Friends,
On behalf of the International Animation Festival in Japan – HIROSHIMA, I would like to extend my sincere gratitude to all of you for your continued cooperation with our festival.
With your kind support, we are very pleased to announce that the 18th edition, HIROSHIMA 2020, will be held from August 20th to 24th next summer.
The Hiroshima International Animation Festival was established in 1984 with the spirit of pursuing world peace, shared by both the City of Hiroshima and the Association Internationale du Film d'Animation (ASIFA). Since the first edition took place in 1985, our festival has been held once every two years, and will be held for the 18th time in 2020, which means that we have continued to organize the festival for 36 years.
We are making every effort to organize our festival, providing you with reliable content and a venue for cross-cultural communication beyond languages. We aim to meet your expectations and hope that open-minded people from all over the world can come together to focus on animation art, which brings together every kind of cultural endeavor created by mankind, including music, fine art, literature, history, philosophy, science, nature and imagination, etc.
We, the festival team, are working hard for the preparation of the 18th edition in August 2020.
We look forward to your inspirational entries, and to your participation in person in HIROSHIMA 2020!

Sincerely yours,

December, 2019
Sayoko Kinoshita, Festival Director
HIROSHIMA 2020 Poster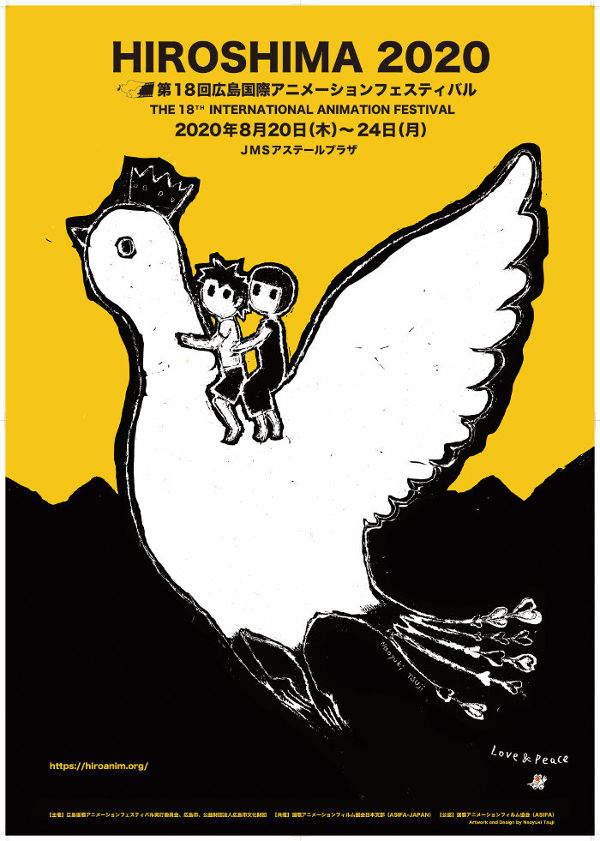 2018 Festival Coverage (Archive)

2018 Highlights:
Yoji Kuri — the International Honorary President of HIROSHIMA 2018, and who also created our official poster — spearheaded Japanese independent animation. He has received international recognition since as early as the 1960's and is still actively working today. Celebrating the 90 years of Yoji Kuri, you will enjoy the screening of his witty and satirical works as well as his valuable talk.
Michael Dudok de Wit has been the only winner of both Grand Prize and Hiroshima Prize from the past Hiroshima International Animation Festival, and we are pleased to welcome him as our special guest. There will be two programs:
(1) a screening of his inspiring feature animation "The Red Turtle", with Michael's short speech before the screening.
(2) a screening of his two short films "Father and Daughter" (HIROSHIMA '02 Grand Prize) and "The Monk and the Fish" (HIROSHIMA '96 Hiroshima Prize), as well as Michael's talk about his filmmaking.
Raoul Servais Retrospective: Belgian master of animation Raoul Servais, who will also turn 90 this year, remains as active as ever. He has honored us by serving as the festival's International Honorary President twice in the past. In appreciating Raoul's dedication to animation field over many years, we will be screening a selection of his short films that have received numerous international awards.
Estonian Animation Special (34 Programs): An intensive focus on Estonian animation from its pioneering days until the present. Such a huge focus on Estonian works together will be the first time ever in the world.
Organizers: Hiroshima International Animation Festival Organizing Committee, Hiroshima City, Hiroshima City Culture Foundation; Co-organizer:ASIFA-Japan
Event Dates
From

20/08/2020

to

24/08/2020