'Bird In the Peninsula', 'Persona' Win at PÖFF Shorts 2022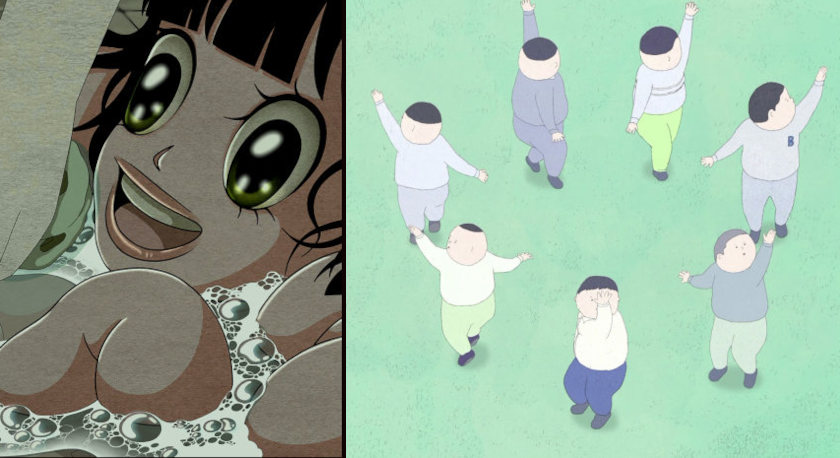 A strong Asian presence was felt in the animation winners of the international short film and animation festival PÖFF Shorts (15-23 November, Tallinn, Estonia).
Japanese Atsushi Wada with his 'Bird In the Peninsula' and his quirky but thoughtful exploration of puberty won the Best Short Film in the International Animation Competition. The film was given an Academy Award qualification status (Best Short Animated Film).
A special mention was given to the Polish film 'Silent Light' by Katarzyna Kijek and Przemysław Adamski.  In the children's section, 'The Queen of Foxes' by Marina Rosset won the prize (Marita Mayer's 'I'm not Afraid' garnered a special mention).
In the New Talents (student) animation competition, two Korean films prevailed. The social-media alert 'Persona' by Sunjin Moon won the prize in the competition, whereas the story of an Earthquake in Bukhansan mountain in 'Epicenter' by Heeyoon Hahm got a special mention.
Note: 'Sierra' by Sander Joon won another distinction in its festival run; this time, it received the Special Mention of the festival's National (Estonian) Competition.
The full list of winners and the jury statements:
PÖFF SHORTS ANIMATION COMPETITION
Jury: Joanna Quinn, Mariam Kandelaki, Jonas Taul
BEST SHORT ANIMATION
Award 1000€ presented by Tallinn Black Nights Film Festival (PÖFF)
"Bird in the Peninsula" (France/Japan, 2022)
Director: Atsushi Wada
Jury Commentary: "An intriguing insight into the complications of puberty. A beautifully paced, surreal and humorous film."
JURY MENTION
"Slow Light" (Poland/Portugal, 2022)
Director: Katarzyna Kijek, Przemysław Adamski
Jury Commentary: "A thought-provoking exploration of the philosophical ideas of memory and time. Skillfully constructed storytelling."
BEST CHILDREN'S ANIMATION
"The Queen of the Foxes" (Switzerland, 2022)
Director: Marina Rosset
Jury Commentary: "A charming film, a complete joy to watch - a combination of stunning artwork, lovely characterisation with endearing humour."
CHILDREN'S ANIMATION JURY MENTION
"I'm Not Afraid" (Germany/Norway, 2021)
Director: Marita Mayer
Jury Commentary: "A well-constructed film successfully told from a child's perspective, with scenarios so reminiscent of familiar childhood experiences. A relatable film with a clear narrative."
BEST STUDENT SHORT ANIMATION - NEW TALENTS: ANIMATION
Presented by: Estonian Academy of Arts
"Persona" (South Korea, 2022)
Director: Sunjin Moon
Jury Commentary: "A beautifully executed exploration of how young people negotiate their body image and the personality-altering perceptions of today's culture of toxic social media."
NEW TALENTS: ANIMATION JURY MENTION
"Epicenter" (South Korea, 2022)
Directors: Heeyoon Hahm
Jury Commentary: "There is such a beautiful aesthetic to this film - a peaceful ambient which draws you in into this drawn world. A perfect example of the beauty of simplicity."
PÖFF SHORTS NATIONAL COMPETITION
Jury: Diana Cam Van Nguyen, Ben Vandendaele, Kirke Karja
BEST SHORT FILM
"3rd Octave F" (Estonia, 2022)
Director: Eeva Mägi
Jury Commentary: "The film touched very different genres in a special way and combined them as a whole. It managed to surprise us with its high production value and sense of humor. As John Wayne used to say: "Courage is being scared to death... and saddling up anyway.""
JURY MENTION
"Sierra" (Estonia, 2022)
Director: Sander Joon
Jury Commentary: "For its unique and confident visual sense of humor and witty use of animation techniques that warmed our hearts."
The PÖFF Shorts European Film Academy candidate for the Best Short Film and the Rebels With A Cause winner will be announced on Saturday, November 26 at the Black Nights Film Festival closing ceremony.
The Black Night Film Festival's PÖFF Shorts runs until November 24th. 
Read More About: