Regina Pessoa: I'm Still Learning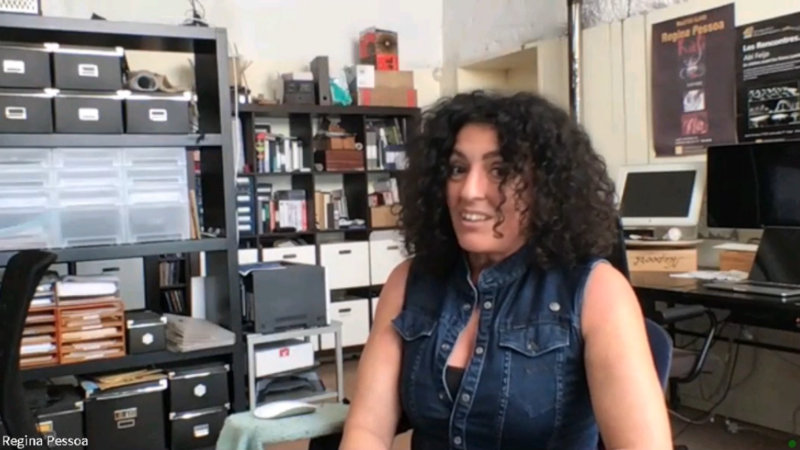 Living in an essentially online world, FMX - Conference on Animation, Effects, Games and Immersive Media and Aniimationsinsti had the idea of  establishing a new series of online shows. Highlights of FMX 1994-2020
Regina Pessoa, the director of Tragic History With A Happy Ending, Kali, A Little Vampire, and Uncle Thomas: Accounting for the Days (an Annie Award for the Best Animation Short) was the guest of the 7th May 2020 presentation.
Pessoa is a natural storyteller, and not only with images. Her effortless and direct confrontation with both an uneasy childhood near Coimbra, Porto, are peppered with remarks about her earliest remembered cinematic experience, a screening of of Charlie Chaplin's Gold Rush.
Growing up in the years that established the Carnation Revolution in Portugal (1974) and overthrew the Salazar-Caetano dictatorship regime, Pessoa would be expected to talk in her films about big things and ideas: yet she chose to represent in images and motion the minute and personal. "I can talk about the little things that are important to me" she says, giving a further advice to emerging animators, who are worried about narrative structure. "Each scene should have a personal feel. And to feel it you have to live it first".
Still, she describes her whole professional work as "the light coming from the shadows". Caroline Leaf and the movements in her films was the major influence behind her first film The Night (1999), engraving in plaster plates -the film also shown during the interview, while she also reserves admiration for Polish animation filmmaker Piotr Dumala. Abi Feijo was her mentor, and now her long-term partner.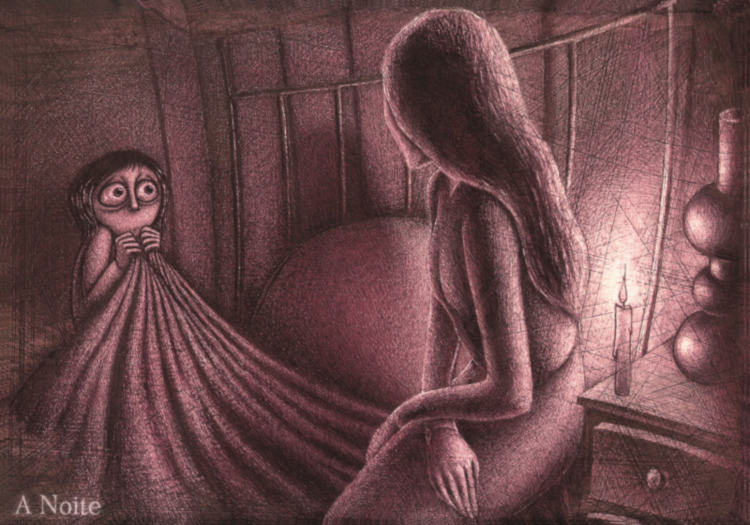 The Night
Pessoa won't write a script at the development stage, but will present her images starting from the storyboard itself. She likes to play with colors sometimes: the yellow in Uncle Thomas stood for the warm moments in childhood, while the red in his accounting columns felt like the loss of innocence. She bridges young and old, animals and humans in Kali, The Little Vampire ("a goodbye to youth dreams of a child, but also the voice of an old man, who somehow made it through the darkness").
Working with both NFB (Canada) and Les Armateurs (France) as co-producers for the Uncle Thomas film (NFB and Folimage were respectively the non-Portuguese partners for Kali, The Little Vampire) Pessoa seems happy to embrace diversity, and not just for the obvious financial reasons: "I'm still learning" she mentions, referring to her international partners and talents she collaborates with -also referencing the fact she started as an autodidact in animation, having only formal training in art and painting. She now teaches herself and educates students in Casa Museu de Vilar.
Animation for Pessoa gives another dimension to her own visuals, with sound, music enriching the whole outcome - while her thematic consistently employs "someone being different in a small society".
Even though Regina Pessoa has no interest in directing animation features ("I can't put characters in the middle of the action and sing, like in the Disney films), she certainly has a knack for telling -and not just visualizing- personal stories. There are still personal stories to be told.
Check the full Interview with Regina Pessoa below: 
About FMX:
Presented by Andreas Hykade, Conference Chair of FMX,  FMX is an event by Filmakademie Baden-Wuerttemberg GmbH, organized by Animationsinstitut and funded by the Ministry of Science, Research and Arts and the Ministry of Economic Affairs, Labour and Housing of the State of Baden-Württemberg, the City of Stuttgart and MFG Baden-Württemberg.
SIGN UP: Want to read more free articles like this? Sign up for Our Newsletter
Read More About: