Selection Results for the 11th Animasyros Festival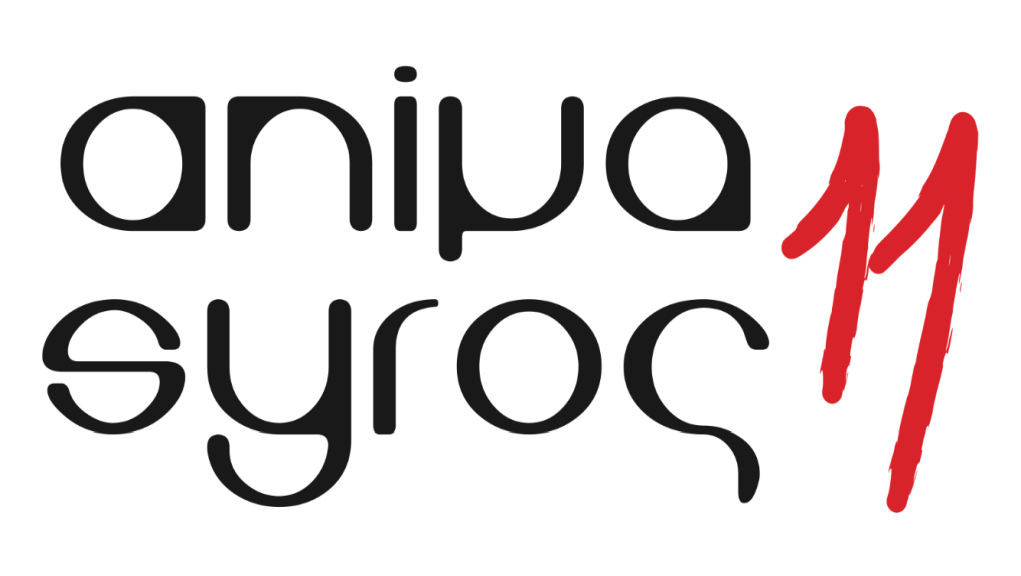 From February 15 to June 30, 2018, numerous (2,547 entries)  films from all over the globe were submitted for pre- selection for the 11th Animasyros festival  Below you may find the Animasyros 11 Official Selection, in competitive and non-competitive Sections (K.i.D.S., Greek Panorama).
International competition hosts (among other interesting stuff)  the Annecy winner Bloeistraat 11 by  Nienke Deutz , Nikita Diakur's Fest, Natalia Mirzoyan's Five Minutes to Sea, and the Oscar-nominated stop-motion Negaitve Space by Max Porter & Ru Kuwahata. Irini Vianelli's stop-motion Icebergs competes in the student section, along with Lei Lei's Shadow and Alan Jenning's The Northern Kingdom. The full line-up:

Ιnternational Competition

(Fool Time) Job, Gilles Cuvelier (FR)
(OO), Oh Seo-ro (KR)
59 Seconds, Mauro Carraro (CH)
Bloeistraat 11, Nienke Deutz (BE)
Butterflies, Mauricio Leiva Cock, Andrés Gomez Isaza (CO)
CEVA, Paul Muresan (RO)
Compartments, Daniella Koffler, Uli Seis (DE / IL )
Death Van, Michael Enzbrunner (CA )
Egg, Martina Scarpelli (FR / DK)
Etreintes, Justine Vuylsteker (GF / CA )
Fest, Nikita Diakur (DE)
Five minutes to sea, Natalia Mirzoyan (RU)
Happiness, Dimitar Dimitrov (BG)
JEOM, Kim Kang-Min (KR)
La Mort, père & fils, Winshluss & Denis Walgenwitz (FR)
Love He Said, Inés Sedan (FR)
Mermaids and Rhinos, Viktoria Traub (HU)
Negative Space, Max Porter, Ru Kuwahata (FR)
Panta Rhei, Wouter Bongaerts (BE)
Raymonde or the vertical escape, Sarah Van Den Boom (FR)
Strange Case, Zbigniew Czapla (PL)
The Call, Anca Damian (RO)
The Cat's Regret, Alain Gagnol, Jean-Loup Felicioli (BE / FR)
THEM, Jamie Kendall (UK)
Tightly Wound, Shelby Hadden  (USA / CL)
WILDEBEEST, Nicolas Keppens, Matthias Phlips (BE)

 
TV & Commissioned Films Competition

A True Short Story, Maximilian Zenk (DE)
Cat Planets, Yi Luo, Michael Bohnenstingl (DE)
Conan O'Brien Discusses «We're Going to be Friends» by The White Stripes, Moth Collective (UK)
Conception: Catie + Jen, Moth Collective (UK)
Didi&Boodi – A cloudy day, Ehsan Tavassolizdeh, Mona A.Shahi, Sajjad GHolizadeh (IR)
Dolly.Zero, Ugo Bienvenu (FR)
Edith Piaf (Said It Better Than Me) – Sparks, Joseph Wallace (UK)
Ella, Oscar & Hoo «The Sticker Book», Emmanuel Linderer (FR)
Episode-3 "GMO", Tassos Kotsiras (GR)
Guess How Much I Love You: An Enchanting Easter, Jo Boag (AU)
Happy, Alice Saey (NL)
Koh Away, Jumpoth Ruayjaroensap (TH)
Lada Obradović Project – Scream, Petra Balekić (HR)
MOLANG – A bottle at sea, Marie-Caroline Villand (FR)
Our Story, Lorenzo Latrofa (IT)
Over the Rainbow, Kleopatra Korai / Lokey (GR / PS)
Pipas & Douglas – The Princess and the Dragon, Sébastien Lasserre & Alexandre So (FR)
RAPIN, Gustaf Holtenäs (SE)
Rising Waters In Underwood Springs!, Mathieu Auvray (FR)
Small forest stories, Veronika Fedorova (RU)
Sparkle, Taro Otani (JP)
Tend, Tom Judd & Ed Barrett (UK)
The Imaginary Friends Society Presents – Radiation, Layla Atkinson (UK)
The Lovely Thing Suite, Diego Huacuja T., Carlos Lopez Estrada (MX)

 Student Competition

Augenblicke – a blink of an eye, Kiana Naghshineh (DE)
Bacchus, Rikke Alma Krogshave Planeta (DK)
Contact, Léa Bancelin (FR)
Enough, Anna Mantzaris (UK)
Follower, Jonathan Behr (DE)
Fuse, Shadi Adib (DE)
Ghostory, Alžběta Göbelová (CZ)
Hors Saison, Nicolas Capitaine, Céline Desoutter, Lucas Durkheim, Léni Marotte (FR)
Icebergs, Eirini Vianelli (GR / USA )
In Our Skin, Rosa Beiroa (UK)
Passage, Simon Feat (FR)
Quest of the Battling Gods, Yosuke Tani (JP)
Reverie, Philip Louis Piaget Rodriguez (DK)
Shadow, Lei Lei (China)
Sigh of sighs, Gim Bo Seong (KR)
Somewhere Soft, Satoe Yoshinari (NO)
Star Soup, Daniela Peralta (CR)
Strange Cargo, Auguste Denis, Emmanuelle Duplan, Valentin Machu, Melanie Riesen (FR)
Sweet Sweat, Jung Hyun Kim (EE / KR)
The Blue Hands, Alexandra Anokhina, Mikhail Shepilov (RU)
The children of concrete, Cho Chamson (FR)
The deep end, Elise Augarten (FR)
The Northeast Kingdom, Alan Jennings (USA)
The Stained Club, Mélanie Lopez, Simon Boucly, Marie Ciesielski, Alice Jaunet, Chan Stéphie Peang, Béatrice Viguier (FR)
Vermine, Jérémie Becquer (DK / FR)

International Panorama of Animated Films (non competitive section)

32-Rbit, Victor Orozco Ramirez (DE)
39 Weeks, 6 Days, Joanna Kozuch, Boris Sima (SK)
5 years after the war, Samuel Albaric, Martin Wiklund, Ulysse Lefort (FR)
A dark day of injustice, Daniela Fiore, Julio Azamor (AR)
A LITTLE LOVIN, Marie Paccou (ES / FR)
A Mess, Guo, Jia Yu (TW)
An Excavation of Us, Shirley Bruno (GR / HT / FR)
As I see it… , Cassandra Reis (BR)
Au revoir Balthazar, Rafael Sommerhalder (CH)
Between Us Two, Wei Keong Tan (SG)
Beyond the Ball, Dana Sink (USA)
Blau, David Jensen (DE)
Bloody Fairy Tales, Tereza Kovandova (CZ)
Boléro Paprika, Marc Ménager (FR)
Cadavre exquis, Stéphanie Lansaque, François Leroy (FR)
Carlotta's Face, Valentin Riedl (DE)
Clock Face, Natalia Ryss (RU)
Compartments, Daniella Koffler, Uli Seis (DE / IL )
Death of a Father, Somnath Pal (IN)
did you know?, Lynn Kim (USA)
Down Escalation, Shunsaku Hayashi (JP)
Downhill, Erica Moriconi (USA)
Exodus, Martina Lexi Vizec (HR)
Fags, Alexis Vandersmissen (BE)
Flood, Malte Stein (DE)
Folly, Thomas Corriveau (CA )
Hate for Sale, Anna Eijsbouts (NL)
Heroes, Juan Pablo Zaramella (AR)
Hoan Alone: Personal Stories from the Bridge, Aaron Johnson (USA)
Honk, Triet Le (Vietnam, DK, USA)
Inner Light, Andrew Katsuba (RU)
Interstitial, Shunsaku Hayashi (JP)
Intimity, Elodie Dermange (CH)
Irma, Alejo Schettini (UY )
Kaal, Charlie Aufroy (FR)
Knockstrike, Genis Rigol (ES)
Last Stop is the Moon, Birute Sodeikaite (PL)
Love Me, Fear Me, Veronica Solomon (DE)
M52, Yves Paradis (DE)
Manimals, Oh Jihyeon (KR)
Melt Down, Amy Jingyi Xu (USA)
Moonday, Rianne Stremmelaar (NL)
Musical Traumas, Milos Tomic (Serbia)
My Little Goat, Tomoki Misato (JP)
New Neighbours, Andra Mannino (IT)
Oasis, Daria Kashcheeva (CZ)
Only Lovers Leave to Die, Vladimir Kanic (HR / CA )
Orient City: Ronin & The Princess, Ryan Colucci, Zsombor Huszka (USA/HU)
Our Spring, Jaein Park  (KR)
Parfum Fraise, Alix Arrault, Martin Hurmane, Jules Rigolle, Samuel Klughertz (FR)
Pharaoh, Derrick Forkel, Mitchell Jao (USA)
Phototaxis, Melissa Ferrari (USA)
Queere Tiere, Ana Angel (DE)
Railment, Shunsaku Hayashi (JP)
Reaper, Léger Fabrice, Louise Patrice, Machet Bastien, Malchow Florian, Aleno Robin (FR)
Roses in the Night, Pencho Kunchev (BG)
Sand Wanderer, Eric Giessmann (NL / DE)
Schnurksel, Leo Becker (BE)
Sinking of the truth, Tobias Gundorff Boesen, Marie-Josée Saint-Pierre, Sander Joon, Wiep Teeuwisse  (DK)
Star-Fallen, Alexandra Tagali (GR)
Strawberry Eaters, Mattias Mälk (EE)
Synched, Cassie Shao (USA)
The Alligator Hunter, Kyle V. James (USA)
The Backward Astronomer, Jake Nelson (USA)
The Girl, Hans Op de Beeck (BE)
The gospel according to Tauba and Primal, Márcia Deretti, Márcio Júnior (BR)
The Hunter, Jari Vaara (FI)
The Juggler, Iuri Moreno (BR)
The Little One, Diana Cam Van Nguyen (CZ)
The Magic Pencil, Heo Man-Jae (KR)
The N.A.P., Adolfo Di Molfetta (IT)
The Neverending Wall, Silvia Carpizo (ES)
The Old Lady, Samuel Miralles (FR)
The Origin of Sound, Paul Driessen, Toon Loenders (BE)
The Valley, Salih Toprak (TR)
Traces, Andres Tenusaar (EE)
Voyager, João Gonzalez (PT)
Water Moves, Leto Meade (UK)
Woo-Hoo!, David Stumpf (CZ)
Worth Every Penny, Ilona Yudin, Paz Bernstein, Muli Asido, Erika Cumpton, Adam Magrala, YaelSolomonovich, Lara Buyom, Sarai Abergel, Guy Livnat, Noy Friman (IL )

Greek Panorama (non competitive section)
Arachne, Chara Sakellari (GR)
Banshee, Constantinos Chaidalis (GR)
Chimera, Ioanna Varsou (GR / UK)
Cross Signals, Panos Baras (GR / UK)
Death Of The Blackbird, Christina Lykoka (GR)
From the Same Thread, Antonia Piña, Rucha Dhayarkar, Lorène Friesenbichler, Phaedra Derizioti (GR / ES / IN / AT / CL)
How are you today?, Sophie Markatatos (GR / UK)
How many hugs?, Katerina Michalopoulou, Spyros Pantazis, Eleni Politopoulou, Antonis Touloumis (GR)
Immersion, Dimitris Agathopoulos (GR)
Inheritance, George Kalofolias, George Mpaourdas (GR)
Love is fear, Afroditi Bitzouni (GR / NL)
Maybe It's Me, Dimitris Simou (GR / UK)
Natron, Sofia Avramidou, Aris Apartian (GR)
OOFFEE, Alexandros Vounatsos (GR / DE / IT / PT)
Proteus, Antonis Fylladitis – Stavros Fylladitis (GR)
Red Forest, Angeliki Ioakeimidou (GR)
side effects, Vladi Dan (GR)
The Moment, Yiannis Stefanakis (GR)
Tokei Maru, Zachos Samoladas (GR)
K.ID.S (non competitive section)

6:1, Sergei Ryabov (RU),
Belly Flop, Jeremy Collins, Kelly Dillon (ZA)
Brush: A Fox Tale, Faustina Arriola, Willi Anton (USA)
Drops, Sarah Joy Jungen & Karsten Kjærulf-Hoop (DK)
Giant, Johanna Bentz (DE)
I love my car, Alina Cyranek (DE)
I want to live in the zoo, Evgenia Golubeva (RU)
Koyaa – Wild Sunbed, Kolja Saksida (SI)
Little Rad Riding Hood, Man Wei (JP)
Mister Paper goes out for a walk, Ben Tesseur, Steven De Beul (BE)
Mogu and Perol, Tsuneo Goda (JP)
My Coin, BAE Sungkyun (UK)
Old man Oh in a polka-dot shirt, Sergey Romashkin (RU)
Pogo: Jar of Guilt, Dion Chua (MY)
Saturday's Apartment, Jeon Seungbae (KR)
Spindrift, Selina Wagner (UK)
Stuffed, Élise Simoulin, Édouard Heutte, Clotilde Bonnotte, Anna Komaromi, Marisa Di Vora Peixoto, Helena Bastioni (FR)
Tailored, Léa Cousty, Chloé Astier, Raphaël Guez, Mélanie Fourgeaud, Hugo Bourriez, Victoire Le Dourner (FR)
The Hunt, Alexey Alekseev (FR)
The Theory Of Sunset, Roman Sokolov (RU)
The Tree, HAN Seung-Yeon, LEE Sohee, JOE Yoonjeong, GWAK Eunsu (KR)
Through the Marsh, Kryštof Ulbert (CZ)
The 11th Animasyros Festival takes place in Syros, Greece from  26 to 30 Sep 2018.
SIGN UP: Want to read more free articles like this? Sign up for Our Newsletter
Read More About: