StopTrik IFF 2018 Report: Don't Stop The Motion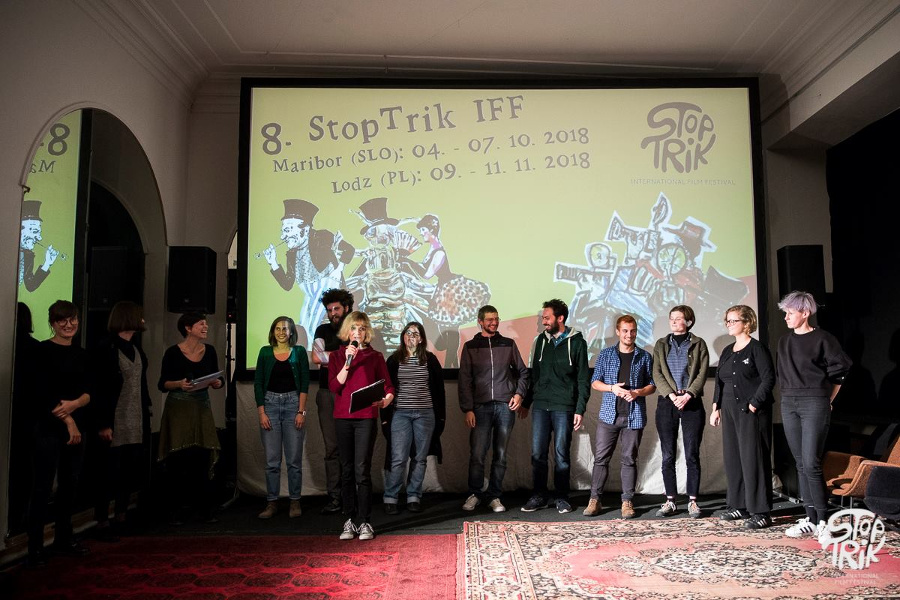 It is very difficult for a festival to both propose a festival theme and to actually proceed to its implementation all the way down. Half-baked attempts make any further initiatives redundant and useless. This year's delightfully focused and sharply executed 8th StopTrik theme on Cinephilia and Ctiy Culture (curated by festival director
Olga Bobrowska
and festival programmer
Michal Bobrowski
)  had two aims to accomplish: first, to connection animation and live-action film culture discussion (not an easy task, for some times these two communities look like worlds apart); secondly, to use both art forms in celebrating the communal experience of cinemagoing, the 'cinema of attractions' or
re-discovering the archeology of cinema
.
Stop-motion animation, with its tangible characters, hand-made sets or live-action settings, seems the perfect means to actually attempt this theme. And Slovenia's Maribor, a city with a rich part   seems the perfect spot to try this experiment:  the city now wants to redefine itself (European Capital of Culture for 2012), but still its arthouse
Kino Udarni
cinema is currently closed (for how long?).
The most obvious way to implement culture is actually to start talking to each other - a practice always celebrated, but rarely put into coherent practice in big festivals - apart from special academic symposia, with a specific focus group.  Žiga Brdnik ("Ekran", DRFK, Maribor, Slovenia), Senka Domanović (film director, Serbia), Bojan Labovič (Mestna občina Maribor), Mateja Lapuh (Europa Cinemas, City Cinema Ptuj, Slovenia), Igor Prassel (Animateka/Kinoteka, Ljubljana, Slovenia), and yours truly went on to talk -and the feeling was overwhelming. We actually need to do something: occupy cinemas, push big authority heads, inform citizens, get a cinema network actually function, have synergies all-year round are some of the options. Not all of which will or should be implemented, but it's time to start wondering: the world of independent animation can certainly produce animated films of high quality, but if those films are to be seen and be seen as relevant in today's needs, something more needs to be attempted.
BAFTA-nominated animation artist
Osbert Parker
(Film Noir) and his workshop team actually did something: went out to the Maribor streets, intervened with passers-by, and made their own (nice to behold) snippets of stop-motion stories. Parker himself invited us into a peeping-hole exhibition of his fully noirish, old-Hollywood references at the first floor of Salon of Applied Arts [
read about its history here
].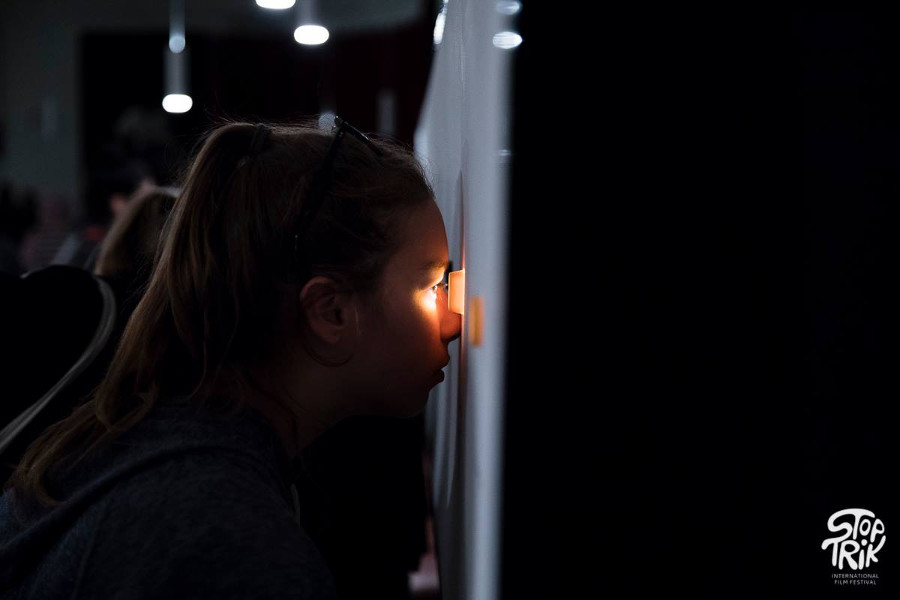 Peepin' through: Osbert Parker Exhibition at the 8th StopTrik Festival (c) StopTrik 2018
Passionate as he is in his artform, and narrative telling ability, Parker enlists a playful creativity approach: the results in his works is a calculated re-evaluation of film culture that feels brightly original and brand new.
Nothing was overtly poltiical in the winning film by
Tokyo University of the Arts student
Tomoki Misato
,
My Little Goat
(StopTrik Festival awards are judged cumulatively by audience and University of Maribor Student Jury, as well as  festival guests special mentions). But this highly tensed and visceral horror film of misplaced parenthood goes (as it is often the case with stop-motion) under one's skin -and identity masking is not unknown to our social and political habitat.
Ιn a Nutshell (Fabio Friedli), Cerulia (Sofia Carrillo) The Burden (Niki Lindroth von Bahr),  Mr. Deer (Mojtaba Mousavi), Musical Traumas (Miloš Tomić), A Love Letter to the One I Made Up (Rachel Gutgarts) were really some of he StopTrik festival standouts -and they were justly awarded (all winners below). But what is interesting in all those films is that a case for human integrity and responsibility comes out of a post-modern global mash-up.
Mr. Deer
endorses the social responsibility factory very eloquently; but this is also present in the freewheeling  musical creativity of Tomić's film or even the calm (but not bitter) acceptance of a non-future for Sofia Carrillo's heroine in
Cerulia.
All those films  show that problems need their own individual to stand up to them.
Joseph Wallace
's music video
Edith Piaf Said It Better Than Me
[full review],
whose characters reach for the impossible or
Grant Holden
's
Cleaning in Progress
broom-and-cleaner discourse of power relations or
Žoel Kastelic
's 
No Peace in the Studio
show that a steady resistance to mindless events can be actually a good starting point for a change.
That was also evident in the festival curator's roundtable, an initiative that animation festivals should actually practice more, for it bridges the perceived gap between animation practitioners and festival programmers. In this year's StopTrik roundtable,
Daniel Šuljić
(Animafest Zagreb)
Yves Nougarede
(Annecy, (France),
Weronika Płaczek
(Animocje, Poland), 
 

Maroš

Brojo
(Fest Anča, Slovakia), 
Piotr Kardas
(O!PLA, Poland),
Holger Lang
(Under-the-Radar Austria),
Slave Lukarov
(Supertoon, Croatia), and
Michal Bobrowski
,
Olga Bobrowska
(StopTrik) were the ones to tackle the hot topic of festival selection. Even though other programming tasks (such as competition programming duration) could not be handled in this event -another roundtable, perhaps?- it was illuminating to watch and hear that there are no semi-gods of programming in animation.
Even though you have to say "No" to a film you don't think it matches your selection purposes, as Šuljić noted, it is often the case that the festival has to make the compromise between 'what I want to show' vs. 'what I want to see' (Lang). And while Piotr Kardas -working years with educating audiences in experimental animation-  would be more optimistic about audience preferences, Brojo would still report that practicing film culture within a national context invokes its own restrictions anyway (the example of how to organize best national competitions). The most business-oriented global Annecy Film Festival would still allow a (small?) voice for its programmers to programme challenging films; meanwhile, medium-sized festivals would have to re-orient local players (city and regional council) to engage dynamically (and not only fund-wise) in the work of animation festival culture.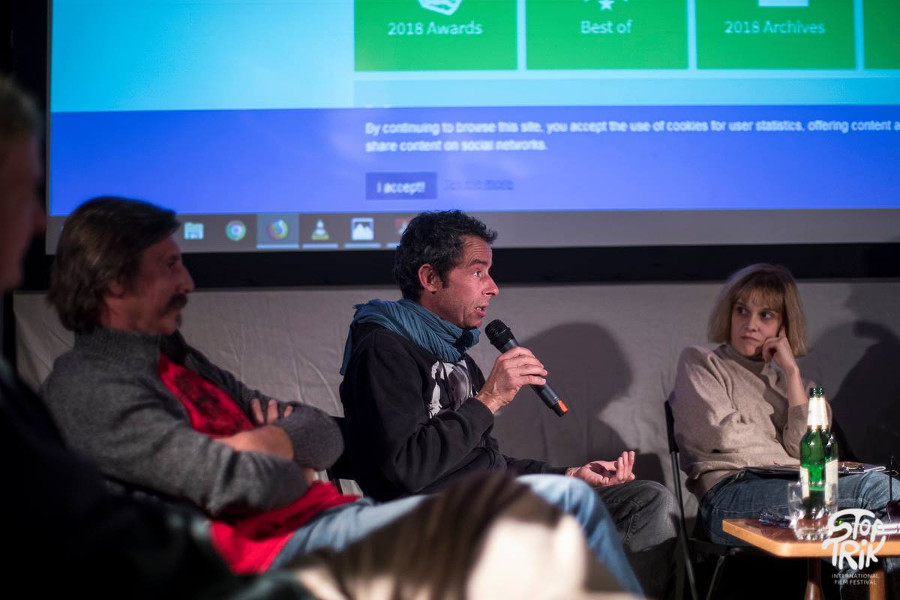 Slave Lukarov, Yves Nougarede, Olga Bobrowska (c) StopTrik 2018
Politics and film and animation culture discussion continued in the fairly convivial and alternative environment of G22 Gallery (some of the most thought-inspiring selection of O!PLA festival screened in its Black Box screening room there). While
Brenda M. Lopez
had to struggle with politically correct LGBT representation in her meticulously constructed,
mixed-technique short
Abeo,
she wisely used personal creativity and story priority above all else.
Daniel Šuljić
may state, referencing his coffee-animated 'bugs and politics' film,
From Under Which Rock Did They Crawl Out,
that animators and artists are always society's documentarians. if that is the case, then
Reinhold Bidner
's multi-layered
Ex Terrat
is its Facebook reflection.
Last (but not least), the Slovenian premiere of
Emma De Swaef
and
Marc James Roels
'
This Magnificent Cake!
[
our ZF review
] summarizes that art, city, nation and culture suffer terribly when they go their own, isolated ways, the way drinking 'enterpreneurs' usually do in the film.
StopTrik IF Festival atmosphere, programme and accompanying events only justifies what a boutique animation festival should be like: friendly, steadily focused on its aims, socially relevant, communicative, engaging, always interesting, and (above all), indispensable. The film and animation community needs both big-size business events and community-focused, programming excellent films events. Nobody in the stop-motion / animation /film community should miss StopTrik festival, no matter what the excuses are.
Full list of  8th StopTrik IFF Winners and Laureates
Prix juror - the Maribor audience,  Maribor Student jury  *Maribor Audience Grand Prix*: My Little Goat/ Moja mala koza/ マイリトルゴート, dir. Tomoki Misato, prod. Tokyo University of the Arts, 2018, Japan, 10'13'' The mother goat rescues her little goats from the wolf's belly. Bus, she can't find Toruku, her eldest son! Where is Toruku?!
*Maribor Audience The Borderlands Award*: In a Nutshell/ Na kratko, dir. Fabio Friedli, prod. YK Animation Studio, 2016, Switzerland, 5'34''
From a seed to war, from meat to love, from indifference to apocalypse. An attempt to capture the world in a nutshell.
 https://vimeo.com/239821361
*Maribor Students International Stop Motion Award*: Connoisseur/ Poznavalec/ Smakosz, dir. Daria Godyń, prod. Academy of Fine Arts Krakow, 2017, Poland, 6'19''
The main character is creating a "colorful" story about his own breakdown, in his mind. He's pushing himself into a tight form, created from the irrational complexes, fears and sorrows. Like in a Peter Bruegel painting, he's Dedal, as well as Icarus, and a peasant who is turning his eyes away from the tragedy at the same time. He's also the only person who can be saved by himself.
*Maribor Students The Borderlands Award*:A Love Letter to the One I Made Up/ Ljubezensko pismo za izmišljeno osebo/ Michtav ahava le'bahur she'hemtzeti/ מכתב אהבה לבחור שהמצאתי, dir. Rachel Gutgarts, prod. Bezalel Academy, 2017, Israel, 6'05''
A lonely walk home is intertwined with an underwater fantasy world. The combination between reality and fantasy is portrayed in a love letter addressed to an imaginary "perfect" man. The film is made with a unique technique of screen-printed animation.
https://vimeo.com/206040167
*StopTrik IFF Festival Director Olga Bobrowska Special Mention*: Musical Traumas/ Muzičke traume/ Glasbene travme, dir. Miloš Tomić, prod. Dribbling Pictures, 2018, Serbia, 10'26' A rhythmic compilation of traumatic but amusing confessions of former music school students https://vimeo.com/129292158
*StopTrik IFF Programme Director Michał Bobrowski Special Mention*: EX TERRAT, dir. & prod. Reinhold Bidner, 2016, Austria/France, 5'45''
Experimental Animation based on Paris Explorations. The basic Idea was to feel inspired by the Urban Landscapes, the Street Art, the People and the Museums while walking through Paris. Based on that my main focus was laid on Faces (but also atmospheres) that are rather on the darker side of the spectrum. https://vimeo.com/190357607
*Special Mention from Piotr Kardas (O!PLA/ Craft/ Rising of Lusitania)*: Daniel Šuljić (Kreativni sindikat, Zagreb film), 2018, CRO, 6' Evil bugs and creatures feel that the time has come to crawl out of their hideouts and populate the world.
*Special Mention from Weronika Płaczek (Animocje IAF, Bydgoszcz)*: The Burden/ Breme/ Min Börda, dir. Niki Lindroth von Bahr, prod. Malade AB, 2017, Sweden, 13': An animated musical with apocalyptic undertones. The story is divided into four episodes that takes place in a supermarket, a long term hotel, a call center and a hamburger restaurant. All of the settings are located in a modern, generic market place next to a large freeway.
 https://www.youtube.com/watch?v=phsmG-mn8Q4
*Special Mention from Holger Lang (Under-the-Radar, Vienna)*: ABEO, dir. Brenda M. Lopez Zepeda, prod. Mel Hoppenheim School of Cinema – Concordia University 2018, Canada, 7' A hard hitting mixed media animated short that depicts the journey of Nadia and Lupe, two immigrants who risked their lives to cross the Arizona desert in search of a better life
*Special Mention from Vassilis Kroustallis (Zippy Frames)*: Cerulia, dir. Sofia Carrillo, prod. Mexican Film Institute, 2017, Mexico, 12'56'': Cerulia comes back home to bid her final farewell, but her childhood memories and grandparents presence won't let her go.
*Special Mention from Yves Nougarède (Festival d'Annecy)*: Mr. Deer/ Aghaye Gavazn/ G. Jelen, Mojtaba Mousavi (RPTCA) 2018, IRN, 9': The story is narrated in an unknown time, in a ruined modern subway. People in this society have animal faces, they have forgotten humanity and ethics and they do not avoid sins. There is someone with a deer face who is trying to reform the society.
*Special Mention from Maroš Brojo  (Fest Anča, Žilina)*: Finity Calling/ Končnost kliče, dir. Jasper Kuipers, prod. seriousFilm, Walking the Dog, 2018, The Netherlands/ Belgium, 15' An empty room with five people, sitting at a table that seats six. Their withered bodies adorned with lush fabrics and jewelry, they spend eternity playing with their food. A charged silence fills the air. When the fragile equilibrium in the group is broken by the boy's constant pestering, the results are explosive.
The 8th StopTrik Festival takes place 4-7 October 2018 in Maribor, Slovenia, and 9-11 November 2018 in Lodz, Poland.
SIGN UP: Want to read more free articles like this? Sign up for Our Newsletter