StopTrik Festival Report 2022: Between Past and Future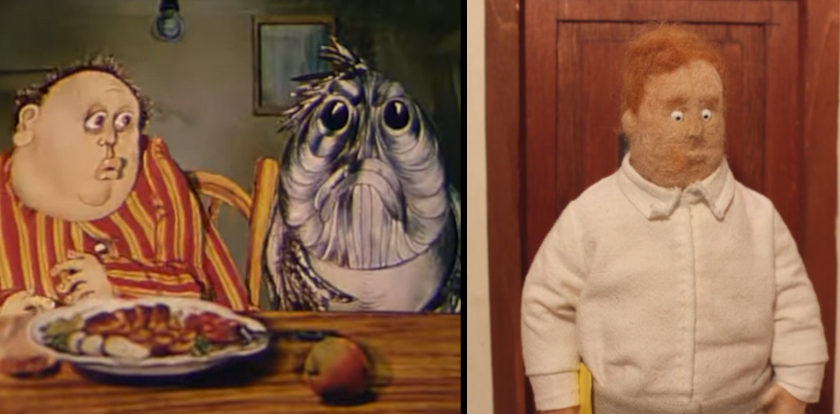 There's an inherent sexiness in the duality concept proposed (and meticulously observed) at this year's StopTrik Festival in Maribor (28 Sep - 2 Oct, and continuing 14-20 November in Lodz, Poland). The doppelgänger concept has been used in filmmaking, culture, and our everyday life as the bread-and-butter of duality, and it is imminent important in the stop-motion medium, where even the relationship between the creator and its tangible creation is at stake.
But I propose to move the pendulum from the creation and the creator, the good and the bad, to the dimension of time instead. What we watched at StopTrik Festival during those days of celebrating stop-motion animation has more to do with the past (and present) vs the future than the dichotomy of being a puppet or a human being. What we witnessed was a conscious and tangibly motivated effort to fuel (energy still strong) the past of animation scholarship, culture, and activism and take it into the next, future level of animation education, discourse -and action.
It made sense that StopTrik Festival is hosted under the umbrella of the youth cultural organization Pekarna Magdalenske mreže; a grassroots organization supporting cultural activities otherwise absent in the cultural landscape of the respective hosting cities. The past activities of StopTrik Festival and its parent organization are well-established; however, the future of Pekarna Magdalenske mreže is constantly under negotiation by politicians who seem to want easy money, and offer a lack of vision. The recent shutoff of the Edinburgh Film Festival should alert even the most skeptic that such events need to exist -otherwise only multiplexes and their culture will exist.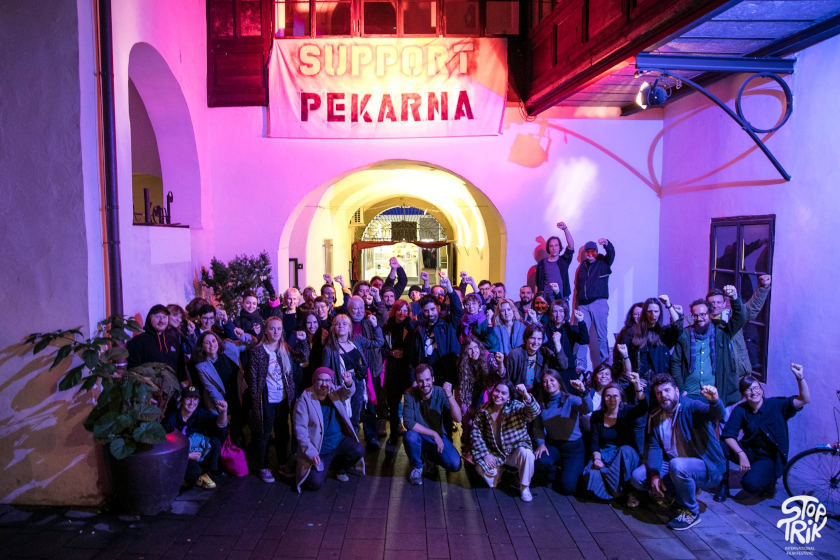 Yet the festival has a history of animation and cultural activism all along. During war times, it only gets stronger. To prove it, a most informative discussion and debate on Ukrainian animation were held (via Zoom) with Olena Goncharouk (Dovzhenko Center), Anastasiya Verlinska (Linoleum Contempoarary Animation and Media Art Festival), and Anastasiia Kanivets.
We did learn a lot about animation, to be sure. The little-known (and not much seen) 'Laziness' by the Ukrainian Yevhen Syvokin (part of the festival's doppelgänger retrospective) revealed a figure who is as close educationally and artistically to many figures, including Igor Kovalyov (assistant director for the marvelously suggestive film).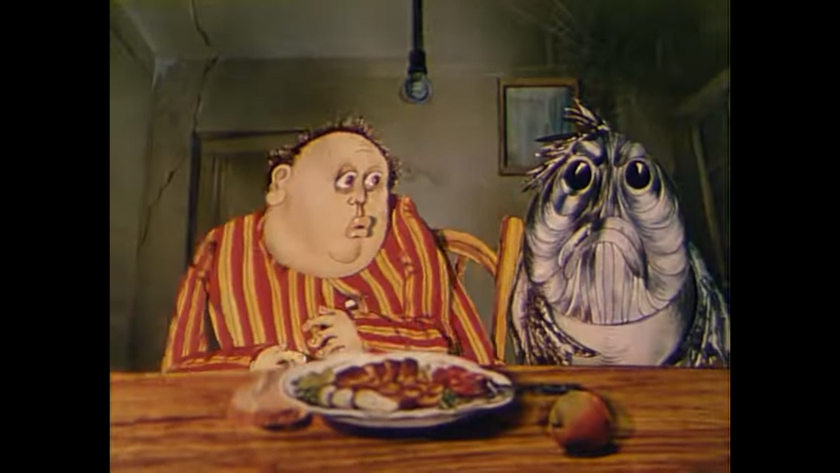 Ukrainian animation followed the path from agitprop and propaganda animation (specimens of which we did watch during StopTrik Festival) to children's animation to more subversive meanings and totalitarian critiques. Yet, the current situation is (obviously) marred by the war -every funding will do the army and Ukraine's defense, leaving the little amount left to be administered ('We had plans, now we have hopes', Anastasiya Verlinksa explains).
And, as Olena Goncharouk will further attest, the war situation gives rise to a non-transparent allocation of funding -even ideas of splitting the Dovzhenko film collection of its film prints, and selling them as part of a new, divided archive (to whom and for what purpose?) have dangerously resurfaced.
So, will the future of animation be as bleak and worrisome? Well, the StopTrik Festival educational activities prove otherwise. I had no chance to watch the children's film program (a new addition to the StopTrik competition), but I did have the chance to participate actively in its one-week workshop (called Workshot 2.0), which encompasses an all-inclusive critical literacy, scriptwriting, and stop-motion workshop.
This year's stop-motion component was conducted by none other than the Oscar-nominated 'Bestia' author Hugo Covarrubias (more on his own festival contribution here); the 5 student films that emerged were in line with the festival's main concept and made by students from 5 European Universities. They were fresh, and dramatic and give you a taste of what the future of stop-motion would be like.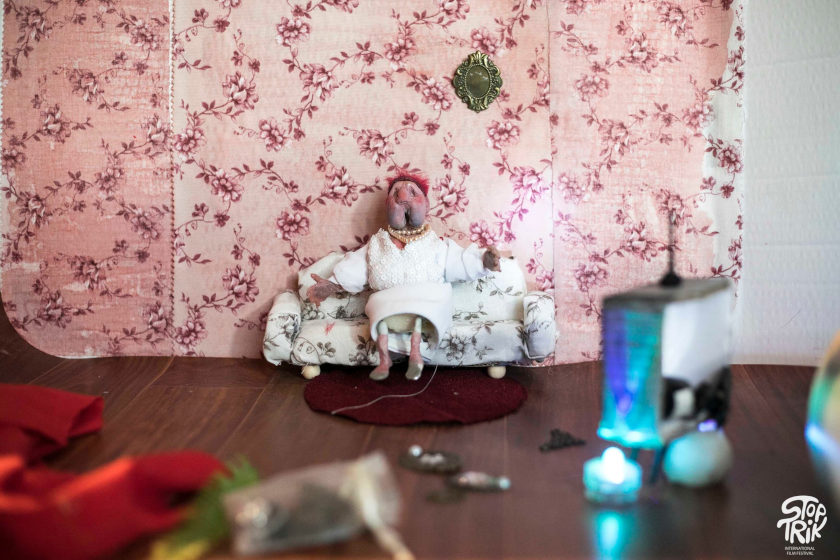 This brings us, curiously, back to the present and the festival's own competitive programme. The French student film 'Human Resources' by Trinidad Plass, Titouan Tillier and Isaac Wenzek (Titouan Tiller was present at the festival) won the Audience Grand Prix, plus two other awards (check the full list of winners below).
It is tempting to talk of 'Human Resources' as the film that beat Špela Čadež's 'Steakhouse' in her native country; but, the film stands by itself as a 3-minute meta-commentary on human uselessness -and a place where things matter more than the human working force. And felted wool can always recycle itself, right?
in the festival's extended discussion of talking to the authors (moderator: Alexis Hunot), Titouan Tiller explained the difficulty of filming without a tripod, to be able to follow his character as if hand-held - for a shooting rate of 7-9 seconds per day. He also mentioned how the different voice recordings of the two principal characters (the main character and the woman clerk) actually enhanced the distance between them and made the whole bureaucratic affair of 'being recycled' even more comically intense.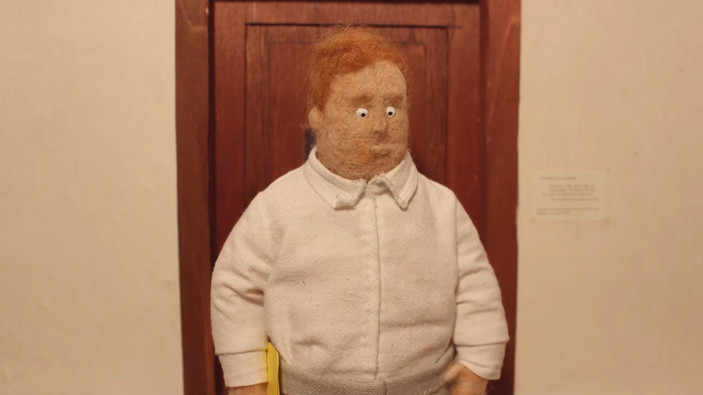 Equally metaverse-like was the puppet film 'Ostrich Told Me the World is Fake and I Think I Believe it' by Lachlan Pedragon, while Lucia Bulgheroni (who had made another meta film, Inanimate), this time shifted into gender and the empathetic 'Cromosoma X'.
Familiar names were presented (and awarded) at StopTrik Festival, including the two Estonians, Ülo Pikkov (Till We Meet Again) and Priit Tender (Dog Apartment). But new names, like the Israeli Raz Merhav with her clay 'Symbiosis', had also interesting things to say. Her own duality concept has an albino child taken care of by non-humans has remarkable character plasticity and lighting. The director used also human makeup and powder to present colored clay characters, whereas the crowd was formed by sand animation.
'Meneath: The Hidden Island of Ethics' by Terril Calder left the festival without any awards; still, the film is an exhaustive critique of Christian apologetics in the form of a Canadian Métis little girl, who needs to decide between opposing moral views. It is a film that should be widely seen beyond the usual animation festival circuit.
'The Nose Or Conspiracy of the Mavericks' by Andrey Khrzhanovsky animation feature graced the festival's doppelgänger theme and revealed Russia's troubled past of artists against the regime. In another, complimentary vein, the presentation of 7-second films in the (now nomadic) Shcha 7 sec Animated Film Festival, with its powerhouse of anti-war films, made it evident that reaction is action.
Some festival gems were reserved for the Panorama section, including the 'Mommie dearest' animation puppet film of 'Rotten Child' by Anej Golčar; a film in which changing face parts in front of the camera delivers a comically unsettled mother and son relationship.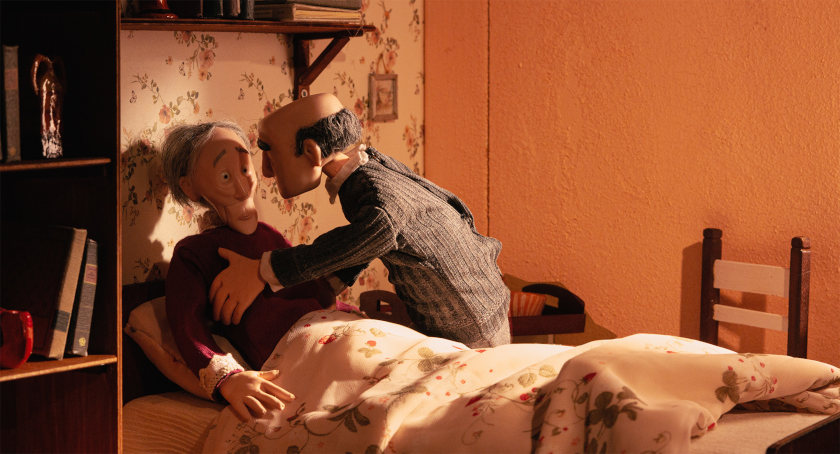 In the Borderlands (beyond traditional stop-motion) festival competition the 'Love, Dad' doc by Diana Cam Van Nguyen was justly awarded. Ivana Laučíková's 17-minute hybrid film 'Mercy' brought neonazis and angels in conflict, another juxtaposition of the past and the present.
And Germany-based scholar Naima Alam balanced the Western and Eastern way of animation filmmaking in her 'There's Always Another Side'  doppelgänger programme, which included the dynamic 'Lucia' by León Cristóbal and the hilariously inventive 'The Challenge to Death' by Juan Pablo Zaramella.
Moving once again to the future, academic Erwin Feyersinger (Institute of Media Studies, University of Tübingen) presented his ongoing project AniVision, an ambitious but doable project of collecting data from early ephemeral European films and detecting the animation component by AI machines in the forms of algorithms. Expanded animation, outside festival films, is here to stay, and animation professionals and scholars should utilize whatever tools they become available to make their critique and programming even sharper and to the point.
Welcoming exhibitions and vibrant concerts were a daily (and fine) routine at StopTrik Festival, and the festival's own size permits this tangible interaction that gives meaning to any kind of animated exchange. StopTrik Festival was never about just stop-motion animation programming; it had a wider encompassing vision as a film and cultural hub in Central/Southern Europe. Now, in its 12th year of existence, it contemplates the past and designs the future at the same time. It might look prosaic on paper, but in practice, they're doing a well-designed job.
Vassilis Kroustallis
The StopTrik 2022 Festival trailer

(animation: Sasha Svirsky, sound:  Alexey Prosvirnin)


The full lineup of winners:
 
STOPTRIK 2022 MARIBOR AUDIENCE GRAND PRIX
 

Human Resources / Ressources Humaines
Trinidad Plass, Titouan Tillier, Isaac Wenzek (EMCA), 2022, France, 3'30''
Andy, followed by a friend who is filming the scene, goes to his recycling appointment. Wanda, the secretary of the company, welcomes him.
STOPTRIK MARIBOR AUDIENCE 2022 BORDERLANDS AWARD
 

Love, Dad / Milý tati
Diana Cam Van Nguyen (13ka / FAMU / nutprodukcia), 2021, Czech Republic, Slovakia, 12'46''
The author rediscovers the letters her dad used to write her from prison. That love seems to be gone now. She decides to write back in hope to find the connection again.

STOPTRIK 2022 MARIBOR STUDENTS JURY
Stop motion award
 

'Til We Meet Again
Taaskohtumine, Ülo Pikkov (Nukufilm), 2022, Estonia, 14'09''
The film refers to the tragic history of a small Ruhnu Island. Fearing for their lives, its entire population abandoned their homes while escaping the war in 1944. Decades later they had a chance to finally return, only to find out that the strangers had settled in.
Jury's statement: When choosing our favourites, us three were looking for mainly three things: creativity, technical animation and above all else, how long it stayed in our heads. This retrospective story manages to capture the emotions of people who became strangers in their own home without using any spoken words. We were impressed with the creative use of local materials, how the animation made them alive and how it made us discuss it longer than any other movie in the catalog. That is why our winner of this year's StopTrik is 'Till We Meet Again. \

Borderlands Award
 

Us / Nós
Nelson Fernandes (The Stone and The Plot, 2021, Portugal, 5'
A journey through the conflicted human condition. War, loneliness, nature, crossings, fallen dreams are some of the recurring aspects in this animated poem on paper.
Jury's statement: A dreamy yet awakening animation that expresses various critical states of humanity. The animation read like poetry and for us maintained a perfect line between experimental and narrative. The award for the borderlands competition programme goes to the film called 'US' by Nelson Fernandes.
Stop motion special mention
 

Human Resources / Ressources Humaines
Trinidad Plass, Titouan Tillier, Isaac Wenzek (EMCA), 2022, France, 3'30''
Andy, followed by a friend who is filming the scene, goes to his recycling appointment. Wanda, the secretary of the company, welcomes him.
Jury's statement: The Film in a very Charlie Kaufman and humorous way displays the absurdity of human existence and is asking a quite simple question. Is our purpose really much more great of that of a chair? Our special mention goes to Human Resources.

MARIBOR YOUNG AUDIENCE GRAND PRIX (group age 6-8 years old)
 

Franzy's Soup-Kitchen / La Franzy's Soup-Kitchen / La Soupe De Franzy
Ana Chubinidze (Folimage, Pocket Studio), 2021, France, Georgia, 8'30''
Lonely alien Chef Franzy discovers that her special pink soup is not just delicious, but also magical, when she shares it with starving creatures living on a strange planet.
MARIBOR YOUNG AUDIENCE GRAND PRIX (group age 12-14 years old)
 

Dagda's Harp
Daniel Quirke (Molly Denton), 2021, Ireland, UK, 2'13''
Awakened by the retelling of his story, Dagda appears to a group of children, but the result of his spellbinding music isn't quite as scary as they thought.

SPECIAL MENTIONS:
Urška Breznik, director of Pekarna magdalenske mreže, head producer of StopTrik IFF (Maribor, Slovenia):

Crab / Krab
Piotr Chmielewski (WJTeam), 2022, Poland / France, 8'42''
The sinking of the Titanic was a great catastrophe for most of its passengers. But there was an individual who experienced it as a miracle.
Statement: The author shows that despite the strong presence of anthropomorphized animal characters in stop-motion animations, the latter can be an extremely suitable technique for exposing speciesism in our everyday interaction with animals. The author lets the viewers recognize the autonomy of the central character and recognizes his inherent value and thus also allows the viewer to recognise the crab as a person who has its own purpose of existence, his own interests and strives for his own well-being.

Pavel Horáček, Programme Director of Anifilm IAFF (Liberec, Czech Republic):
Dog-Apartment / Koerkorter
Priit Tender (Nukufilm), 2022, Estonia, 14'07''
Ills of fortune have deported a ballet dancer Sergei to a suburban kolhoz. Here he's having his mundane fights against routine, domestic animals and alcohol.
Statement: It's like we're watching some of the classical animation from the past, but then we realize that this "old classic" still seems to be uncomfortably current. Technical excellence, elaborate details, typical weird humour and the overall obscurity of the situations are, of course, an indispensable part. My special mention goes to Koerkorter / Dog-apartment by Priit Tender

Marcin Giżycki, Professor at the Polish-Japanese Academy of Information Technology (Warsaw, Poland) and Rhode Island School of Design (Providence, USA):

Of Wood
Owen Klatte (Glockamorra Investments, Llc), 2022, USA, 6'59''
Created by progressively carving images in a large round of wood, enhanced with wooden objects coming out of the wood.
Statement: For innovative technique and great visual effect.

Alexis Hunot, Artistic Director of Paris International Animation Film Festival:
 
Eat Your Carrots
Laura Stewart, 2022, Canada, 3'11''
Carrots are good for your eyes. Maybe too good. "Eat Your Carrots" is a short stop-motion animation about a girl who finds an eyeball growing on her arm.
Statement: It was a difficult choice, because you had great films not only in the competition but also in the other sections. But we need more surreal and absurd films to survive in the world we live in. So I decided to give my special mention to an absurd film, in appearance. Because almost in all absurd films, behind the story you can have a lot of meanings depending on how you look at them, And this one is like that. I love its simplicity, its rhythm. And the character is so well depicted in her small movements, the last shot opens so many doors in just a small blinking of one eye. And let's face it, who doesn't want to join this great dance with the character and this incredible Eyes-Monster … My special award goes to Eat you carrots by Laura Stewart.

Krste Gospodinovski, Flipbook Film Festival (Skopje, Macedonia):

Human Resources / Ressources Humaines
Trinidad Plass, Titouan Tillier, Isaac Wenzek (EMCA), 2022, France, 3'30''
Andy, followed by a friend who is filming the scene, goes to his recycling appointment. Wanda, the secretary of the company, welcomes him.
Statement: When we were asked to present the programme on StopTrik, both I and Zarko Ivanov decided that it would be a students' films programme because the students' films are really brave, courageous, free from the production pressure, and they can really show meanings of animation. My choice is exactly this - a really brave film, showing how a good story can be told in 3 minutes.

Pedro Serrazina, Professor at the University of Lusófona (Lisbon, Portugal):

The Pink Jacket / O Casaco Rosa
Mónica Santos (Animais Avpl, Vivement Lundi!, Um Segundo Filmes), 2022, Portugal, 8'
A political musical film about a Pink Jacket that always has something up his sleeve. In the comfort of his home, Casaco Rosa uses couture and torture to stitch up the opponents of the system.
Statement: It is not often that we see political AND musical animation films so, in the strange times we live in, I decided to distinguish the playful approach used to expose one of the many sinister characters from the Portuguese dictatorship (1926-74). This was a torturer who was convicted but never actually served his sentence in jail. We need to remember the past, so that we don't commit the same mistakes, and those who attempt against freedom and democracy are convicted for their crimes. My special mention goes to Monica Santos, director of the Pink Jacket.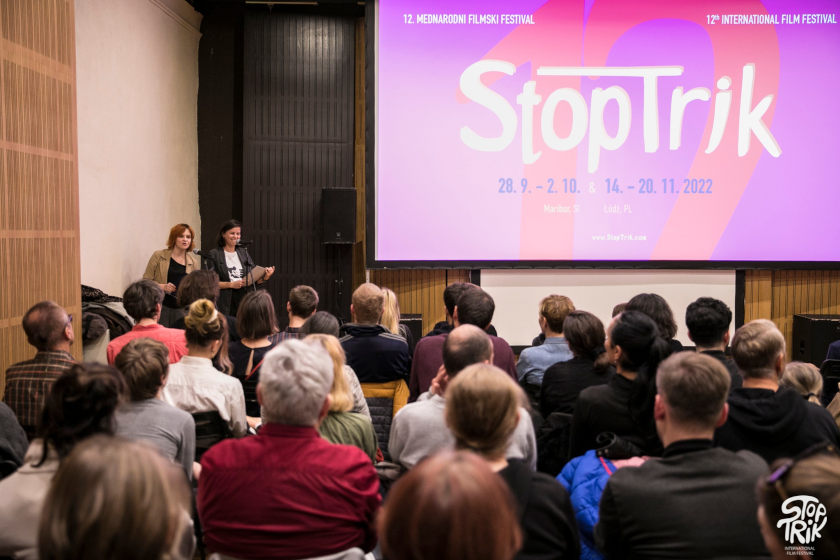 (all festival photos by Andrej Firm (c) StopTrik Festival)
SIGN UP: Want to read more free articles like this? Sign up for Our Newsletter