The Burden, Lu Over the Wall Win 2017 Annecy Prizes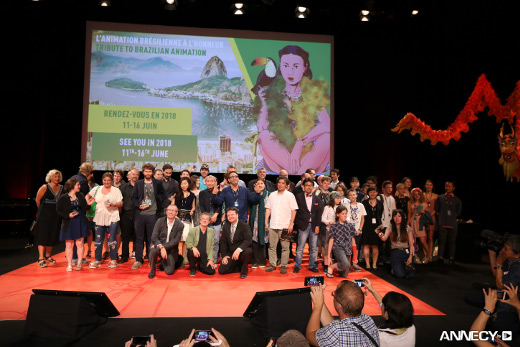 Starting with Louis Schwizgebel-Wang playing the piano to his father's Georges Schwizgebel's Erlking, the 2017 Annecy award ceremony proved to be a quiet event.
 The Swiss master took home the festival's Honorary Cristal for this work (14 times nominated at the Annecy Festival).
 Georges Schwizgebel is an animation guru, an artisan of precision and an artist who has inspired many young animators, said festival's artistic director Marcel Jean.
The Annecy festival in recent years has dropped off unnecessary theatricals and shows in its award ceremony; a fine move, since the number of awards increases each year.
The different juries from the 41st International Animation Film Festival gave 17 awards during the Closing Ceremony (Saturday 17th June).
The big winner was the deadpan Swedish musical The Burden (Min Börda by Niki Lindroth Von Bahr, MALADE AB (Sweden).
The film made its premiere at the 2017 Berlin Film Festival; it successfully depicts, in the style of Wes Anderson and Yorgos Lanthimos, four episodes that take place in a supermarket, a long term hotel, a call center and a hamburger restaurant.
It is the first musical short film to take the Cristal D' Annecy since 2007, when Suzie Templeton won for Peter and the Wolf, based on Sergei Prokofiev's musical piece.

Jury distinction for French company Papy3D (who won last year's Cristal with Frank Dion's The Head Vanishes) with The Ogre by Laurène Braibant.
The "Jean-Luc Xiberras" Award for a First Film went to the Romanian The Blissful Accidental Death by Sergiu Negulici, whereas the Turkish Ayce Kartal got the Jury Award for Wicked Girl (Kötü Kiz).
A big surprise at the feature film awards: the Japanse feature Lu Over the Wall by Masaaki Yuasa won the Cristal for a feature film. The film details the friendship of Kai, a boy in a small village and the mermaid Lu.
The film looks surprisingly close to Miyazaki's Ponyo, yet the story seems more dramatic here. It won over the much-hyped Loving Vincent  by Dorota Kopiela and Hugh Welchman (which won the Audience Award) and the exquisite Hiroshima drama In this corner of the world by Sunao Katabuchi (Jury Prize for a Feature Film).
UK won big in the TV & Commissioned Films category (3 awards ouf of 5), with Anna Ginsburg winning the Cristal for a Commissioned Film for her Material World [watch it here]
The BBC show Revolting Rhymes Part One by Jakob Schuh, Jan Lachauer & Bin-han To, which retells classical fairy tales on the rhymes written by Roald Dahl, was the winner (Annecy Cristal) for a TV production.
Sog by Jonatan Schwenk (HFG / Germany) won the Cristal for a Graduation Film. Sog is a hybrid stop-motion/2D/3D film about an unexpected fish gathering in a cave.
But the acceptance speech award of the ceremony goes to Japanese Sawako Kabuki,  who won the Jury Award for her food-and-puke film, Summer's Puke is Winter's Delight. Kabuki just went on stage, and declared: "I'm so happy, I want to F*** everybody!"
Audience award for a short film went to the brilliantly conceived family journey of Grandpa is a Walrus by Lucrèce Andreae (France), which premiered at the 2017 Cannes festival.
View all Annecy 2017 winners:
TV AND COMMISSIONED FILMS
Commissioned Films, Jury Award:  Moby "Are You Lost in the World Like Me? STEVE CUTTS (USA, UNITED KINGDOM)
Cristal for a Commissioned Film: Material World, Anna Ginsburg, STRANGE BEAST (UK)
TV Series and Specials
Special Distinction for a TV Series: BoJack Horseman "Fish Out Of Water", Mike Hollingsworth, TORNANTE PRODUCTIONS, LLC (USA)Jury Award for a TV Series: The Man-Woman Case "Wanted", Anaïs Caura MY FANTASY / 2 P2L, FRANCE TÉLÉVISIONS NOUVELLES ÉCRITURES (France)Cristal for a TV Production: Revoltng Rhymes Part One, Jakob Schuh, Jan Lachauer, Bin-han To, MAGIC LIGHT PICTURES (United Kingdom)
 GRADUATION FILMS
Jury Distinction: Pas à pas, Charline Arnoux, Mylène Gapp, Léa Rubinstayn, Florian Heilig, Mélissa Roux, ESMA (ÉCOLE SUPÉRIEURE DES MÉTIERS ARTISTIQUES), France
Jury Award: Summer's Puke is Winter's Delight: Sawako Kabuki, TAMA ART UNIVERSITY, Japan
Cristal for a Graduation Film:  Sog, Jonatan Schwenk, HFG – HOCHSCHULE FÜR GESTALTUNG OFFENBACH AM MAIN (Germany)
 OFF-LIMITS SHORT FILMS
 "Off-Limits" Award: Dix puissance moins quarante-trois seconde, FRANCIS, MIYU PRODUCTIONS (France)
 FEATURE FILMS
 Audience Award:  Dorota Kobiela and Hugh Welchman for Loving Vincent.., TRADEMARK FILMS, BREAKTHRU PRODUCTIONS (Poland, United Kingdom)
Jury Award:  In This Corner of the World, Sunao Katabuchi, MAPPA (MARUYAMA ANIMATION PRODUCE PROJECT ASSOCIATION), GENCO, INC. (Japan)
Cristal for a Feature Film: Lu Over the Wall, Masaaki Yuasa, SCIENCE SARU INC (Japan)
SHORT FILMS
 Audience Award: Grandpa Walrus, Lucrèce Andreae, CAÏMANS PRODUCTIONS (France)
Jury Distinction: The Ogre, Laurène Braibant, PAPY3D PRODUCTIONS (France)
The "Jean-Luc Xiberras" Award for a First Film: The Blissful Accidental Death, Sergiu Negulici, ABIS STUDIO (Romania)
Jury Award: Kötü Kiz > Wicked Girl, Ayce Kartal, LES VALSEURS (France, Turkey)
Cristal for a Short Film Min Börda > The Burden, Niki Lindroth Von Bahr, MALADE AB (Sweden)
 See also the special prizes awarded during the 2017 festival
The next edition of Annecy International Animation Film Festival takes place 11-16 June 2018, with Brazil as its country in focus.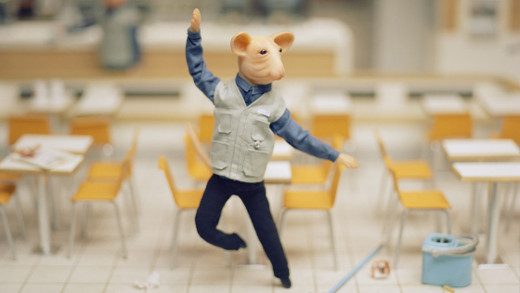 The Burden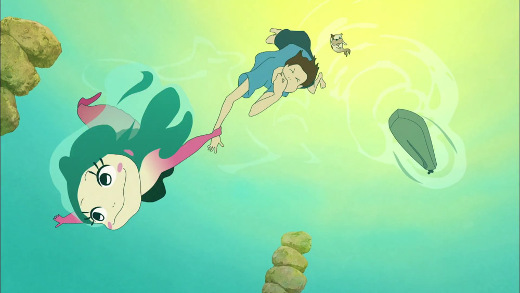 Lu Over the Wall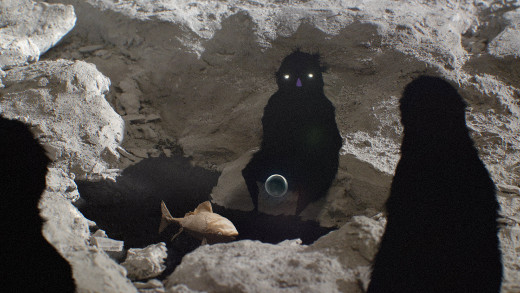 Sog