Weird Market 2022: A Showcase of Animation Creativity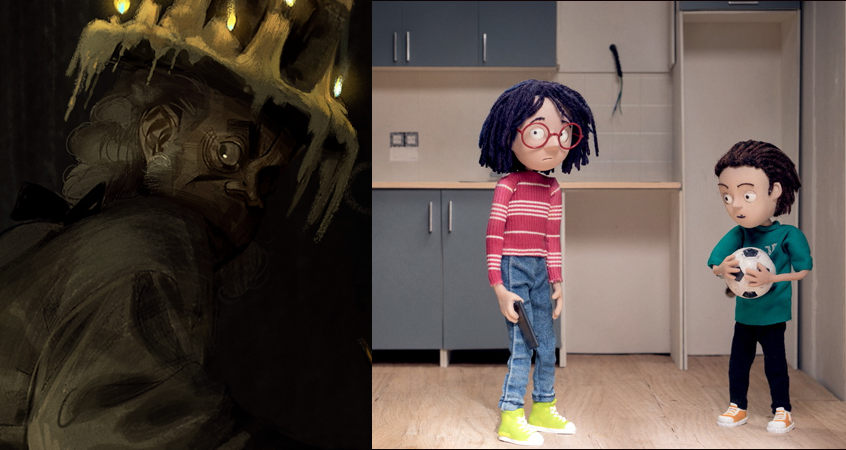 What does 'Nayola' (José Miguel Ribeiro, 2022), 'Homeless Home' (Alberto Vázquez 2020), and 'Turu, The Wacky Hen' (Victor Monigote, Eduardo Gondell, 2019) have in common? All went through the Weird event catalogs and screen. Weird  Animation, Video Games and New Media event (formerly 3D Wire) appears as a featured event in the 'Mapping the Animation Industry in Europe: Report by the European Audiovisual Observatory and the European Commission 2016'.
After 14 years of being hosted in Segovia, the Weird Festival and Market moved to the city of Valencia, Spain, where it once again presented a set of works and future works in animation, series, games, and comics for the international market, producers, distributors, and broadcasting media. The event was held in the big Centro Cultural La Beneficencia, with many architectural details and a fantastic building (a former church).
I was there, and now I can bring to the readers of Zippy Frames my look at the project presentations - out of the 170 projects featured in the event catalog. The presentations were divided into three different sessions; with all formats bundled together. It was possible to see the series, features, jogs, or comics presentations in the same session. I find it very interesting, as it offers the public a varied source of information, techniques, narratives, and aesthetics.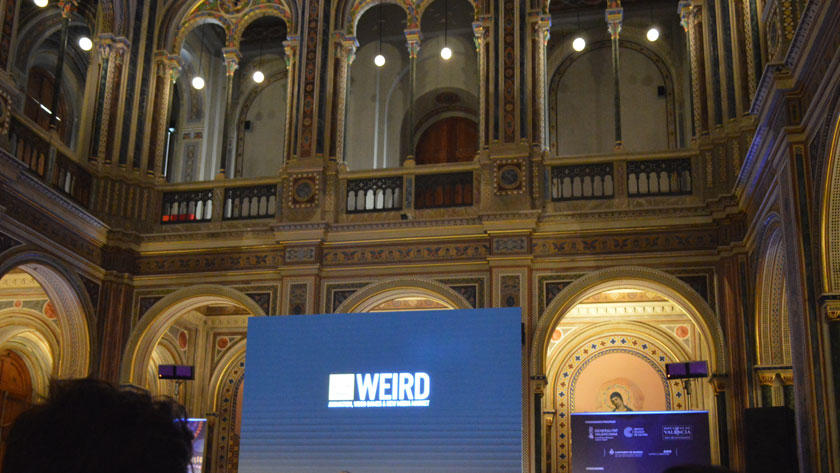 Something that became clear was the strength of projects with a strong "feminist" theme - I don't like the term. Seven of the 18 projects presented brought this female empowerment in the chosen theme or because the main character is a female. That is, almost 40% of the presentations (Check the full list of projects and their synopsis below).

However, going straight to the point, I quickly commented about the three (not awarded) projects, which caught my attention, either for aesthetic reasons, the theme, or the approach developed.
The first was the first short project from the first session, 'The Quinta's Ghost' by James Castillo, Spain. "I became interested in the mental discourse that led Francisco to paint these images on the walls of his house, alone, in the dark (...)". It shows a brief period in the life of the Spanish painter Francisco de Goya (1746-1828). The film will show the period when Goya was in his Quinta and "meets his ghosts".
As an artist, Francisco Goya had a troubled life, going through different phases of Spanish political life. From being a court painter, and a critic of the political situation, Goya goes through several traumas and personal losses, which are explicit or metaphoric illustrated, in one way or another, in his engravings and the "black" phase of his work. And according to James, it is this spirit that one wants to represent, where the protagonist is the house, which awakens only the ghosts of this artist who witnessed this historic moment.
The choice to work with drawing and painting was a natural choice for the director since there is a need to respect and be consistent with the painter's legacy. Thus, stop motion or 3D was not even considered. Goya's drama and ghosts seem to suit James' aesthetic choice ideally: since the fluidity, sinuosity, and airiness of the drawing line and the enhancement of shadows with the contrast of chiaroscuro become aligned with the fantastic and dramatic moment of Goya's life, that James wants to represent in his short.
The second project is the feature film 'Olivia and the Invisible Earthquake' by Irene Iborra. It is a stop motion feature film developed from the book 'La película de la vida' ('The Life's Film') by her friend and ex-professor of the script, Maite Carranza. The book was based on real-life situations of some children who faced severe needs due to the pandemic. And even the life of Isabel found herself in a single-parent family with her children.
The drama shows Olivia, a 12-year-old girl forced to assume the mother's role (she is in depression) to help her younger brother overcome all kinds of difficulties. But beyond that, the girl has to face her changed age, adapting to her new neighborhood and colleagues. It's interesting how stop motion with puppets is easily chosen as a technique when tackling such difficult and so real subjects. 'Mary and Max' (Adam Elliot, 2009),  After All' (Michel Cusack, 2016), and $$9.99 (Tatia Rosenthal, 2008) are examples that come to mind, and that perfectly embody stories beyond fiction.
The third one is Isabel Herguera's feature film, 'Sultana's Dream'. I won't expand on it because an interview with the director will soon be published. Although, what drew my attention to the project was its complexity and even its historical relevance and value.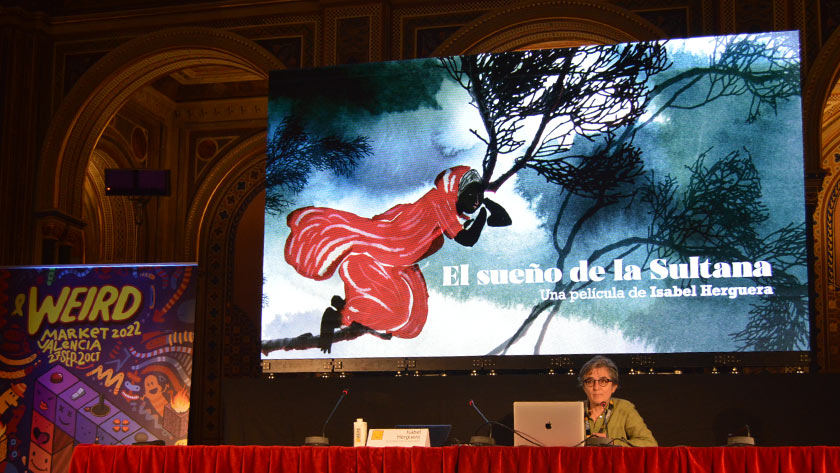 The film is based on the science fiction book 'Sultana's Dream' by Rokeya Hossain, an Indian woman who, in 1905, conceived the idea of ​​a country where the men stayed at home, the women had a life outside and took care of everything. After extensive research, Isabel planned the story of a young woman who reads the book and searches for this place. This becomes the first part of the narrative, done in watercolor, alluding to travel diaries.
The second part of the narrative, with reindeer tattoo aesthetics, is the point where the young woman finds this country of women. The third one, which portrays the writer, is made in cutout animation - representing India in the 1920s, a time when shadow theater was highlighted. Looking forward to seeing this work both at an aesthetic and narrative level (but not just this project!) 
Presentation of  Projects - Block 1 
'The Quinta's Ghost', by James A. Castillo - Short
After falling terribly ill in his new home, Francisco de Goya is visited by the ghosts of his past. Haunted by the visits and in a dire state of health, Goya paints the black paintings as a last resort to get rid of his ghosts, paying for it the price of his sanity and, almost, his life.
Director: James A. Castillo
'The Fabulous Fear Machine', Fictiorama Studios - Video Game - Awarded with RTVE Interactive Video Game Weird Plus Award
Narrative-driven strategy game with a pulp horror style. You play as a newly minted Master of the Machine, having been called to greatness by its mysterious keeper. To pursue your goals, you must generate and spread fear through the careful cultivation of various Legends. 
Developer company: Fictiorama Studios
"El Gran Leopard", by Isabel Núñez & Julián Larrauri - Short
The great Leopard Simi has cursed the Toblons to a terrible drought. Valiant warriors have faced him, perishing in the attempt. When it seems that there is no more hope, Ayira, the daughter of the chief of the tribe, decides to act... Strength, ambition, fight, power... What's happened if the old foundations of the tribe no longer made sense?Director: Isabel Núñez y Julián Larrauri / Production company: Pokeepsie Films
'Brian the Brain', by Tomás Peña - Animation Series  - Awarded with Spanish Screenings Anímate Award
The boy with the exposed brain who has telepathic and telekinetic powers will show you what it means to grow up as a laboratory guinea pig. Welcome to a nightmare designed by multinational pharmaceutical companies in which the future is a recombination of DNA!
Director: Tomás Peña / Production company: Bliss
D.J.A (Dream Jobs Agency), by José Ignacio Molano Silván - Animation Series
An educational comedy that encourages children around the world to explore and understand the different professions that have existed, exist and will exist. Under your beds there are no monsters or ghosts. Among the dust, darkness, socks, and some secrets, there is the entrance to the Dream Jobs Agency or DJA.
Director: José Ignacio Molano Silván (Mol) / Production company: Most Wantedstudio.
'Olivia and the Invisible Earthquake", by Irene Iborra - Feature Film
Olivia sees how her life collapses when her family is evicted. Once evicted, Olivia, her little brother Tim and her mother Ingrid, occupy an empty apartment in a suburban neighborhood. Ingrid, naturally optimistic and energetic, burrows into a depression. Olivia is forced to take her place and take care of the family while she deals with her own emotional earthquake.
Director: Irene Iborra / Production company: Terremoto AIE (Citoplamas Stopmotion, Cornelius Filmes & Bígaro Filmes) & Vivement Lundi!
Presentation of  Projects - Block 2
"The Treasure of Barracuda", by Adrià Garcia - Feature Film
Chispas, an orphan girl, wants to look for her uncle, but she mistakenly ends up on a pirate ship! A boat full of fearsome pirates who never accept a woman among them and also have a problem: to find the treasure that they crave, they must read a book. Chispas is the only one that knows how to read. 
Director: Adrià GarciaProductora / Production company: Inicia Films
'Pink Noise', by Álvaro León Rodríguez - Transmedia
A 360 narrative ecosystem with multiple output formats. An original comedy universe starring relevant women from all historical periods where cats rule the world, they have replaced the patriarchal hegemony of men to impose their own dictatorship.
Director: Marco Rodríguez / Production company: La Mola Films.
'Yanco & Dina and the Dinosaurs', by Alfonso Rodríguez Duarte - Animation Series
Thousands of years ago the dinosaurs had their own Noah's Ark. Before the meteorite crashed into the Earth, their eggs were taken to a ship to put them safe, before the imminent extinction. A sapiens worried about their survival and an omelette-lover yeti were in charge of the mission. 
Director: Alfonso Rodríguez Duarte/ Production company: Zinkia. 
'Bigger Than Me, Dead Pixel Games' - Video Game
Point & click graphic (mis)adventure about Max, a young man full of uncertainties with a peculiar problem: he becomes a giant every time he hears the word 'FUTURE'. Puzzles, minigames and existential crises are spiced up with humor in a story about growing up in a world that seems to be ending.
Developer company: Dead Pixel Games
'The Girl with the Occupied Eyes', by André Carrilho - Short
A girl wanders always clutching a phone from which she never takes her eyes off. Along the way, she comes across a group of strambolic characters. Everyone tries to captivate her and draw her attention, but she is indifferent to everything around her. During the dizzying journey on a roller coaster, the phone would slip out of her hands. 
Director: André Carrilho / Production company: Blablabla Media.
'Firsts', by Bambu (Jorge) Orellana & Paloma Mora - Animation Series
The life stories of women all over the world who became pioneers in fields that until then were reserved for men. With passion and determination, these young women decided to change the rules to make their dreams come true. They became the "firsts" in entering fields such as sports, science, arts, and social movements.
Director: Bambú (Jorge) Orellana, Paloma Mora / Production company: TV ON, Admirable Films Y Tippo Creative Lab.
'The Hundred Deaths of Peck', by JuanPe Arroyo Molina - Short
The little Goblin Peck, is the cleaning guy at a brutal Orc Fighting Pit, his chances of achieving his dream and becoming The Champion are less than none, but everything changes when he comes by a trinket that grants him: Immortality!!
Director: JuanPe Arroyo Molina
'Manolitos', by Diego Porral & Joaquín Garralda - Animation Series -  Awarded with The Best Young Creator Series Project
Fran has a shitty life. Is it because he works unblocking septic tanks for an SME in Ávila? No. It's because there, he is surrounded by histrionic, maddening characters that comically critique the faults we see in our generation.
Director: Diego Porral, Joaquín Garralda / Production company: JEG Producciones
Presentation of  Projects - Block 3
'With Money Howls the Wolf', by Carlos Valles Lloría & Rubén Rico Miralles - Comic
A globetrotter and a slave girl are chased by the authorities of the State of Utah, a gang of bounty hunters paid by the biggest mobster in the area, an assassin, and a T-Rex.
Authors: Carlos Valles Lloría, Rubén Rico Miralles / Cartoonist: Carlos Valles Lloría, Rubén Rico Miralles
'Sultana's Dream', by Isabel Herguera - Feature Film
Inspired by the feminist science fiction classic of the same name; a short story written by Rokeya Hossein in Bangladesh in 1905 proposes Ladyland, a place where women are highly educated and hold the power to rule their country, while men live in reclusion taking care of children and domestic chores.
Directors: Isabel Herguera / Production company: Sultana Films, Elgatoverde Producciones, Abano Producións, UNIKO Estudio & Fabian & Fred
'Curse of the Sea Rats', Petoons Studio - Video Game
A 'ratoidvania' platform adventure that traces the epic journey of four prisoners of the British empire, transformed into rats. To regain their human bodies, they must fight dangerous bosses, uncover the secrets of the vast Irish coast, and ultimately capture the witch who cursed them.
'The Last Spitfire', by Renato Roldan Ramis - Short
During World War II, female pilots were used to transporting planes from one base to another, Elisabeth is in charge of transporting the last production spitfire, made with the remains of others, to the RAF base, on her way she will find herself alone in the face of danger.
[In addition, the project 'Buffet Paradiso' by Héctor Zafra (not presented during Weird Market) won the Movistar Plus+ Short Film Project Award]
 Weird's International Animation Short Films Festival and Market took place from 26th September to 2nd October 2022 in Valencia, Spain
contributed by: Eliane Gordeeff
SIGN UP: Want to read more free articles like this? Sign up for Our Newsletter