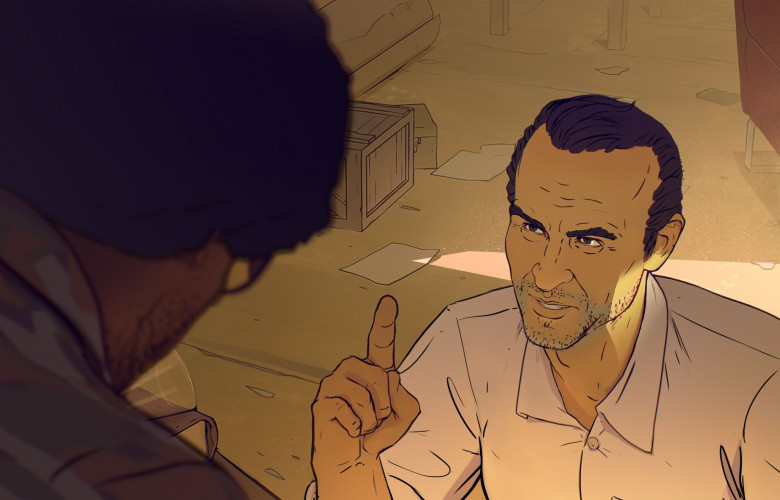 Eliane Gordeeff talks to Raúl De La Fuente, co-director of Another Day of Life.
Now that History seems to repeat itself, it is interesting to observe the story of the war correspondent Ryszard Kapuscinski (1932 - 2007). This is the motto of the film Another Day of Life by Spanish director Raúl de la Fuente and Polish director Damian Nenow. The production was part of the official selection of the Cannes Film Festival, received the Audience Award of the San Sebastián Film Festival (first Spanish film to receive the prize) and is candidate to 5 Emile Awards (Best Director, Writing, Background & Character Design, Soundtrack, Sound Design), in addition to being chosen for the opening session of 3D Wire Fest (Spain) and Cinanima Festival (Portugal), this year.
Another Day of Life is not just another feature animated film. As well as Waltz with Bashir (Ari Folman 2009), this animation feature mixed with real images presents a documentary about crucial events in Angola's history. The film is based on the novel of the same name (1976) by Kapuscinski, the result of the 3-month period in which he was observing the Civil War in Angola, where he made and lost friends, definitively marking his life. Admirers of the Polish writer, both filmmakers, Fuentes and Nenow were able to portray the history of struggle for freedom and autonomy of the Angolan people, through the dramas lived by real characters, as well as the cold war reflexes in the African conflict. It is not a documentary in "stricto sensu", and that is not the goal. It shows and tells real situations, events that happened, but in a cinematographic way, and at many moments, as a thriller. The film is also not exempt but based on the ideas of Kapuscinski, who chooses one side of the war to fight for.
Another Day of Life took ten years to be produced, with a research that involved three countries (Poland, Angola and Cuba), showing images, documents and interviews, as well as some original Kapuscinski's materials. The way the narrative is visually developed attracts and stimulates the attention of the audience. One can look at the film from two angles, the visual or the narrative. In animated terms, the motion capture of the film tries to be faithful to the characters and the naturalistic image of the filmed image. Sometimes, when the animated image becomes a live-action one, that reminds the audience: "this is a real story". The aesthetic takes off from the real form of naturalistic image, when the narrative approaches situations of dramatic or emotional load, taking advantage of the abstraction power of the drawing, representing and giving body to surrealistic representation of Kapuscinski's emotions.
It is very interesting how these sequences were developed, and we can see the influence of Nenow and his short Paths of Hate (2010), in the development of the idea of Fuentes, who always imagined the story as being in animation. The variation of the lines, the use of colours, their distribution and movements end up creating another level of visual information to the public, which is led to perceive emotionally the intensity of the narrative moment. When the character that we met from the animated part then appears in the flesh and blood live-action footage, the animation suddenly becomes much deeper than we thought.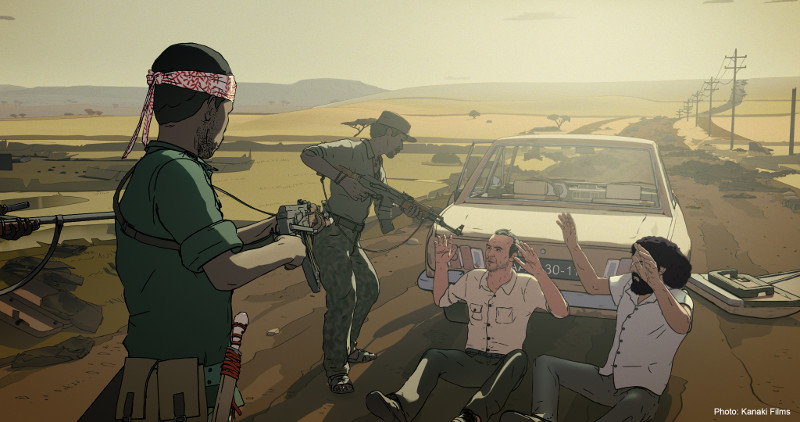 The images are completed with distinctive black contours of characters, with shading and with a colour palette so specific that it could constitute in another character in the history of Kapuscinski. Another Day of Life is an innovative combination of different worlds: real image footage, feature film montage, the similarity with a graphic novel, thriller, animated sequences of action and delirious and surrealistic visions. An international team composed of more than five hundred people has worked to make this incredible project come alive. I talked to Raúl about his work.
How was the choice of this theme, to develop into animated feature film, and your partnership with Damian Nenow?
RF: Since very young, me and Nenow are fans of Kapuscinski. We wanted to develop a movie about Kapuscinski because there was none. I read all his work, which influenced my life. I started traveling around Africa like him, making documentaries, and I started to know Africa and America because of Kapuscinski. And when I read his books, I imagined these stories as movies because Kapuscinski's work is very visual. It could be me, to make a movie about him since he was so important to me.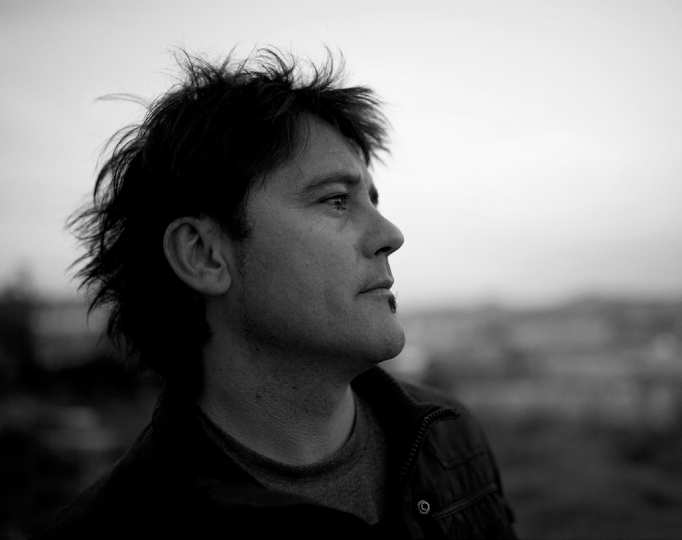 So, I started working together with Amaia Ramνrez Garcνa (Spanish producer, from Kanaki Films, San Sebastián), and we decided to adapt one of his books. Another day of Life, was Kapuscinski's favorite book, and it has a very suitable narrative structure for a film adaptation. It is about the history of Angola, one of the last countries to achieve independence, and Kapuscinski could not miss this moment of African liberation.
The film takes full advantage of the book's potential. It is also a story that takes place in the middle of the Cold War - between the USA and Soviet Union that were fighting for the control of the world. Then, they tried to take control over Angola (a rich country in oil and gems) through this moment of independence from Portugal. The fate of the world was being fought there. So, we had all the ingredients to create and make a good movie. We went looking for the real characters if they were alive, and first, we had contacted them by phone. It struck us as a passionate story.
At this point, we associated with Damien Nenow and the Polish Platige Films to develop this cinematic dream. We went to Warsaw and met Alicja Kapuscinska, Kapuscinski's wife, to get the rights of the book. Then, we went to Angola to research about Kapuscinski and his life there. The film was born as an original idea, but also as a response to Kapuscinski. He wrote the book in 1976. However, over time what would have happened to his companions and to Angola? Kapuscinski died in 2007. So, my mission was to tell his story and respond to what happened with his friends and his beloved Angola. The film is not just an animated film, but it tells the life of Kapuscinski's friends 40 years later. Remembering all the fights and horrors that they had lived with their friend.
ZF: And how were the adjustments and the aesthetic decisions for the most dramatic moments of the film. How was this process? I ask you this because Damian's work has a visually strong personality... how was that balance?
RF: Yes, we both have a strong work. And it was a long task, a co-production of five countries, held by two directors. Of course, it was a bit difficult and complicated. As the idea came from me, I had the ideas in my head. So, sometimes we discussed, we had a lot of personal contacts through the web, and we spend some time to define some points, anyway... The most important decisions were taken by both. Of course, some few parties demanded more from one or from the other, and as well as we had the participation of the teams. However, I think the film caught the best of us, synthesizing our artistic intentions. A straightforward movie, strong, powerful.
ZF: Yes, I agree. And I think we live at the right time for your movie.
RF: Yes, the film speaks of the human condition at war. And the cold war of 1975, is what we are living now, practically with the same actors. US, Russia and... Syria. I think the film is necessary because it tells about those people who really tried to change the world, to make it a better place. Kapuscinski regarded his work as a mission, for the betterment of the world. He was a cultural translator giving voice to those who had none. So, I think that Kapuscinski's work and the film are more current than ever.
ZP: Yes, exactly. And even the feminine question, which I believe was not your intention, but portrays the situation of the woman in a normal, natural and feminine way (and I speak as a woman), through Carlota.
RF: She is a diamond from this history. It is Kapuscinski's alter-ego and represents all the civilians, and innocents who die in the wars, and the female condition in that context. It represents the values of social justice, equality, the desire to work for others, to care for children, to fight for a more just society - where women have a prominent role. Carlota's dreams were the dreams of an era, it was the awakening of an entire continent. She was a Muse, we can call her that. It was a woman who scored a lot Kapuscinski, and who encouraged him to write. She told him, "Make sure that we will not be forgotten".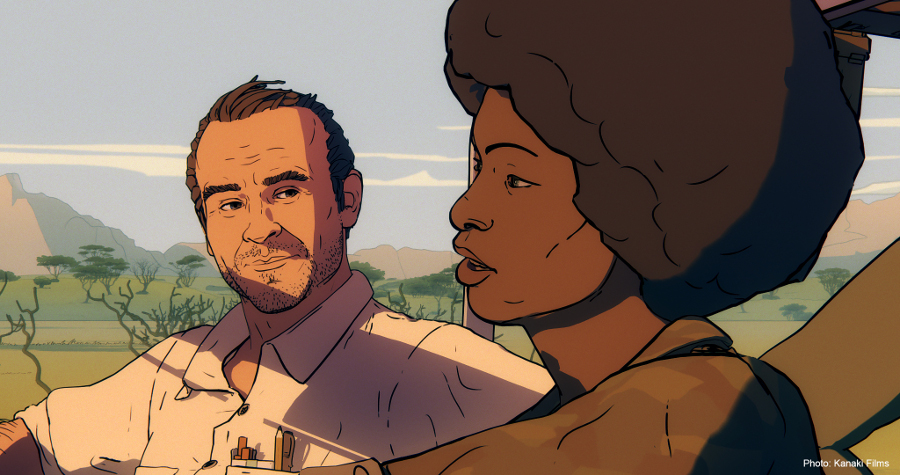 It was a kind of mission that Carlota gave to Kapuscinski. And after the events, Kapuscinski decides that this is his way, writing and recording the events of real people like Carlota. The story runs around these two characters, Carlota and Kapuscinski who fight for the same things, and together they fought for a better Angola. However, Kapuscinski felt guilty about Carlota's death, as well as Luis Alberto (a real character of the film). He explained to me since it was present at the time that they could not prevent Carlota to go to the fight. She was a military woman and was in command. She was already a famous militant. They were foreigners, and she was the local authority.
ZF: She is the owner of the history...
RF: Yes, yes, so much that she closes the film. I remember very well when we were in Lisbon with Luis Alberto, and we watched a war front film which he had not seen since then. It took place at Lisbon Cinematheque and we saw Carlota alive... followed by Luis Alberto young, and then Kapuscinski, ...the whole team, when Carlota appeared talking, we were all moved, she was fascinating. I then realized she was the diamond of the film. To be able to see her alive, was a gift that this work offered us. So, the film comes from her (and our) desire, will, not to be forgotten, "one more day of life after death". The film also resurrects Carlota, through the shot sequences of her talking, driving... it is a tribute to all niceness that she represents.
Synopsis
Warsaw, 1975. Kapuscinski (43) is a brilliant veteran journalist, an idealist and a friend of lost causes and revolutions. At the polish press agency, he convinces his boss to send him to Angola where a bloody civil war has broken out on the eve of the country's independence. He embarks on a seemingly suicidal road trip into the heart of the civil war. There, he witnesses once again the dirty reality of war and discovers a sense of helplessness previously unknown to him. Angola will change him forever: it was a reporter that left Poland, but it was a writer that returned.
Production credits:
Title: Another Day of Life (Jeszcze Dzien Zycia)
Running Time: 85 Min
Directed By: Raúl De La Fuente (Spain), Damian Nenow (Poland)
Written By: Raúl De La Fuente, Amaia Remνrez, Damian Nenow, David Weber, Niall Johnson
Produced By: Platige Films (Poland) – Jarek Sawko, Ole Wendorff-Østergaard
Kanaki Films (Spain) – Amaia Remνrez, Raúl De La Fuente
Co-Produced By: Walking The Dog (Belgium) – Eric Goossens, Anton Roebben
Wόste Film (Germany) – Stefan Schubert
Animationsfabrik (Germany) – Jörn Radel
Pupperworks (Hungary) – Frantisek Ambrus
Genre: Animated Drama – Feature Film
Format: 2:39 / 5.1 / Color