Memories from the 20th Anilogue IAFF: One Night at Urania Cinema; Inu-Oh; Steakhouse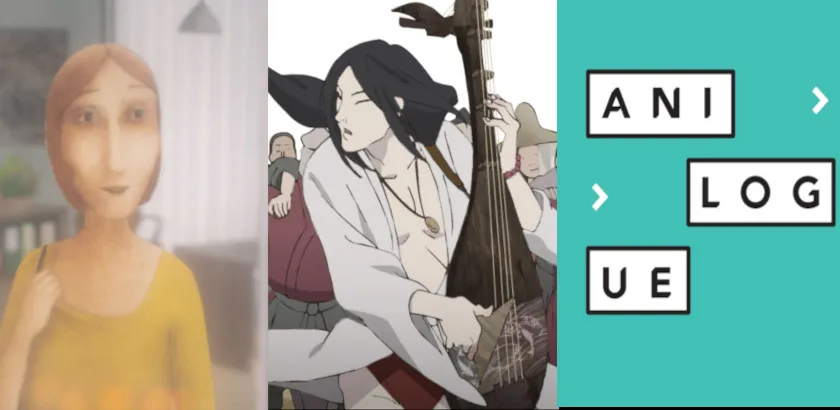 In the very center of Budapest – just a few minute-walking distances between the Hungarian State Opera and St. Stephen's Basilica – one finds Toldi Cinema, a comfortably spacious but still intimate venue where Anilogue celebrated its 20th anniversary on 2022, Nov. 23rd – 27th. One of the closing events of the 2022 festival season, presented a strong competition line-up and affirmed Špela Čadež's 'Steakhouse' (short competition), José Miguel Ribeiro's 'Nayola' (feature films competition), and Jorn Leeuwerink's 'Pig' (children's film competition).
An unwritten Zippy Frames rule has it that when our writers are invited for jury service, we do not review the competition programme at a given festival. The dynamics of the 2022 Anilogue's production process, made me step in as a jury member for a short film competition with the fellows Luca Tóth and Daniel Šuljić. Under these circumstances, I will restrain from the detailed reporting from the festival itself and rather focus on reviewing two films I have found most exciting in Anilogue's programming, i.e. 'Steakhouse' and Masaki Yuasa's 'Inu-Oh'.
Anilogue accords with those who enjoy a slow pace of festival activities. Except for children's film screenings, all the events started in the afternoon. Out-of-competition, special programming emphasized contemporary Ukrainian animation (a comforting expression of the #standwithukraine approach but sadly a rare one in Hungary's capital), O!PLA Polish Animation Festival, and recent trends within Japanese art-house (while 'Inu-Oh', Koji Yamamura's 'Dozens of Norths', and Ayumu Watanabe's 'Fortune Favours Lady Nikuko' were contestants, the medium-length Loundraw's 'Summer Ghost' and short Atushi Wada's 'Bird in Peninsula' were presented as a special event). Close collaboration between the Festival and the French Cultural Institute in Budapest enabled a presence of a strong representation of the French animated film industry (Olivier Catherin and Christophe Jankovic).
The Anilogue closing night was held in a highly impressive building of Urania Cinema. Built in the mid-1890s in Venetian Gothic and the Eastern Moorish styles, the cinema theatre opened in 1899 (a side-note: the first Hungarian feature film was shot on Urania's rooftop in 1901) with a magnificent, blue-golden interior design and decor. In its three screening rooms, various programmes (short sets divided according to themes: humor and dark humor, sexuality, films of Priit Pärn, and films from the Estonian Academy of Art) were presented simultaneously while the viewers could walk between the halls freely. This event somehow took me by surprise as the catalogue simply mentioned film titles and credits to be screened at Urania while no further information about what can be expected was provided. A more than welcome surprise.
The most striking and truly worth emphasizing feature of Anilogue is the fact that the festival is very well attended by the local audiences – the regular cinema-goers who have been filling 'full house' at both rooms at Toldi at any screening hour. My understanding of Anilogue's aim and mission is that audience-building prioritises reaching out and dialoguing with those who live in Budapest and so to communicate with those who are the actual target audience of the local film culture scene.
The Verdicts
The feature films competition jury (Pierre Földes, Sander Joon, and Török Ferenc) awarded José Miguel Ribeiro's 'Nayola', a story of three generations of women's rebels in Angola and the long-lasting civil war (those interested in another postcolonial critical film of Angola's history should watch 'Another Day of Life', 2018, dir. Damian Nenow, Raul de la Fuente). Regardless of certain deficiencies and flaws in characters' movement (e.g. the flight from police scene), the general level of the film's visuals is impressively high, especially when one considers beautifully and vividly painted backgrounds as well as disturbingly touching, angular facial shapes of character design (jaws clenched in misery or a powerful figure of a grandmother-obelisk). The utmost dramatic story lacks any trace of sentimentalism despite evolving along highly emotional tones. The storytelling of Nayola is subtle, tender, and moving. The audio sphere – both sound design and composition score – contributes to the narrative's development. And the most exquisite of all is the climax scene of treatment experienced by 'Nayola' in the cave where her relationship with the jackal character (a semi-mythical creature) culminates in the logic of poetical but absurd magical realism.
The general level of the short competition was quite satisfactory. Even though, in large parts, the programming showcased films already well-known to the festivals' viewers (yet always worth re-watching, among them Michelle and Uri Kranot's 'Hangman at Home', Andrea Szelesová's 'Sisters', Balázs Turai's 'Amok', or Jonatan Schwenk's 'Zoon'), the programming director Kreet Paljas and festival director Tamás Liszka rightly acknowledged the potential of less frequently presented works, e.g., Nicolas Piret's poetic miniature 'The Dog's Leash' (France) or Vivien Hárshegyi's absurd (sort of) rom-com 'Above the Clouds' (Hungary).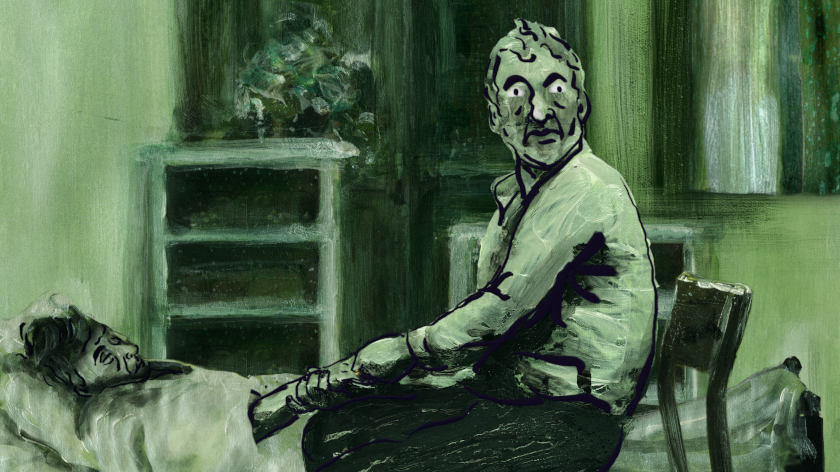 The Hangman At Home
Luca Tóth's personal special mention endorsed Gobelins-graduation film 'Goodbye Jérôme' (dir. Gabrielle Selnet, Adam Sillard, and Chloé Farr, France), a mix of 2D and drawing on paper which presents refined but disturbing imagery of the underworld where moving forward is possible only under the condition of letting go of earthly love and passions. 'Garrano' (dir. David Doutel, Vasco Sá, Portugal), a contemporary fable mediating stories of social injustice, was noticed by Daniel Šuljić.
I decided to grant my special mention to 'The Seine's Tears' (France) made by eight students from the Pole 3D school (Yanis Belaid, Eliott Benard, Nicolas Mayeur, Etienne Moulin, Hadrien Pinot, Lisa Vicente, Philippine Singer, and Alice Letailleur) for their courage in use of 3D-CGI as well as conventions of a mockumentary. Such stylistic choices have radically influenced the film's overall expression committed to bringing out symbolical justice for the victims of the Paris Massacre of 1961 (brutally repressed pro-Algerian independence demonstration on October 17th). Keeping up with the personal statement, I admire this film for being ambiguously powerful in replacing cruelty with glamour – some may find this strategy risky and provoking, but in my view, it conveys the spirit of resistance and enables escaping cliché narratives of martyrdom while remaining respectful to the suffering of the oppressed.
Masaki Yuasa's Inu-Oh: An Intertextual Roller-Coaster
Admiring the quality of animation filmmaking in 'Nayola', my heart was nevertheless overtaken by 'Inu-Oh'. Unbearable for some viewers (e.g., as observed in backstage conversations, the film was rejected by dogmatic lovers of Yuasa's 'Mind Game', 2004), for others, 'Inu-Oh' revokes the liberating feelings of a golden (and gone) era of postmodern, cinematic freestyle.
The story follows a biwa (wooden lute) player Tomoari (he actually uses several names throughout the film and each change of the name bears a narrative-determined meaning, the other names being Tomona and Tomoichi) on a quest to avenge his father's death while remains uncertain whether it was caused by men searching for shogun's treasure or the demons. Coming from fishermens' family, blinded during his father's final moments (therefore unknowing the truth), Tomona turns out to be an enormously talented player who out skills his biwa masters, and who aims at ultimate transgression when it comes to music style, gender roles, power system, and demonology.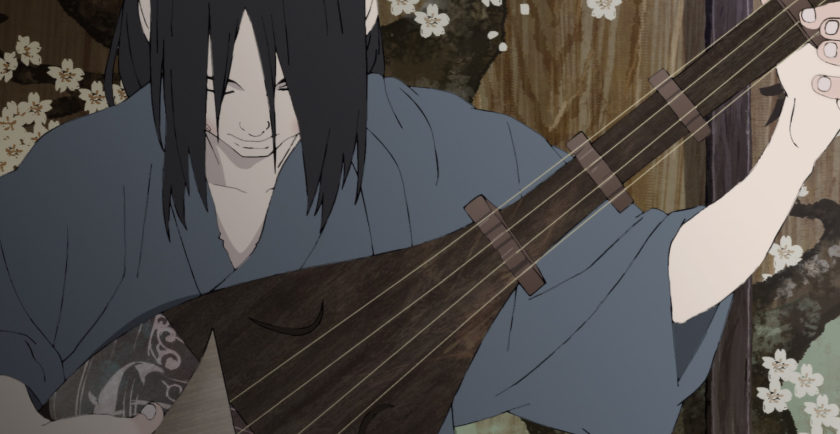 He is soon joined by the eponymous Inu-Oh, a natural-born dancer who initially lives in a deformed body and who hides his head behind a mask. Inu-Oh's father is the shogun's favourite dancer, famous and adored, but ashamed of his son. And this is just the beginning – Tomoari and Inu-Oh start communicating with the souls of fallen knights of the Heike clan. Telling the new stories of the defeated ones undermines the shogun's will. Their music and performance become uniquely subversive and counter-cultural to the bone.
A scene of Inu-Oh and Tomoichi's first meeting ('happened one, magical night') anticipates an exhilarating aura of the last 40 minutes of the film. Tomoari's playing, Inu-Oh's dancing, singing, and vocalizing, and the energy of the band – this whole mixture soon becomes all feudal Japan's sensation. Yuasa focuses on performative aspects of animation. To some extent, the choreography remains loyal to the kabuki theatre movements which appear estranged in the Western eye's perception. I disagree with Simon Abrams who says in his review: Unfortunately, there's a fundamental disconnect between these musical numbers' raucous energy – specifically how they're visually represented – and the music we hear on the soundtrack (...). I perceive this 'disconnection' as a fruitful contrast.
Yuasa reconstructs the dynamics of mass events as if borrowed from Western, audiovisual media memory of the 20th-century pop and rock'n'roll collections. A few imagery and emotive references immediately come to mind: as if this was The Beatles playing, the girls almost faint in the first rows of the crowds; Tomoari can dance like Mick Jagger and interacts with his guitar like Jimi Hendrix; soon the frontmen and the band become as glamorous as Freddie Mercury or Ziggy Stardust and the Spiders from Mars ... And just as the classic David Bowie's song says: With God-given ass, he took it all too far/But boy, could he play guitar/Making love with his ego/Ziggy sucked up into his mind/Like a leper messiah/When the kids had killed the man/I had to break up the band.
'Inu-Oh' is a musical but also an intercultural and intertextual roller-coaster animated with high finesse. It appears very much novel and exciting at the wider background of a stylistically diverse but very rarely anarchistic portfolio of contemporary animated art-house, feature-length production.
Špela Čadež's Steakhouse: Radical Humanism
Successful and praised by many (short-listed for Oscar 2023, Annie Awards nominated, awarded, and mentioned in Locarno, Annecy, Ottawa, Zagreb, Bucheon, Poznań, Ljubljana…. ), 'Steakhouse' is (at least, according to my best knowledge) one of the first-ever animated films speaking so openly about the subject of psychological violence.
If coercive control happens to be recognized as criminal behavior in various (but by no means, the majority) countries' legislations, universally it is of utmost difficulty to prove the wrongdoings for the plain reason of its physical invisibility. But here we are witnessing the dynamics of this intangible, violent situation. There is no room for misinterpretation as the film's visual plane relies on realistic depiction while its linear, narrative structure develops clearly and without any distracting twists or undertones. Špela Čadež exercises a deeply humanistic ability to empathize with a victim without resorting to idealization, romanticization, or estrangement. And exactly this approach – defined and consistently cultivated on grounds of morality and empathy – allows Čadež to show how complex and ambiguous the situation of coercive control and its consequences are.
The main characters, Liza and Franc, are a couple in their forties who seem nothing but average. Not only do they look and behave regularly but also like a myriad of other households all around the world, they are entangled in an abusive, toxic relationship where violence escalates to the level of mutual torment. Without physical force, France makes Liza's life hell. We all heard this story, and some of us lived through it or watched our loved ones living so. For there is no spectacle in it and patriarchy makes us treat oppression as a normative pattern for forming relationships, we rarely notice and talk about it. But Špela Čadež names this silence and points out this invisibility and even only for doing so the film deserves acknowledgment. Additionally, it happens that 'Steakhouse' is an exquisite work of animation filmmaking.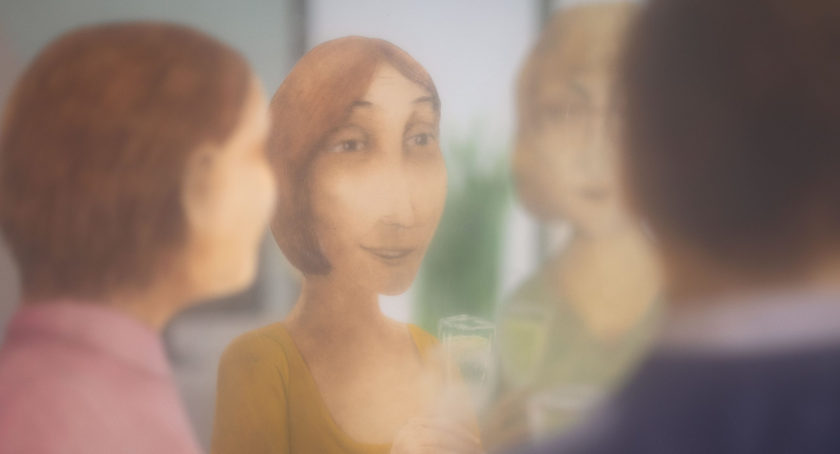 It is one of these films that rarely leave the viewers indifferent – most of the time, they either love it or hate it. 'Steakhouse' has stirred conversations about the limits of 'good taste' in depicting revengeful violence. I have heard viewers denouncing the film as a work of exaggeration deprived of nuances, and some claimed the world portrayed in Čadež's film is of a black/white binarism (funny enough, those viewers would not be willing to notice even the simplest metaphors such as shades of grey, i.e. the smoke's hue, playing a crucial role in the film's colour composition). And sometimes even, 'Steakhouse' was accused of lack of objectivism in presenting women's suffering while abuse of men remains a silenced subject.
While the only reasonable response to the last argument is an encouragement for male-identifying animation filmmakers to speak up, it seems important to reflect upon former concerns. The way how one dismantles such critique, enables understanding of Liza and Franc's entanglement, while it still remains unquestionable who is the victim and who is the oppressor.
However, before following this trail, let us stop to appreciate the visual qualities of Čadež's work, especially since the online release of 'Steakhouse' making-of we have a better understanding of her artwork. The film was animated by Špela Čadez, Anka Kočevar, Zarja Menart, and Clémentine Robach. The production employed oil-painted cells, paper cut-outs, and multiplane camera set-up. In creating the characters, the authors applied a specific means of scratching and painting the pre-animated and printed drawings on cells. Such created characters are frequently presented with a fish-eye effect (specifically, as a mirror reflection in a spoon) which makes their appearances caricature, exaggerated, and unsettling.
A high level of realistic depiction (character design, urban landscape, office, and home interiors) is contrasting but not conflicting with 'Norsteinesque' poetics of fog, smudge, and blur, imposed on images painted with a cold, pastel color palette. The most vivid and impressive scene of such kind is a 1-minute 10-seconds of seeing almost nothing through dark layers of billows of smoke in the couple's apartment entered by Liza who comes home late from work. Špela Čadez speaks of this technical accomplishment: We wanted to do it in an analogue way. We used a frost cell, over simple cut-outs made of black paper. The cell was raised and lowered frame by frame with a special add-on device for the multiplane.
Through the smoky veil we only observe the shapes and outlines of the characters – and when the vision is impaired, the reconstruction of what's happening 'behind the curtain' relies on our interpretation of muffled sounds and glimpses of shadows. Tensions escalate in a mode that is elusive, imperceptible, and quiet. The mention should be made here for the exquisite work of the editor (Iva Kraljevic), sound engineer (Johanna Wienert) as well as musicians (Tomaž Grom and Olfamož) whose jazz compositions at this point of the film become disturbing and sort of grinding.
The fumes of a burning steak haze over the space where Liza and Franc perform a particular rite within their abusive relationship. For a trivial reason (Liza being late after work), an enraged Franc burns the steak which he was preparing with the finesse of a real chef just a few moments ago. Inedible piece of meat lands on the table which is all set for Liza's birthday dinner. Against common sense they sit down shrouded in smoke – she wants to pretend nothing really happened, and he has not stopped punishing her yet. Celebration of Liza's personality turns into a dire session of humiliation.
From the beginning of the film, Liza is observed by the viewers as a neurotic person, passively falling into an abyss of complete subjugation to the most erratic fixations of her husband. The powerful grip of Franc's toxicity and domination over her is presented as ugly. And rightly so. Čadež openly sides with a victim who faces the perpetrator in the very moment of being subject to abuse.
Franc cannot stand Liza's inability to cut the piece of burnt meat. He does not spare insults and, importantly, he does not use vulgar language. Just as his acts do not leave physical harm, his speech is also not obscene, yet his whole spiteful performance is meant to wound Liz deeply. Franc starts biting through the charred meat, mouth, and chin loudly moving up and down in a close-up (seen from Liza's point of view) up until he whines in pain – he bites off his own tongue. The situation is portrayed as hideous and repulsive, it straightforwardly confronts the viewer with what the reality 'behind the curtain' looks like.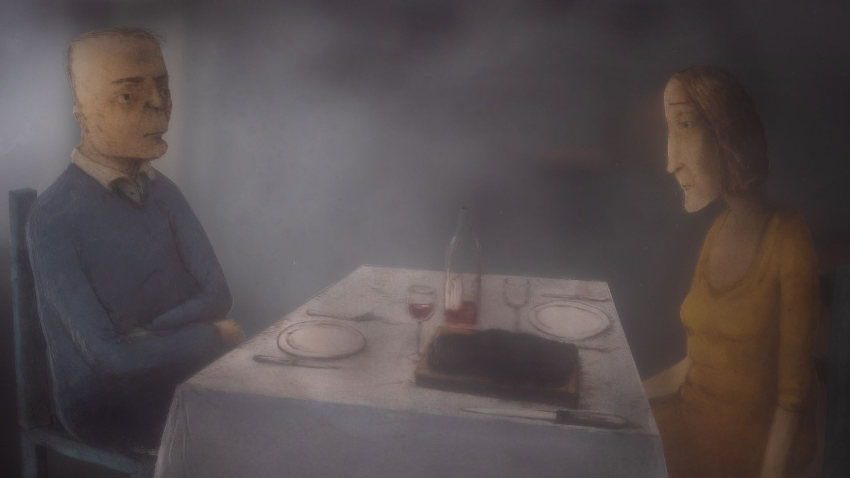 Up until this moment, the binary world defined by crystal-clear differentiation between the oppressed and the oppressor remains intact. What happens next somehow slips the attention of those who criticise the lack of nuances in the story authored by Gregor Zorc (also responsible for the scriptwriting in 'Boles', 2013 and 'Nighthawk', 2016).
Liza and Franc leave for the hospital, the wind clears the fumes out, and Liza comes back. After a quick, hectic search, she finally finds the tongue, intending to hand it over to the doctors as soon as possible. But she stops. The paper-cut-out tongue looks like a miniature steak. And so she seasons it, just the way Franc did at the beginning of the film. She dips it in the oil and fries it. Repetition of master-chef movements of her now-speechless and absent husband appears perverse as she indulges in this particular act of revenge. When the phone calls, she simply says 'No, I haven't found it', deciding to take away Franc's hateful expression forever.
There is no way for the viewer to know if Liza reacts spontaneously or if she grabs an occasion for long-awaited revenge. But what is indeed important, is that Liza with her semi-Madonna visage breaks away from the powerlessness and sanctity of victimhood. Not only she takes back control over her life but there is even a surplus of overtaking Franc's fate.
The nuanced storytelling in 'Steakhouse', however, makes it clear that suffering more often degrades than dignifies. Liza's emancipation is not presented triumphantly contrarily to the conventions of the 'revenge story' genre. Čadež, driven by feminist awareness, shows us the short-term effects of living under toxicity (escalation of tensions to the level of revenge becoming a perverse pleasure) and remains aware of the long-term effects of such an arrangement. In the final image, we see Liza standing still in the window, calmly contemplating her surroundings without signs of enthusiasm, joy, or other emotive tokens of patriarchal victory.
In the light of the film, Liza's vengeance is understandable but not justified, it has to be judged as an act of violence instigated by particular conditions and implying specific consequences. Franc's acts are neither understandable nor justified. The fact that by the end of the film, both characters can be identified as abusers, does not mean there is equality of any sense between them. Čadež is a consistent and radical humanist who sees and depicts things as they are and so, she does not relativize for the sake of the middle-of-the-road viewers' satisfaction.
Is the scene of Liza indulging in frying tongue unsettling and (ironically) 'beyond good taste?' It is extreme, no doubt, and in the context of the whole, precisely and masterfully written, crafted, and animated film, it is an aberration that inevitably emerges from the pattern imposed on the 'Steakhouse' world by no one else but Franc. Neither the filmmaker nor the viewers are exempted from taking a clear worldview standpoint once they are confronted with this reality.
Anilogue Festival took place 23-27 November 2022 in Budapest, Hungary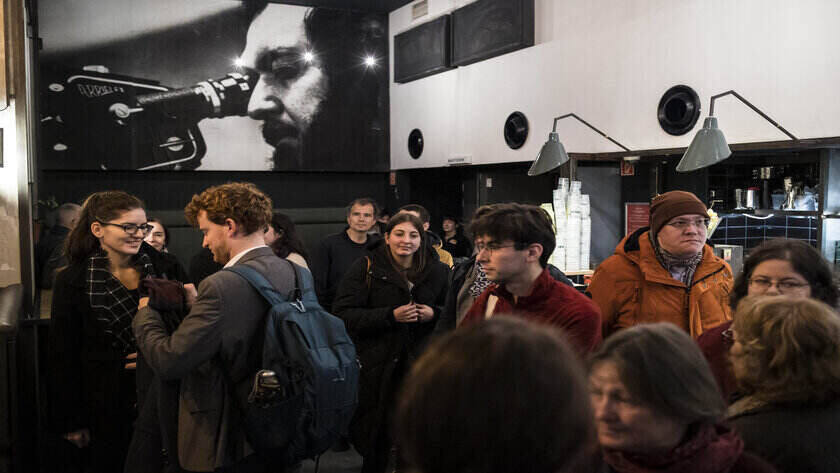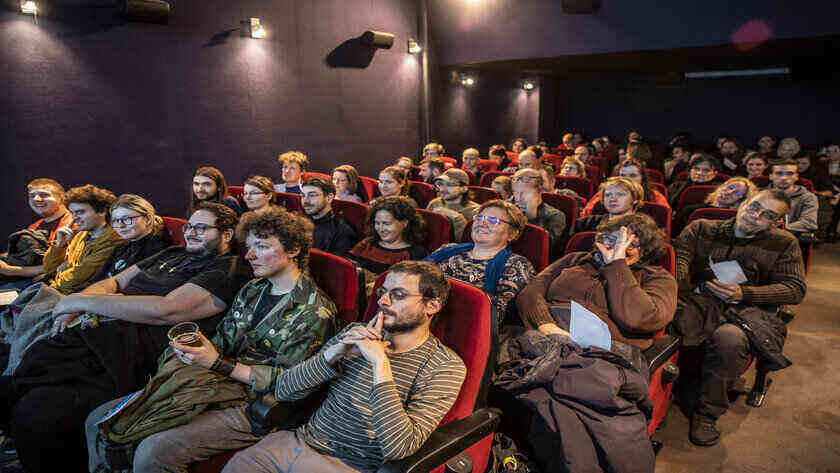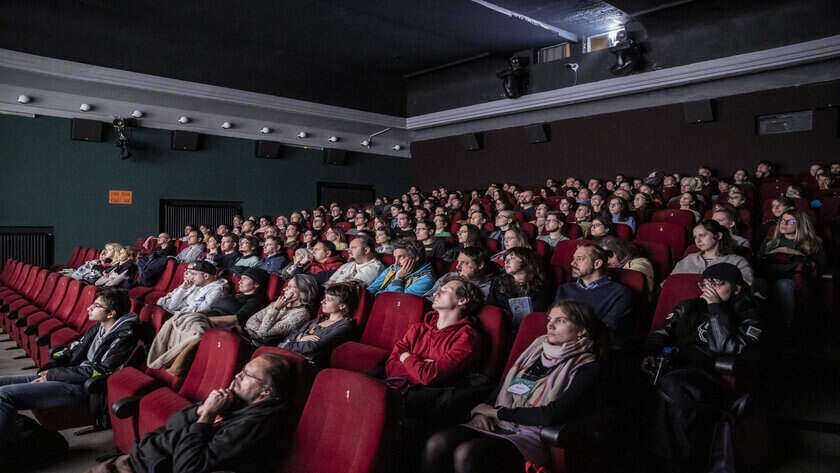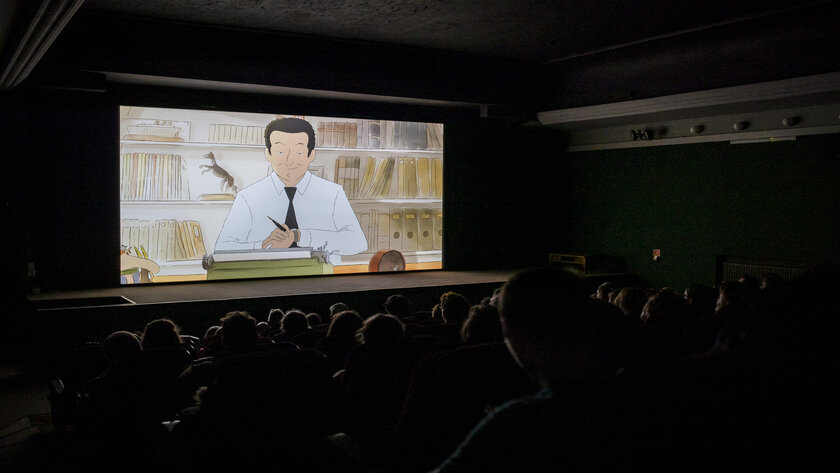 Anilogue Festival 2022 Ⓒ Purger Tamas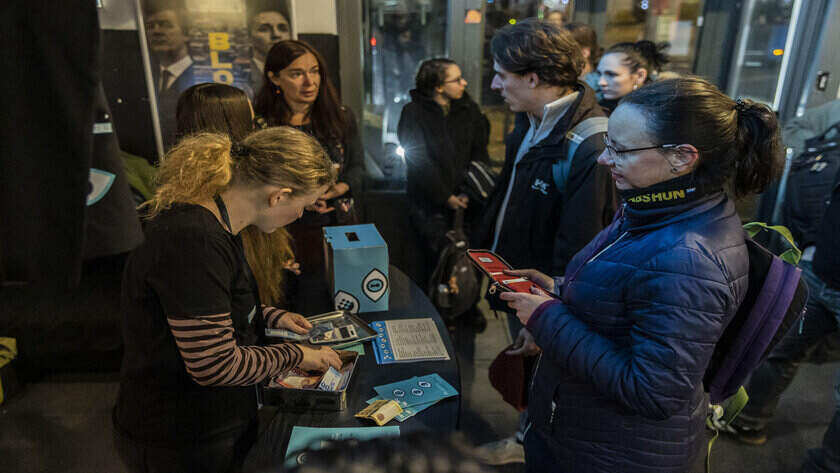 Anilogue Festival 2022 Ⓒ Koncz Marton
Contributed by: Olga Bobrowska
SIGN UP: Want to read more free articles like this? Sign up for Our Newsletter