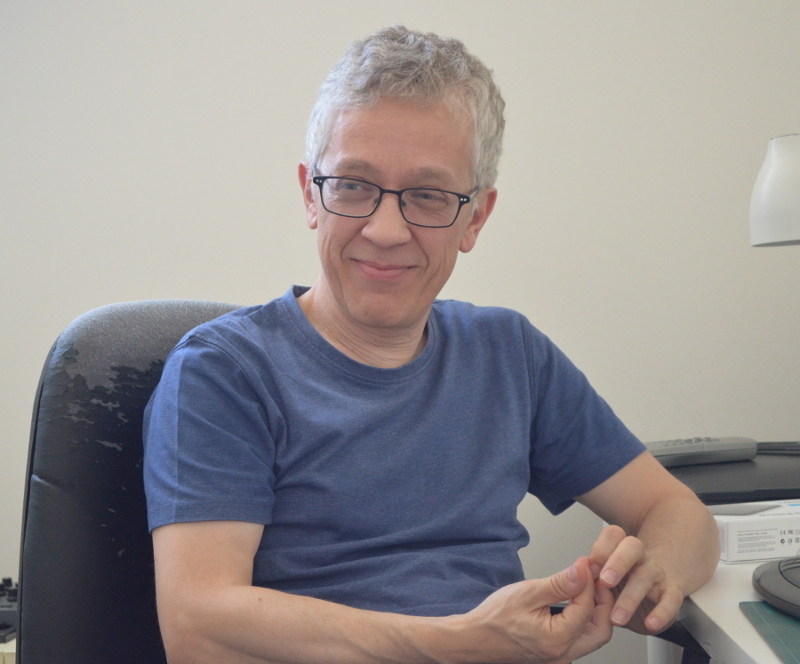 Our Zippy Frames Correspondent Eliane Gordeeff meets Portuguese architect and animation director Miguel Pires de Matos; they talk about the experimental short 4 States of Matter.
Magnets, metal-cut cylinders and laser-cut plastic, metal plates, a metal frame (a table that seems an architectural plotter), and some computers. This was the universe of work of the Portuguese architect and animator Miguel Pires de Matos, for the creation of 4 States of Matter, during 36 moths. An animated production of Praça Filmes, the film was supported by the ICA – Cinema and Audiovisual Institute of Portugal. The effort resulted in 12-minute short, which I had the pleasure of watching at the Monstra Lisbon Animation Festival 2018.
4 States of Matter" is an abstract animation film whose main theme is "matter". It is developed in four different acts/movements, each one with a distinct graphic and sound universe, globally constituting a journey through the four major states of matter: solid, liquid, gas and plasma. In each of these parts three conceptual dimensions coexist, corresponding to three different areas of human knowledge: science, art and religion. These three sub-themes are the sources of inspiration for abstract shapes and sounds as well as movements and rhythms that form the animated sequences of the film - Film Synopsis
Watch the trailer here 
 I can tell it's one of the most interesting films I've seen during 2017-2018. In addition to escaping from the dictatorship of the narrative, Miguel's work is what I would call "hermetic." There is an invisible complexity in its construction. Anyone who has more familiarity with the art of animation, or a nuanced sensitivity to looking at an image, can identify this.
Undoubtedly, the film intrigues the viewer. With a minimalist sound design that values the image, 4 States of Matter takes us to a programmed, "architected" and logically planned trip, through concepts of Science, Art and Religion/Philosophy. Still, the spectator cannot identify exactly where s/he is being directed to, but s/he is taken in a dive into her/his own essence – as s/he walks through the four states of matter: solid, liquid, gaseous, and plasma. Such a paragraph may seem like a psychedelic description, but in fact it is exactly what I felt when I saw the film by Miguel Pires de Matos – especially on the big screen.
The director explains: "There is a structure behind each move. In this film, structure is the protagonist. Another key idea was to try keeping emotions behind while animating. For example, when we tried to animate the plasma, and we started using our intuition or feeling, instead of inorganic particle movements we got flying mosquitoes…" And this logic is felt and perceived by the spectator. Ironically, it arouses particular and individual sensations and emotions, according to her/his experiences of life and culture.
Without intending to be complex, the film was indeed conceived in a complex way. It considers among other concepts, some mathematical theories of Max Tegmark, architectural ideas from the project Maison Tropicale by Jean Prouvé, and religious rituals from Buddhism.
It was composed of simple geometric figures and elements that interact with each other, creating this trajectory through the four states of matter. As Miguel explains, "the starting point of the film and the search for abstraction was to focus on the molecular structure of matter, bringing it to a human visible scale, and reveal its atomic configuration and movement".
At a second level of meaning, nothing that is visible on the screen is gratuitous. This means: everything that happens in the four states has a triple justification (remembrance: scientific, artistic and religious-philosophical) – which corresponds to three different ways of looking at matter. Developing further this concept, a triple narrative was created for each state of matter presented on the screen.
In order to conceive and articulate these ideas, and also to assist in the elaboration of the images, a matrix table was created, with the crossing of these concepts. For example: the structure in the solid state, is the rigid molecule; in the liquid state has a malleable molecule;  the gaseous state employs loose particles, while in the plasma state, electrons release themselves from the atomic nucleus with a great energy. It was then possible to create from the gaseous state a relation with three-dimensional space, represented by the images of molecules and/or planetary systems.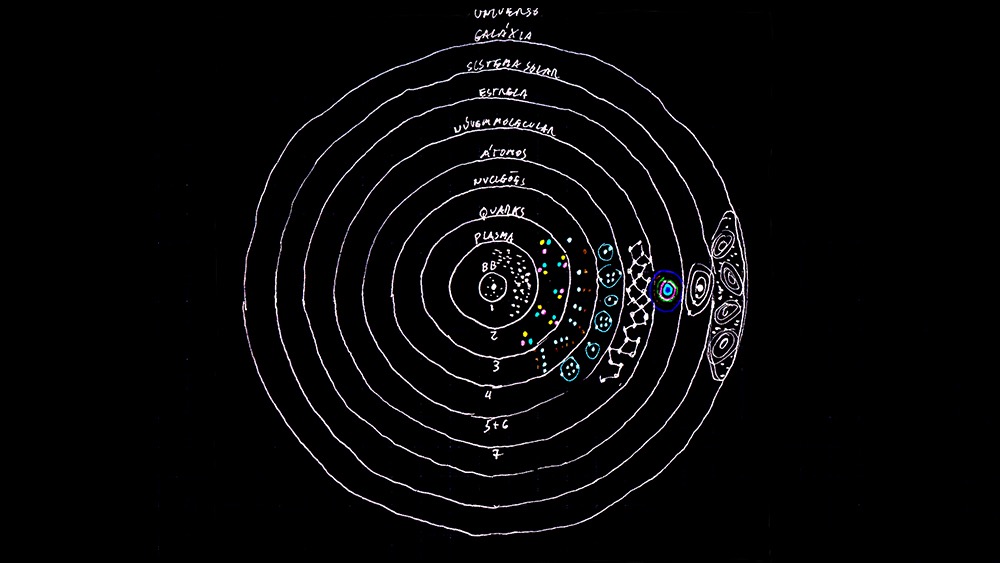 4 States of Mattter Drawing
So, I will not create more spoilers for the future audience of this animation. Otherwise, I would be taking away one of the pleasures of watching this animated film: the free psychological interaction with the images, each spectator in her/his particular way. For those who love fine abstract animated films, I point out that 4 States of Matter reminds us (and director confirms of the respective influences in his work) of Walter Ruttmann (Opus IV, 1925) and Oskar Fischinger (An Optical Poem, 1938); it was the time when the Visual Arts,  Cinema and Animation still had no clear boundaries.
4 States of Matter screens at Anima Mundi 2018, Rio de Janeiro (July 21-28) and in São Paulo (August 1-5) in the Session Galeria. Anyone who can be there and attend, enjoy!
Miguel Pires de Matos was born on May 24, 1966 in Lisbon, Portugal. He graduated in Architecture (1991) at the Faculty of Architecture of the University of Lisbon and performed advanced studies of music at the Gregorian Institute of Lisbon. He has been directing experimental animation films since 2010 as well as working on programming and production for film festivals, including Monstra Festival, Lisbon (2010-14), where 4 States of Matter premiered in 2018. He is currently a PhD candidate at the University of Lisbon ("animation and music'). The interview to Eliane Gordeef was conducted in the director's Lisbon studio (22 July 2018).
Eliane Gordeeff