Nature, Reality and Homophobia: Interview with Marcel Barelli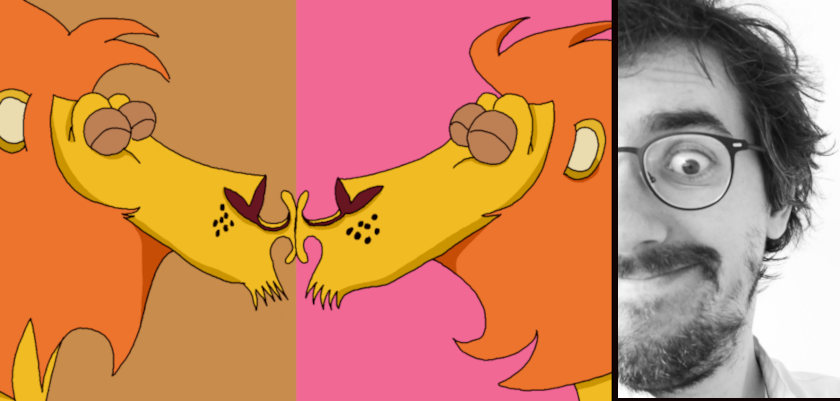 He is self-described as "passionate about love and animals", even though he is a genuine cinephile (the most recent film he watched was Agnès Varda's 1962 film, Cleo from 5 to 7). Born in Ticino, Lodrino (in the Italian part of Switzerland), Marcel Barelli consistently makes animation shorts that combine a quirky approach to nature with real educational undertones -the latter not being thrown at your face, but easy to discern. His first film in HEAD Geneve (he currently lives in the city and a proud parent of two children) was "No Penguin's Land" (2008); his latest film "Dans La Nature" -to world premiere at the 60th Annecy Festival 2021- is about homophobia.

"I started HEAD School in Geneva to make cinema," Marcel Barelli tells Zippy Frames. "Then I found out that I'm not good with cameras and actors, so I decided to dedicate all my film output to animated films".

Films that followed were "Gypaetus helveticus" (2011, pr. Nadasdy Film/ RSI),  "Vigia" (2013, pr. Nadasdy Film / RSI/Foliascope), "Lucens" (2015, pr. Nadasdy Film /RSI),  "Uno strano processo (2018, Nadasdy Film / RSI), and the TV series "Ralph et les Dinosaures (2017, 26 x 5 min, prod: Nadasdy Film, RSI, Vivement Lundi!). Most frequently selected at animation and film festivals and gaining their own accolades, they chart a trajectory of a clear voice that knows what he wants to do with the animation medium -even though he started his studies in the chemistry department.
Watch Dans la nature:
"I was indeed studying chemistry," Barelli explains. "After a few years, I decided it was not good for me. It was funny, but not interesting enough. So, I decided to immigrate; leave my little town of Lodrino, and go to Geneva film school at HEAD". Georges Schwizgebel (also based in Geneva) and his work were another inspiration and a sign that there is an animation path besides Disney.
Nature is overall present in Barelli's film ("Nature and its news are 21st-century problems, it is the century of nature;  it's too important to talk about our impact on nature"). In Dans la nature, there is a little twist, in which nature is used to talk about a very human subject -but using real evidence for it (and an all-rousing tune called Hopparen
theme by the Finnish band
Chateau Neuf Spelemannslag).
"It was a long time that I wanted to do a film about homophobia" Marcel Barelli explains, "but I couldn't find a good idea. One day, I read a book about animal homosexuality". The book is
Animaux homo: histoire naturelle de l'homosexualité
by
Fleur Daugey
; suddenly, one plus one amounted to two, and a new film was born. "I asked Fleur Daugey, the French ethologist and journalist, to help me write a short film. We chose to write a film for children too; we decided it's possible to talk about this to children. We don't even need to talk about sexuality, just about love and feelings of love between the animals".
His daughter, the 9-year-old
LUCIA
narrates with impeccable attitude the whole story of queer behavior in nature. And there is almost a complete correspondence between scientific evidence and scenes depicted in the film. "I prefer not to use the term 'natural' here" Barelli notices, "but homosexuality is everywhere. It is in insects, it is in animals; there is nothing bad about it. Just to say that something that can be found anywhere".
Switzerland itself features in "Lucens" (2015), a hilarious short about the first nuclear plant in Switzerland during the late 60s - to be completely abandoned afterward. Everything is fine at the beginning in this film, but then everything disintegrates into chaos, like a failed chemical experiment.
Using archival footage and the image of the real city of Lucens at the end of the film, Barelli makes a poignant comment on human folly, Like the professor and the character of Jeff Goldblum in Jurassic Park 'Life will find a way'. "I put a photo of the little village near the power plant to remind everyone that this is a real place, and it happened to real people. It might be animated and funny, but it's also something real".
Almost all of Barelli's films talk about real events, social or personal, and they are in the line of animation documentaries, which brings their own troubles. In Vigia (2013), a delightful film about bees told from the perspective of Barelli's grandfather, an almost 10-hour material had to be compressed into a film of fewer than 10 minutes ("editing was a nightmare", he laughs). The film actually came in from his grandfather's own idea to make a film -working as a creative producer of sorts.
In "Uno Strano Processo", Barelli's family and father come to the foreground, as well as the hunting traditions in Ticino, Switzerland -where Barelli grew up as a kid. "All the males in my family are hunters, except for my brother and me" he explains. In Switzerland, the hunting season (September to November) in small places started out as a necessity (lack of meat), but then it became a cultural sport that can look increasingly natural in the end -even though it is cruel. "When I was a kid, I had to help my father, it was a matter of an obligation". But things change gradually.
Barelli describes himself as lucky to find Nicolas Burlet as the producer of
Nadasdy Films
almost one week after graduating. After an interview with him (but not a job interview), Barelli came back to him to pitch him an idea for a new project, which Burlet found interesting. The duo has worked together since 2009. "My advice to the new animation directors would be to find a good producer, one that you can trust".
For "Dans la Nature", Barelli used for the first time computer software; he usually draws on paper. Yet what comes first in his creative process is first, finding the right genre and topic of the film (comedy, documentary etc.) and writing the script. "The drawing and the visuals come afterward in the process because I do it spontaneously", he explains. The workload for an 8-9 minute film is usually up to 18 months, with a shorter period for shorter films. Yet, his 26x5 minute TV educational series "Ralph and the Dinosaurs" took only two years to make.
"It's different, because you have to work faster," Barelli explains. "We worked really fast, but the concept was easy and simple: just 5 minutes and the same structure for each episode. We were lucky because the television
RTS
wanted this series". Perhaps it also helped the creative process that Barelli is a big Dino fan, and Jurassic Park films are always on repeat on his home video screen.
,
Barelli does his short films mostly by himself, with a little help in animation and post-production. Yet, his next, first feature animation project,
MARY ANNING 
will involve the visual style and art direction of fellow animation director
Marjolaine Perreten
(Vent de Fête, Le Dernier Jour d'Automne). The 80-minute film will have a mixture of 2D traditional animation and
digital
 cut-outs, and will again explore his love of dinosaurs and paleontology.
"It's a feature film about the paleontologist
Mary Anning
(1799-1847)" he states. "She was the first ever paleontologist to find a skeleton of a prehistoric animal. She was a fossil collector, and it was very difficult for a woman to do this stuff in the 19th century. We decided to tell the story when she was young; she found the first fossil when she was 12!". Anning is very famous in the UK, but not known much outside of it -minus a very recent film "Ammonite" (2020) with Kate Winslet playing the main character. "In our film, we talk about a little girl that lives in a difficult situation. She was poor, a girl and a child and she wanted to do a job for men in the 19th century. So, it's a different story to tell for children and family than a Disney princess". The 3M EUR film (still a low budget for Swiss standards) already has a script ("we worked three years on that") and visuals and is applying for a production grant -to be completed in 2023.
Self-described as a workaholic ("When I finish a new project, I usually start working on the next one, so I cannot stay without working on something"),  Barelli prepares in the meantime a new short film about cars, with drawings by his 6-year-old son,
ARTHUR
. And he is heading for Annecy, for the world premiere of "Dans la nature". He likes hanging out with people and discussing his film, and he also appreciates mixed, live-action, and animation content festivals ("Animated film is cinema for me", he states).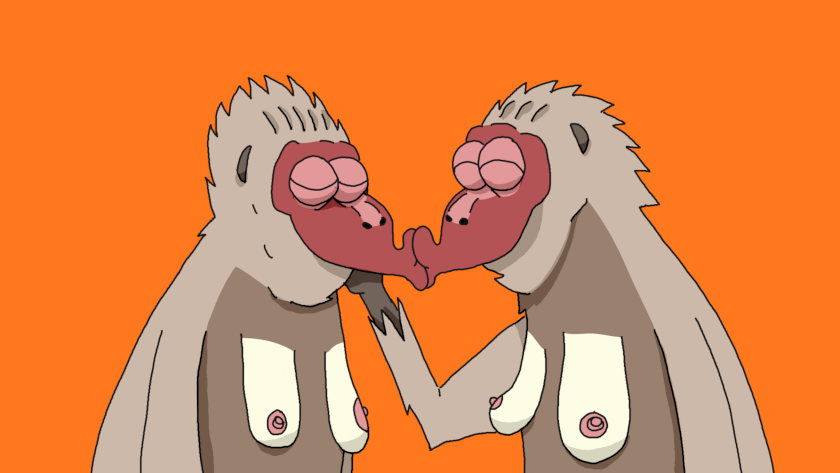 Both a cinephile and a cartoon/animation lover (his latest preference is Claude Barras' "My Life as a Zucchini," his earliest is Disney's "The Little Mermaid" ), Barelli wants to stay as close to reality as he can, but make an uproarious version of it that people can really enjoy -and the audience definitely takes notice of that.<
Watch an interview video excerpt:
Dans la nature has its world premiere at the 2021 Annecy International Animation Film Festival. Swiss Animation Portraits 2021 series is conducted in partnership with Swiss Films.
SIGN UP: Want to read more free articles like this? Sign up for Our Newsletter