My Grandfather's Demons: Interview with Nuno Beato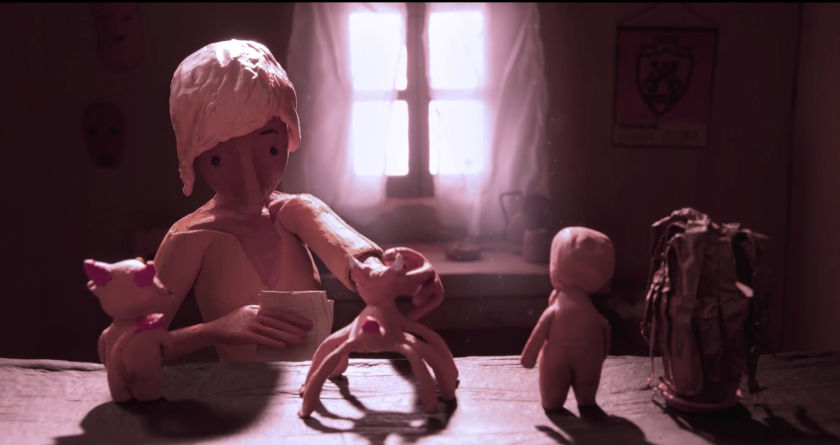 During the 2018 edition of 3DWire, the director of My Grandfather Used To Say He Saw Demons (production: Sardinha em Lata, Submarine, Basque Films) talked to us about the production of the first feature Portuguese animated by Portuguese studio Sardinha em Lata (responsible for films such as Eyes of the Lighthouse, The Shoemaker, Journey to Cape Verde, among others).
His film tells the story of a personal change, which at the same time represents a self-recognition of himself and his own story.
After having a sudden stress attack, Rosa decides to leave the city and takes off to reunite with her grandfather, whom she hasn't visited for too long. Arriving at the isolated property in the middle of the transmontana landscape, she finds he passed away, leaving her the land and the building in ruins. Taken by remorse and the need to find a new path, she tries to rebuild the house and the fields. She's not alone. A group of painted figures seems to sometimes come to life, advising and guiding her like her grandfather would - Film Synopsis
 ZF - How did the idea of "My Grandfather Used To Say He Saw Demons" come about?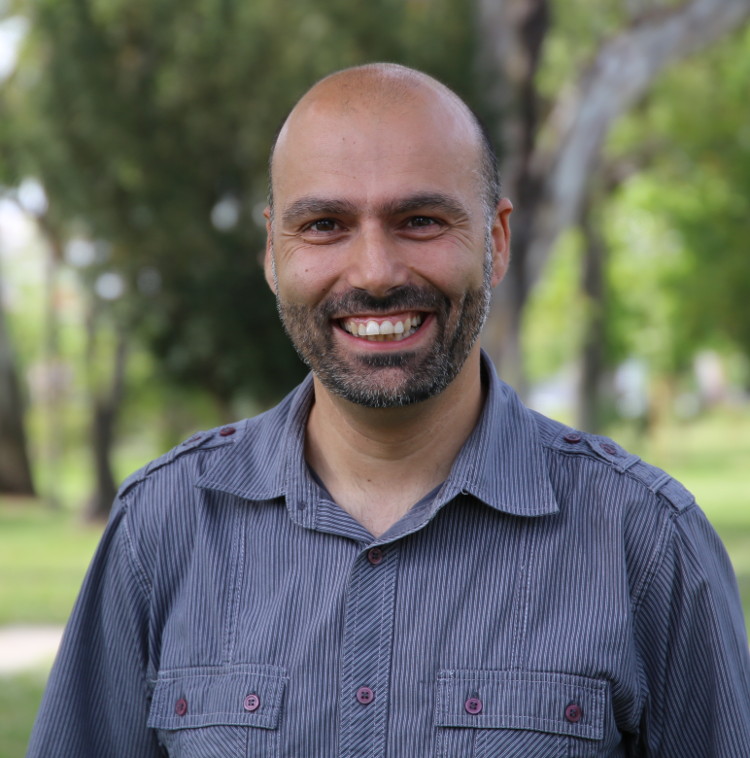 NB - I have already produced short films and series, so I found that is time to get into this adventure. I moved on to a project that I had in a drawer a while ago. It was presented for development promotion (with the script and some drawings), and we got the support. This allowed us to start developing the idea, make a teaser and have something to present at other events. And that's when the project started to solidify and grow.
Possidónio Cachapa began to rewrite the script, and the film grew with that. With the teaser, we went to Cartoon Movie, in the pitching we were well received, we competed in production support and we won! This was very good, because now I have the privilege of doing a feature-length animation in Portugal... we only had two financed until today,... it is a great responsibility. And I'm trying to do my best in the movie. The film also came at a time of great change in my life, and it speaks of change.

ZF - How did this idea pop up, and why did you choose this story for a feature film?
NB - It's funny because we start a story because of something and that changes to other things... (laughs). I was doing a text for the Masters in Cinema ... Therefore, it was a text that began due to an obligation. Although I started getting involved with the story, which initially spoke of changing: someone leaving the city is going to live in the countryside.
ZF - I know you've already produced several short films, and now you're producing a feature.
NB - Well, I've been in the production market for 20 years. However, it is difficult to divide between the producer and director positions. In this project, I'm trying to leave a little of the production aside and focus on the direction. I try to jump into the film because, in fact, I feel the responsibility of making a feature requires more dedication. People are saying "Ah, a feature film in Portugal, we are curious to see because there are no Portuguese feature animations... ". They already put this responsibility on me, then: "Calm down, calm down, I'll try my best, let's see!" So, I'm really designing more, modeling more because 70-80% of the film is in stop-motion.

ZF - Will you work with another technique?

NB - 15-20% will be in 2D, traditional animation, but this is still not completely closed.

ZF - With puppets or cut-outs?

NB - With puppets, and it has also outdoor scenes, many footage, many constructions. At this stage, we are adjusting the animatic. We already have all the characters drawn, but it still lacks the mock-up to realize the volumes and we are studying the script and storyboard. We are careful to close all pre-production,  and we also waiting for funding from the co-producers in Spain and the Netherlands, to close the financial set-up.

Regardless of that, we are moving forward with the Portuguese part until we finish (the stop-motion construction part). I do not want to lose my rhythm, and it's important that we finish this quickly. That will also give more confidence to the Portuguese Ministry of Culture to support animation, and we feel much like that in Portugal at this moment. An expectation momentum has been created in this sense: we have a tradition of short films, but not really in the feature animation industry. So, I also have the same expectation (laughs).

ZF - Yes... but you said that the project is based on a script that you had in the drawer. So, I ask, how did the story pop up? And why did you choose this story for a feature film?

NB - It's funny because we start a story because of something and it changes to another thing... (laughs). I was doing a text for my Master in Cinema. So, it was a text that began due to an obligation. Although I started to get involved with the story, which initially spoke of changing: someone leaving the city is going to live in the countryside and that starts a radical change. This is related to the question of more natural and ecological life, themes that are mostly in vogue. However, the script was laid in the drawer.
When I got back to the project, it became something else. There is still a character who goes from town to camp, but human relations have become more important. The moment that Rosa (the main character) goes to the country, is not a simple address change, but a result of an internal one. The place is not the most important. I was reading a comic strip by a French author, with a very stressed character that goes to the psychologist. The doctor advises her to move to the country. She did so. However, she goes back to the psychologist;  she now has already big gardens, and a huge industry mounted, and she still has the same problems (laughs). In fact, we carry our problems within ourselves, and by changing places they won't disappear. This was the greatest change in the story. It's a movie that talks a lot about human relationships and how we can screw ourselves up with stress at our daily pace. It also has to do with the many changes that I had in my life at the time, which ended up influencing the movie. And that enriches the film.

ZF - What about the aesthetics you use and the choice of puppets? Do these have any connection with short films you have already done?

NB - No. Throughout the years my shorts always had different aesthetics. What I really like is to experiment. Repeating the same thing bothers me (laughs). In making a feature film,  we had something interesting: the 2D was made for the city and has a much colder environment: straight lines, with a straight hard cold trace. When the character arrives in the country, when she puts her feet on the ground and turns to soil (clay). I want to get into this question of the "land".  In Portugal, it is said, "I am going to land" which has to do with the return to the birthplace, and of the "land", "earth." So Rosa's grandfather already worked creating clay dolls.
There is also the land, so it is this relation of the word "land", which I wanted to bring to the technique. I want the stop-motion to look like mud, being palpable. There is a thing that I do not like very much, and what the present-day stop motion is presenting ... they are getting closer to perfection! They are becoming more and more perfect, and we even have difficulty noticing what techniques are being used .. stop motion, 3D... And I really love the stop-motion texture, noticing the defects.

ZF - The plainness of the thing as well.

NB - That is what I love in stop-motion. I like that, to keep the material texture. Although I have characters with some detail, etc., I do not want to lose the texture. And this is one of the most important parts of the film, maintaining the connection with the word "land", for the aesthetics, throughout the movie, the mud's tone. Even the character references: the name "Rosa", was inspired by Rosa Ramalho, a Portuguese artisan who died in 1977. A woman from the people, who had a fabulous work with clay figures.
I took these references for the film: the figures that Rosa's grandfather creates are identical to those that Rosa Ramalho modeled, so there is the "land" connection. During the project process, I fell in love with Trás-os-Montes, as I went there several times. In fact, being there... in those landscapes, it´s an extreme contrast when you come from the city. I wanted to bring this feeling of nature into the film... when we are really cut off from everything.
ZP - Very cool! However, in terms of schedule, are you finishing pre-production now?
NB - Yes, I imagine that until the beginning of 2019, the pre-production is finished, and at that point, I'm going to make a more rigorous production map.  The construction of stop motion begins in April, the filming is scheduled for the end of 2019, and the film should debut at the end of 2020. That is, we have two years of production, but we are dependent on the outcome of co-productions as well.

ZF - And in the case of co-productions, will you have production partners in other countries?

NB - The part of 2D probably will be made outside the country, but the stop-motion animation I want to keep it in Portugal. It's a part that is not easy to divide. For the 2D component, I can always send a minute to do in one place, and three in a different place; but stop0motion is more difficult. 

in 2D, it will be the coldest Rose in town.  in stop-motion,  I identify myself with the character - and it is this Rose that I want. The movie's essence is more in the stop-motion part. In 2D is the character presentation part. Then everything changes in the country. I should have to control the whole production, but it would cost me more to give up the stop motion.

ZF - In the teaser, we see Rosa's relationship with her grandfather. Are those her memories?

NB - There are some memories of her and some messages that her grandfather leaves for her, like a puzzle. The grandfather made mistakes throughout his life that he did not want his granddaughter to repeat. With this distancing from the grandfather, personal relationships are overcome by daily stress. The grandfather ended up doing similar mistakes in the village. However, he had no longer enough time. When she came back, he was already dead but left out messages for her. We here also discuss generation gap problems that are dragging from generation to generation;  there are also family defects, and it is possible to get rid of this "karma".

ZF - In the teaser, we see Rose during several moments of her life, but also a character with a religious look, a shaman.

NB - It is a pagan party, with very old, still remaining traditions from the Celts. This ceremony happens during Carnival and Christmas time. We still have this enormous impact of seeing the habits of people, which have not been totally lost. This is also related to how we deal with demons, where you try to cast out the demons and eliminate them. Those moments are connected to the solstice: the winter and then comes the summer, the ancient cultures that had to do with this relationship with nature. And these demons the movie talks about, the demons from Rose's head, from Grandfather's head, are what she has to learn to deal with. The very figures that the grandfather builds are demon-shaped, which represents the grandfather himself as a demon.
ZF - And they're the cutest little devils I've ever seen.
NB - (laughs) We are now in the modeling phase of the characters,... there is still a great deal of work to be done!
Watch the trailer for My Grandfather's Demons


About Nuno Beato
Nuno Beato was born on April 18, 1977, in Lisbon. In 1998 he creates the animation production company Lampadacesa, where he produces and directs half-length "Hissis" and short films Manos and TV, collaborates in the production of advertising films. Beato co-produces the short film "Cândido" (José Pedro Cavalheiro, 2008), as well as several films for the Children's TV Show "A Ilha das Cores" - RTP. He also co-founder of Sardinha in Lata in 2007, responsible for films such as "Eyes of the Lighthouse", "The Shoemaker", "Journey to Cape Verde", among others; Director and producer of the children's series "Ema & Gui" of 52 episodes of 7 'each, and the award-winning short film "Mi Vida en Tus Manos" (2009). He is a professor in Animation at Universidade Lusófona and Design at ISEC.
CREDITS:
Screenplay – Possidónio Cachapa
Art concept – Nuno Beato | Backgrounds – Alexandre Pinto | Stop Motion Construction Coordinator – Ana Oliveira | Scientific Illustration – Sara Simões | Guest Musician – Carlos Guerreiro | Composer – Manuel Riveiro | Producers – Nuno Beato and Diogo Carvalho | Executive Producer – Susana António | Production: Sardinha em Lata, Submarine, Basque Films
The interview with Nuno Beato was conducted during the 10th edition of 3DWire Animation, Video Games and New Media Market, 4-7 October 2018, and was updated in March 2019.
UPDATE 04/05/2023: The film premiered at the 2022 Annecy International Film Animation Festival. It will be released in Portuguese cinemas on 22nd June 2023.
interview by: Eliane Gordeeff

SIGN UP: Want to read more free articles like this? Sign up for Our Newsletter