Every Independent Animation Project Is Different: Nicolas Burlet Interview (Swiss Animation Portraits 2021)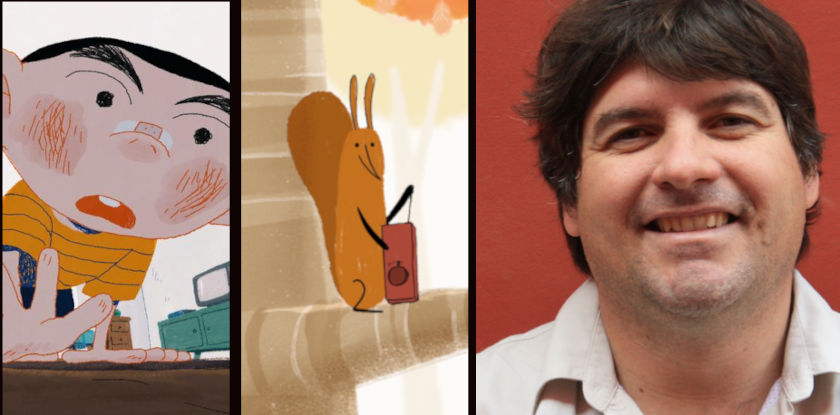 Nadasdy Film, founded in 2001 by Nicolas Burlet (producer and studio administrator) and Zoltán Horváth (director and studio artistic director) in Geneva, Switzerland, has proven to be one of the most consistently productive and successful Swiss animation production enterprises. Starting from short films to TV series to feature films, its recent output garnered 5 official selections at the recent Annecy Festival 2021.  
In detail: "Kiko and the Animals" by Yawen Zheng (co-produced with Folimage) grabbed the Young Audience Award at Annecy Festival," Bémol" by Dana Lacroix and"A Stone in the Shoe" by Éric Montchaud (Young Jury Prize Prix CANAL+ (2021) -all three films in the young audiences."Dans la nature" by Marcel Barelli was in official competition, and  "Vanille" by Guillaume Lorin competed at TV competition.

Zippy Frames chatted with Nicolas Burlet to unveil the strategy and the challenges waiting in line for all this independent animation film production.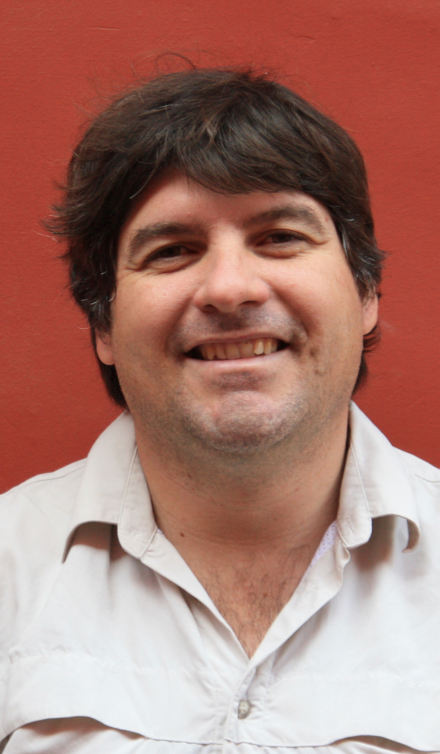 "This year was a good year for us at Annecy '', Burlet tells Zippy Frames. Even covid-19 didn't manage to halt production for 2D animation film, made mostly at the studio premises. Yet the forthcoming stop-motion animation feature, "No Dogs or Italians Allowed" by Alain Ughetto, which Nadasdy Film co-produces, suffered from it ("We twice had to stop the shooting in Valence).
"No Dogs or Italians Allowed" is a semi-autobiographical feature for its director.  It describes the quest of Luigi, Ughetto's grandfather, and other Italians, to move away from their Piémont village for better work and settlement in France, Switzerland and Belgium.
"I've been working for a long time with French co-producer Vivement Lundi! and they asked me if I was interested in working on this movie". Ιn the film, which finishes shooting in July, the main characters passed via Switzerland and works to build the Simplon tunnel. Nadasdy Film was responsible for both part of the shooting and the compositing.
This is not the first feature film project for the company, which has already a track record starting with "Couleur de peau: Miel" (2012) by Jung and Laurent Boileau -another autobiographical story of the Korean Jung going back to his Belgian adopted roots. "In that film, it was a small co-production, with 2 Swiss artists involved in the image design and compositing", Burlet explains.
The co-production model of Nadasdy Film (currently employing around 50 people in its various projects) remains the same throughout the years. It is steadfastly linked to Swiss artists  (or artists living in Switzerland); 100% of the expenses needs to be spent in Switzerland for the funding the company receives from Swiss funding sources ("we are giving work to people, but we're not buying part of the film in return for future distribution sales").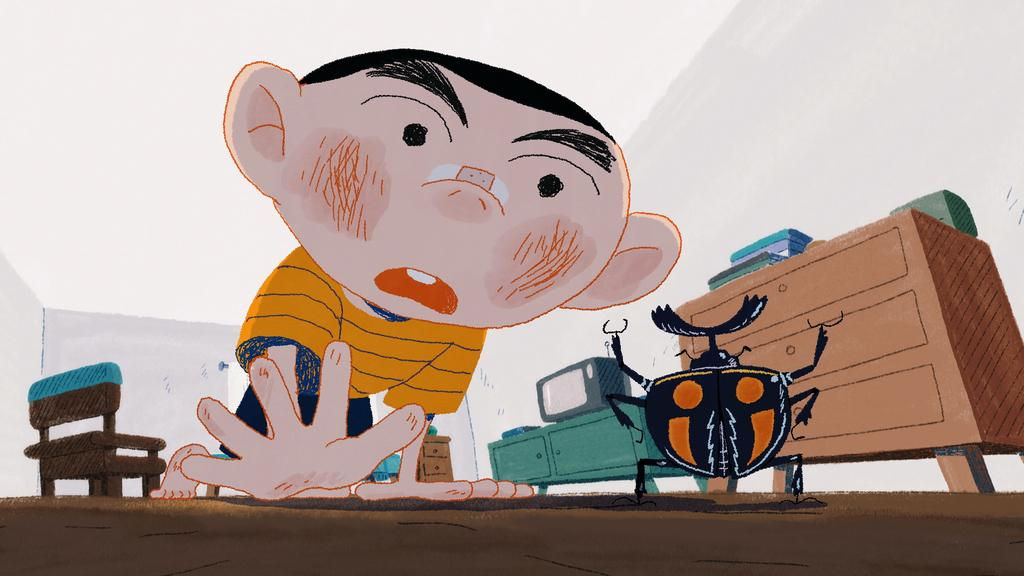 Kiko and the animals
And there is no dearth of talent in Swiss animation either. "People know us in Switzerland, and they are coming to us. I don't need to look for people so much. I already work with about 10 directors, and we are mainly staying together". Directors Mauro Carraro, Marcel Barelli are only some of the names associated for a long time with the company.
Things were not always like that. "In the beginning from 2001, we worked only on the movies of my business partner Zoltán Horváth for 7-8 years," Burlet explained. "Since 2007, I've been working 100% at Nadasdy". Short films were first made, followed by TV series and 26-minute specials; feature films came later.
 
One would say that the production company's project needs a tight, streamlined schedule; yet, still independent animation has its own intricacies. "Every project is different. We are adapting the way we are working with the director", Burlet will elaborate, noticing the difference between short films and features. "In short films, the directors are totally free to do what they want. Some arrive with only one idea, and we work together to follow the development, and  arrive at the final production; others arrive with the film almost totally developed, with all the ideas and graphics. In that case, and if we like that, we say that we can go now to look for money."
Complete artistic freedom is reserved for short film directors, yet a certain deadline (attached to a paid salary) has to be met. A practice which nevertheless implies that directors can work for a longer period (at their own cost). "A big part of directing the movie is really animating; sometimes you have a director who is also an animator, and they're never happy with the image, and they always change things". Some shorts took 4-5 years to make, whereas the initial plan was 1-2 years. Yet still principles hold:  "the most important thing for short films is that the directors do what they want to do, the movies they want to do. It's not the producer's project, it's the director's project". 
The case is different for TV series and specials, and feature films. "These need to be both very artistic and original, because we cannot compete with Disney or Pixar", Burlet explains. "We have to find an original way to do projects, in order to attract the interest of,  and convince both the financiers and the distributors. We also need the market. If you want them to give you money, they need to think they'll be able to take the money back from the spectators, from the market". 
There were times when people had to be laid off from a project. "I hate it when I have problems with people, and have to say 'We have a problem together, and you have to start work at another place'. That is the worst part, because it's never nice to be a bad guy".
Producers need also to handle film funding rejections and intricacies and red tape, which in recent years have proliferated. "In order to get public money now, you need to be 100% transparent. In Switzerland you have a lot of controlling over the funding, a lot of papers to submit -and the list is getting bigger, like for instance, transcriptions for blind people. Each requirement by itself is not so much, but when you put all the new things you have to do, and the forms you have to fill in, the work is changing".
At the same time, the budget for animation remains constant. "The maximum funding you can get from national funds for a feature film (animation or live action) is 1M Swiss Francs; for minority co-productions you can get up to 300,000 Swiss Francs.  Switzerland is a country where things are changing quite slowly". Burlet brings up the example of a regional fund, in which you need to apply to a cinema (not animation) fund;  if you succeed, you can even get all the funding available for a single year for an animation project.
According to Burlet, the problem with feature films  is not the funding itself (a Swiss animation feature will have a typical budget of 3/4M Swiss Francs), but the market. "If you're doing an animation feature for children in France, you can secure a minimum guarantee of 50 or even 100K EUR from sales agents and distributors. In Switzerland, you can only go up to 50K maximum. It's very complicated to do features with more than 3 or 4 million budget".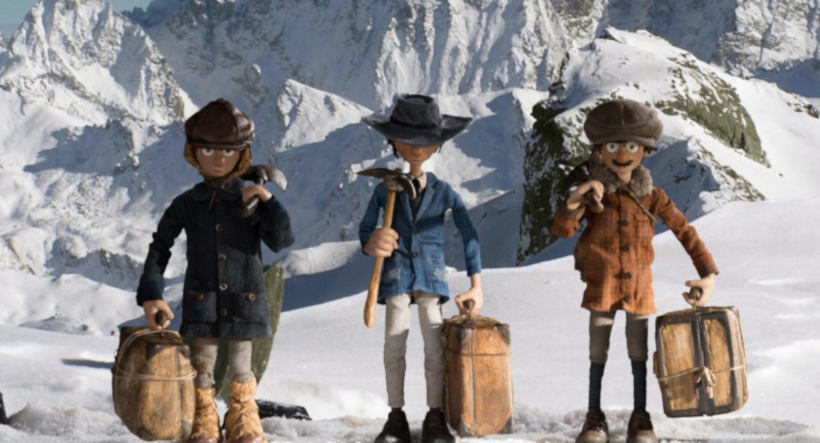 No Dogs or Italians Allowed
It seems that the inverse situation applies in TV series and specials, in which national funding is lacking. "You do have development funding, but when you come to produce, there is neither tax credit or tax shelter scheme -nothing". Which subsequently means that the regional funds from  Région Romandie and the public Swiss TV have to be sufficient -which is not always the case. Since there is not a specific Swiss TV funding for animation series, money has to be sought out from different but still related resources. "We've done TV series, but small ones, around 130-150 minutes in total. "Les enquêtes de Maëly"s by Jean-Marc Duperrex, currently in production, is a 26x11 minutes series ; other series, such as Marcel Barelli's "Ralph et les Dinosaures", are on the 26x5 minutes scale. Co-productions of TV series and specials (especially with France, whose budgets are higher) are always a headache and a long procedure.
Yet this won't stop people from creatively investing in the Swiss film and animation industry. "I think we are a country where you have a bigger number of producers. For example, in Romandie we have around 200 producers", Burlet states. Yet most of them are preoccupied with personal projects, and almost no one is exclusively producing animation -apart from Nadasdy Film. "We don't have a lot of producers in animation because we don't have a lot of money in animation" Burlet will definitely notice. "In France, an animator or head of animation has quite a pretty good salary in comparison with a teacher, or a nurse. Here it is the reverse. It's quite hard to live as a producer with a structure, with a secretary etc. and doing only animation. It took me a long time to arrive there and have a real salary and a real structure to live off this work".  
Nadasdy Film is currently on board with Claude Barras (My Life as a Zucchini) new stop-motion animation feature in development, "Sauvages". "It's about a young girl who lives with her father in a small city in Borneo, Kalimantan; one day, a small orangutan baby arrives in the plantation where the father is working, and the mother orangutan is killed by the guard of the plantation. The girl immediately hides the small orangutan, and this will lead her to go to the forest where she has never gone before".
Both exotic and ambitious and with an array of main characters, the 80-minute animation feature has a much bigger budget than Zucchini (more than 10m EUR) and three co-production countries so far. Apart from Switzerland (Helium film, Nadasdy Film), France (Haut et court) and Belgium (Panique ! and Beast Animation) are on board. "The film's higher budget means we need to find more money from the market itself" Burlet explains. The success of the Oscar-nominated Zucchini may have facilitated things; the scheduled plan is for the budget to be secured by the end of 2021 (already half of it secured) -and production starting beginning 2022. Shooting will be done in Claude Barras' 2,000sq meters studio at Lausanne for the film,  in a story which even aims to involve in its narrative the indigenous Penan people of Borneo.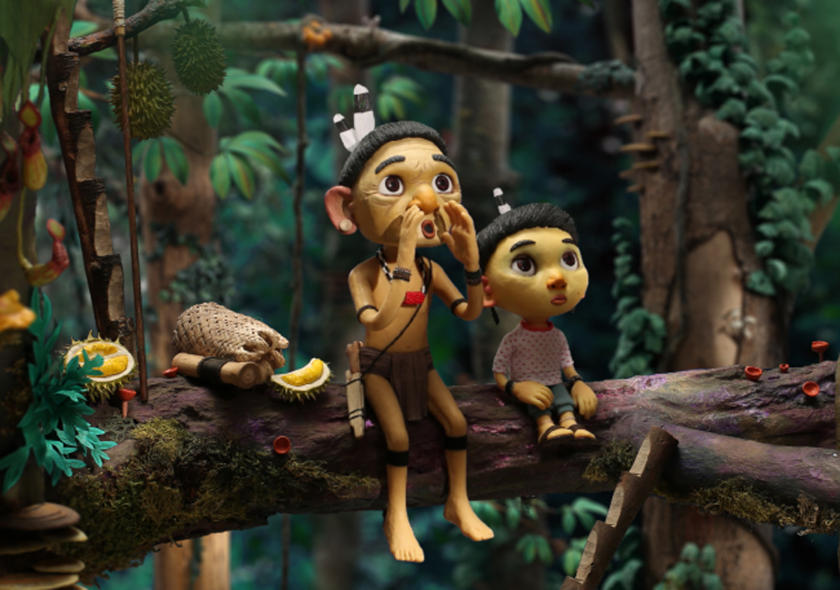 Sauvages
Feature films get their exposure at festivals, theaters and VOD films. Yet short animation is almost exclusively tied to the festival world. And, whereas Annecy Festival is bigger and expansive but manageable, according to Burlet, some other festivals adopt different policies. "A lot of festivals are asking for submission fees, like Sundance (80 dollars), Berlinale (almost 60 Euros). It's more and more competitive, and of course they receive more and more films -and it's more complicated to be on the selection". Granted that Swiss funding bodies give points to big festival participation for companies who apply with their next project, it is a tough game.
"We are in an artificial sector," Burlet continues. "We are here because the state wants us here. If we don't have funding, if we don't have public help, we are dead. We hope all the time that the state or the government will understand that all animation is important and good for the future, a special part of the cinema which deserves to be supported more. Every time I'm looking at the new regulations, I say "They didn't change that, and I wanted that"; yet if I have to be honest, in Switzerland the situation is not so bad". Talents still come to Switzerland from all corners in animation, with the animation scene to become more crowded as time goes by.
Theatrical revenues for short films are rather sparse as well. Children's films and programmes are distributed in the theaters. Nadasdy Film had even a North American theatrical premiere of "Le dernier jour d'automne" by Marjolaine Perreten (2019); the film was distributed by GKIDS before Hayao Miyazaki's 'Kiki's Delivery Service'. Apart from this, VOD platforms offer some money (in the range of a few hundred Swiss Francs per year per film) -yet this is nothing compared to the budget of the film.
With all these challenges, it would seem that the producer's job is a thankless one. But not for Nicolas Burlet. He calls himself a realist, and even the mundane parts of the work (like Excel spreadsheets and accounting) are the ones that give him a sense of certainty that everything is on track. Of course, the successive successes of Nadasdy Film outputs are another factor as well -and speak eloquently of the production company's own reputation.
Swiss Animation Portraits 2021 series is conducted in partnership with Swiss Films.
SIGN UP: Want to read more free articles like this? Sign up for Our Newsletter