Academic
Animation Is A Place: Report from the 31st Society for Animation Studies Conference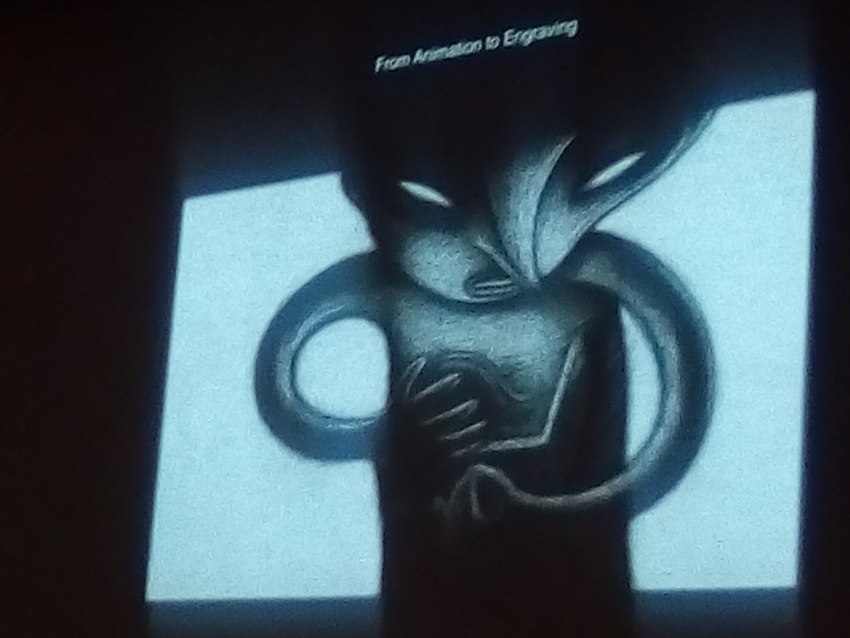 Regina Pessoa SAS Conference Presention, Lisbon 2019
"I love Animation, I love Animators. But first of all, I love freedom!"

With this highly strong message,Mr. Giannalberto Bendazzi, PhD, finished the final official formality of the 31st SAS Annual Conference (Lisbon, Universidade Lusófona de Humanidades e Tecnologias, from 17th to 21st of June). The event is promoted by the Society for Animation Studies, and gathers many professionals of animation from around the world to discuss the theme, sharing their experiences, studies and artworks.  Beyond panels presentations, there were also workshops, exhibitions, expositions, installations, and animation concerts. I had the opportunity to participate in all conference events, so, here's my take for Zippy Frames readers.
First of all, I can affirm that it is very amazing to listen to the points of view of so many, diverse people, most of which are at the top of their own fields.  expertise With freedom and authenticity in their talks as it surely must be the case (!).  Therefore, this fact makes  it impossible to relate to and report everything,  let alone that conference panels occurred simultaneously. One need to choose what can be more important to his/her interest and then go ahead!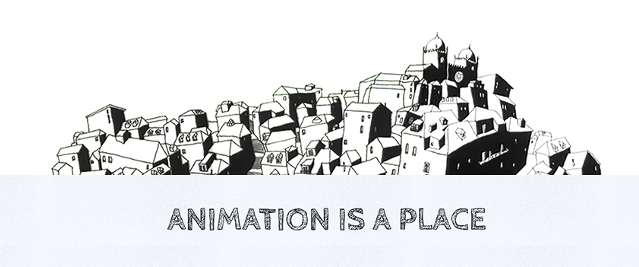 I saw many event colleagues running from one panel to other, but I really do not think this is a good option (at least, not to me). The speeches' time were not exactly "equal". Therefore, this situation is similar as when you try to get in the movie theatre in the middle of a film screening, get out before the film ends, and still, try and understand anything about the story :). Having that explained - and apologizing for not commenting on so many other fantastic things that have happened - I highlight what touched me the most.
Looking at the SAS program,  and within all panels, one can certainly note the variety of themes but also the big presence of  a few points: the importance of "manual animation" (graphic animation and stop motion animation), gender and political questions, the connections of the imaginary with animation, as well as new technologies (mainly VR). The presentation abstracts can be read here.
No doubt, everybody was delighted to listen to Regina Pessoa talk about her animation technique and her awarded new short film Uncle Thomas: Accounting For The Days. With a generous explanation of themes and style, the animator presented her work through a detailed slideshow.
In the presentation, Handwoven Tales In Contemporary Context: The Transformation And Transposition Of Traditional Animation Techniques To Environments Beyond The Screen, Lea Vidakovic (Singapore) asks: "What qualities can traditional animation techniques add to enhance the spatial storytelling experience? How does the transposition of these techniques to spaces beyond the screen, along with the mere change of scale of projection, affect the viewer?" She also presented an interesting installation at the conference, which works along these questions and plays with the public.
Ruth Lingford (UK) with "Drawing, Animation, and the Dream", showed us a very peculiar research: a collection of dreams from different people (Chris Landreth was one of them ) about Donald Trump in the days before his election - the collective unconscious from Carl Jung can explain that! She explained the proximity of Animation to dreams, and showed us an animated film about her research.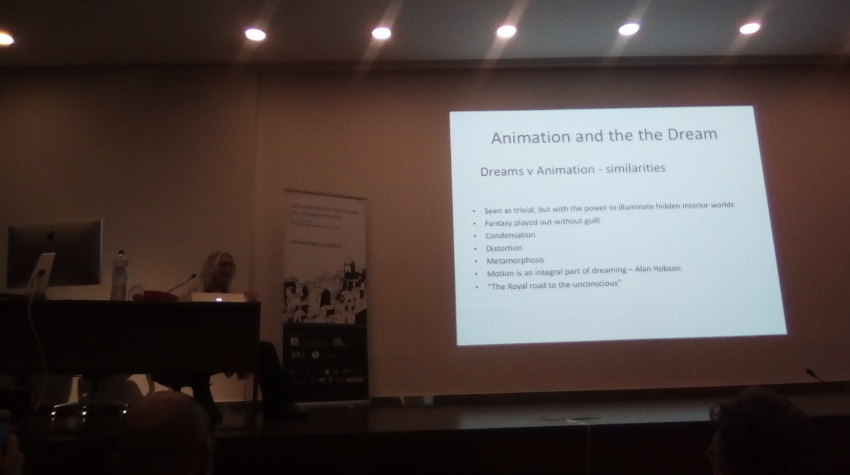 Leila Honari (Australia) talked about her research and installation, Magic Lanterns and Flying Carpets: Farsh-e-Parande".  Being a professor at Griffith University, Leila used "photo-animation techniques and mandalic structure of Persian Traditional arts and stories" to construct a kind of mixed art-forms and equipments: magic lantern, tapestry art, praxinoscope, dance and animation. The visual result is really amazing.
Others highlights were:
Ghosts and Whispers, by Stephen and Timothy Quay a screened alongside live music at piano with Clare Hammond. At Cinemateca Portuguesa, the viewers could appreciate segmented music (Schumann, Shubert, Wagner, Mozart, Janacek, Stravinsky,  Élisabeth Jacquet de la Guerre) and animated images from Quay Brothers. With a perfect synchronicity, image and sound became a unique shape with a strange sense, of course.


The talk of Ed Hooks, author of the historical book Acting for Animators", now in its 4th edition. Acting training professional for actors and animators, Mr. Hook asked for attention and engagement to every animation teacher:
We have enough technology in animation today, but we do not have storytellers. [...] The problem is that animation is handled as a live-action movie. You [teachers] must have the obligation to send them [students] to the woods"(what it means, to come back to our origins, when people sat around the fire to listen to stories).
He finished his emotional talk with a standing burst of applause from a full theatre.
And of course, the last and "special event": the Honorary Doctorate awarded to Professor Giannalberto Bendazzi by Lusofona University. The recognized writer and animation historian received the title from the hands of the host university's rector, Mr. Mário Caneva Moutinho, PhD.
Noticeably happy, Mr. Bendazzi thanked all present for the acknowledgment (particularly Lusofona University faculty) with a little talk and a very strong message nowadays: "I love animation, I love animators. But first of all I love Freedom. I love animation 'cause I love Freedom".
Well, actually "Animation is a Place" and "Everything is worth, if the soul is not small", as Portuguese poet Fernando Pessoa once said.
31st Society for Animation Studies Conference (Lisbon, 17-21 June 2019):
Organization:
Lusófona University (Depart. de Cinema e Artes dos Media), SAS, CICANT
Conference Scientific Committee
Dr. Pedro Serrazina and Dr. Natalie Woolf (Universidade Lusófona de Humanidades e Tecnologias de Lisboa), Dr. Nichola Dobson (Edinburgh College of Art – SAS President), Prof. Paul Ward (Graduate School/Bournemouth Film School Arts University Bournemouth), Dr. Birgitta Hosea (Animation Research Centre, University for the Creative Arts, Farnham), Prof. Joan Ashworth (Independent Filmmaker and Scholar / Seed Fold Films), Rose Bond (Department Head Animated Arts - Pacific Northwest College of Art), Dr. Pierre Floquet (Institut National Polytechnique, Bordeaux), Dr. Filipe Luz (Universidade Lusófona de Humanidades e Tecnologias), Karen Kriss, MPhil (Faculty of Art and Design, University of New South Wales, Sydney Australia)
Support
FCT, Agência da Curta Metragem|ICA, Casa da Animação, EGAC|Museu Bordalo Pinheiro, Santa Casa da Misericórdia de Lisboa, Cinemateca Portuguesa, Turismo de Lisboa, Monte Capela.
SIGN UP: Want to read more free articles like this? Sign up for Our Newsletter
Read More About: