5 Animated Films for the 2014 Césars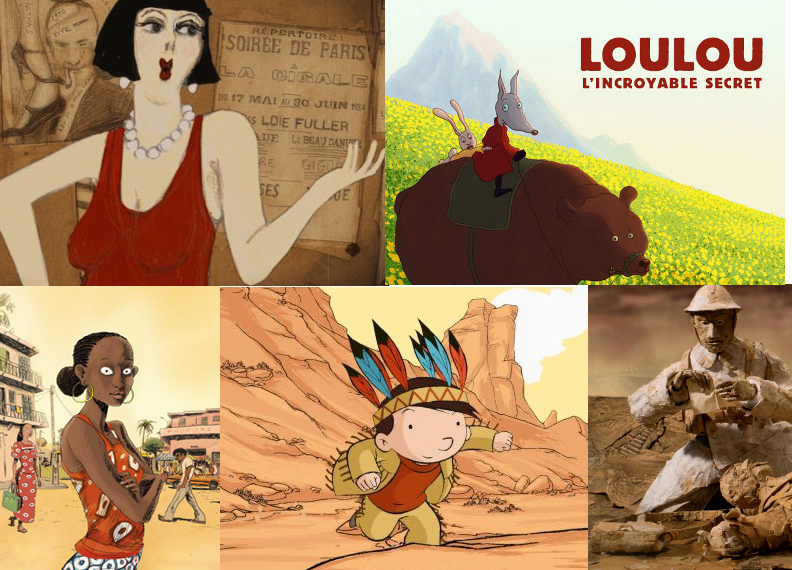 The 2014 Césars will include 5 films for the coveted animation award (the French accolades do not distinguish between short and feature animation films). 3 feature animation films have been selected. The documentary-like Aya of Yop City (Aya de Yopougon) is an animated version of the  acclaimed French graphic novel, Aya de Yopougoun, and is directed by  Marguerite Abouet and Clément Oubrerie.  It is based on the memories of memories of Marguerite Abouet, who was born in the working-class neighborhood of Yopougon, in Abidjan, Ivory Coast, and is produced by Autochenille Productions (responsible for the César-awarded Rabbi's Cat). 
In Loulou The Incredible Secret (Loulou, l'incroyable secret), a film by Grégoire Solotareff and Eric Ormond (Prima Linea Productions), we learn about the unlikely friendhsip between Loulou the wolf and Tom the rabbit, which takes its turn when Loulou turns that his bohemian mother is alive. 
Label Anim in France and  Melusine Productions in Luxembourg produce the 75-minute feature, My Mom Is In America And She Met Buffalo Bill (Ma maman est en Amérique). The third nominated animation feature is directed by Marc Boréal & Thibaut Chatel. A young boy lives without his mother, and has to make up stories about her US adventures to fill in the absence gap.
In the animation shorts category, Kiki of Montparnasse by Amélie HARRAULT (production: Les 3 Ours) tells the story of Kiki de Montparnasse, the unwary muse of major avant-garde painters of the early twentieth century.
Women's Letters (Lettres de Femmes) from Augusto Zanovello (production: Pictor Media Animation)  is another historical stop-motion short, which details nurse Simon's action during the First World War. Nurse Simon patches up the shattered faces of the paper soldiers with love letters from beloved women
The 39th César awards will be handed out on the 28th February 2014.
Read More About: