'Pinocchio', 'Marcel', 'Ice Merchants' Win at the 50th Annie Awards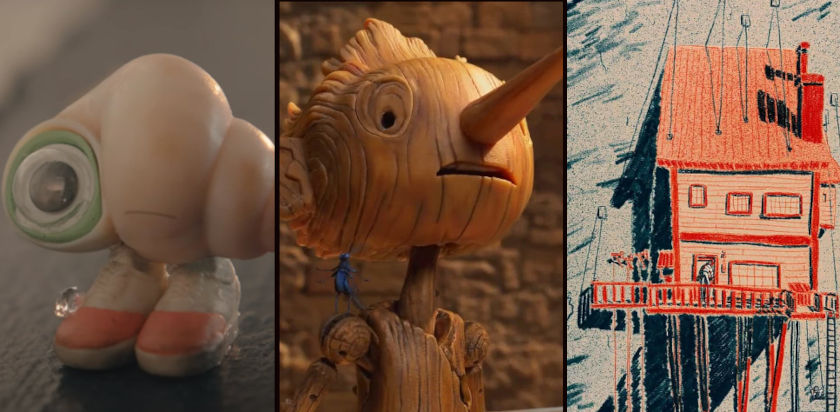 Stop-motion animation won big in the 50th Annie Awards ceremony. This was a year that the usual US studio 3D animation offerings had a hard time convincing the Annie Awards voters.
Instead, the much-acclaimed version of Guillermo Del Toro's 'Pinocchio' (read our review) won 5 Annie Awards overall, getting Best Feature, Best Direction (Del Toro and Mark Gustafson), Best Music (Alexandre Desplat, Roeban Katz, del Toro, and Patrick McHale), Best Production Design (Curt Enderle and Guy Davis), and Best Character Design (Tucker Barrie).
The other stop-motion film, the indie 'Marcel the Shell With Shoes On' by Dean Fleischer Camp picked up the Annie for Best Independent Feature; but also two other awards. For voice acting (Jenny Slate as Marcel) and writing for an animated feature Slate, Dean Fleischer Camp, Nick Paley and Elizabeth Holm.
In the short categories, the Portuguese (and Oscar-nominated) 'Ice Merchants by João Gonzalez (COLA Animation Production & Wild Stream) won the Best Student Film. Watch the beautiful making of the 15-minute film about a boy and his father, in a film which is never as schmaltzy as could have been.
'The Soloists' by Gobelins students (Mehrnaz Abdollahinia, Feben Elias Woldehawariat, Razahk Issaka, Celeste Jamneck & Yi Liu) won Best Student Short in a film which presents the reality of women not being able to perform in public.
'The Boy, the Mole, the Fox and the Horse' 34-minute animation film, directed by Peter Baynton and Charlie Mackesy won 4 Annies (Best Special Production, Best Character Animation, TV/Media (Tim Watts), Best Direction, TV/Media (Peter Baynton, Charlie Mackesy), and Best Editorial, TV/Media (Daniel Budin). Here 'The House' Netflix stop-motion production (which was competing in the Best Special Production category) was really unlucky.
The Winsor McCay Award in recognition of lifetime or career contributions was presented to three recipients – Pete Docter, animated feature writer/director and Pixar CEO; Evelyn Lambart (posthumously), early National Film Board of Canada collaborator, including her significant series of short films; and Craig McCracken, prolific, influential television series creator.
The June Foray Award for significant and benevolent or charitable impact was awarded to Mindy Johnson, author, historian and educator.
The Ub Iwerks Award for technical advancement affecting the animation industry was presented to Visual Effects Reference Platform, initially developed by Nick Cannon and Francois Chardavoine to eliminate incompatibilities between digital content creation software. The Certificate of Merit Award for service to the art and industry was presented to John Omohundro.
The 50th Annie Awards ceremony took place on 25 Feb 2023, at UCLA's Royce Hall in Los Angeles, California.
SIGN UP: Want to read more free articles like this? Sign up for Our Newsletter
Read More About: