How to Train Your Dragon 2 Dominates Annie Awards
The successful Dreamworks sequel of Hiccups and his adventures was the clear winner of the 42nd Annie Awards, organized by ASIFA-Hollywood since 1972 (founded by the veteran voice artist June Foray)..
6 Annie Awards were collected by How to Train Your Dragon 2: best animated feature, Direction (Dean De Blois), Character Animation (Fabio Lignini), Music (John Powell),  Storyboarding (Truong "Tron" Son Mai) , and Editing (John K. Karr).
Disney won the animated effects award (Michael Kaschalk, Peter DeMund, David Hutchins, Henrik Falt, John Kosnik) for Big Hero 6, as well as the best short animated film award for Feast (also Oscar-nominated for 2015).
LAIKA's The Boxtrolls received 2 well-deserved Annies, for its handpicked production design (Paul Lasaine, Tom McClure, August Hall) and voice acting (Ben Kingsley as Arnibald Snatcher) out of 13 nominations in total.
The Book of Life grabbed the award for Best Character Design (Best Paul Sullivan, Sandra Equihua, Jorge R. Gutierrez), while  Phil Lord & Christopher Miller won the Annie Award for Best Writing for The Lego Movie (the US film snubbed at the Oscars).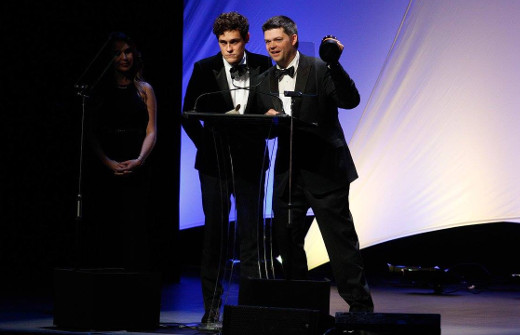 Even though many European shorts & features were nominated, none of them managed to win an Annie Award .
Best student film award went to Jason Rayner for 'My Big Brother' (Savannah College of Art and Design) about a boy sharing a room with his twenty-foot tall brother. Watch it below:
Career achievement awards were given to:
 producers Didier Brunner and Lee Mendelson, and legendary animator Don Lusk  (Winsor McCay award)
author and critic Charles Solomon (June Foray award) 
DreamWorks Animation's Apollo Software (Ub Iwerks award)
The Walt Disney Family Museum (Special Achievement Award)
Annies were presented by  comedy-folk duo Garfunkel & Oates - actress-songwriters Riki Lindhome and Kate Mucucci, songwriter and music director Richard Sherman, Tomm Moore (Song of the Sea), Leslie Iwerks, John Musker, Ron Clements and ASIFA-Hollywood Executive Director, Frank Gladstone.
See all winners at Annie Awards home page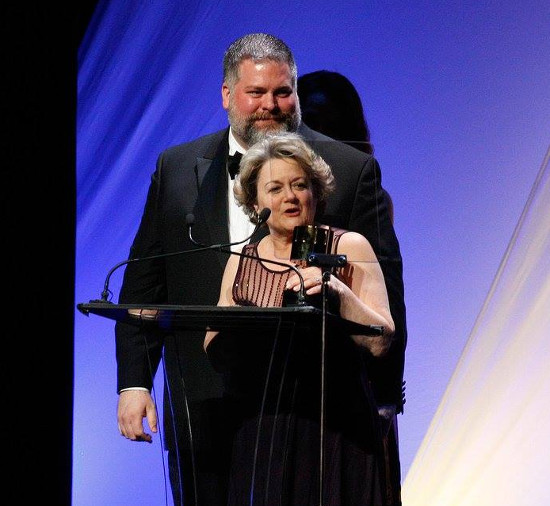 Photo: Dean DeBlois(director) & Bonnie Arnold (producer), How to Train Your Dragon 2,  at the 42nd Anne Awards (c) annieawards.org
Read More About: