Inside Out, Bear Story Win at 2016 Oscars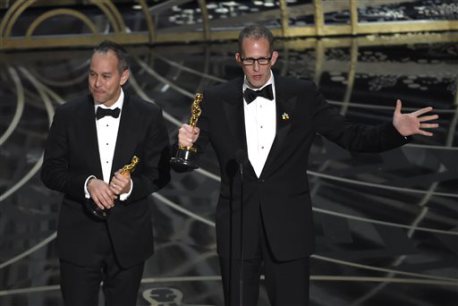 Jonas Rivera, left, and Pete Docter accept the award for best animated feature film for "Inside Out". (Photo by Chris Pizzello/Invision/AP)
In an Oscar year where diversity was the crucial issue, animation categories and their winners choose to talk a little bit about diversity. The animated feature category had a wide selection range in the case of nominees, but the actual winners were a standard even before the nominations were announced.
In a category which included the Brazilian Boy and the World (Alê Abreu), Studio Ghibli's When Marnie Was There, Aardman's Shaun the Sheep and Charlie Kaufman's Anomalisa, it was clear from the start that the winner would be Pixar's Inside Out, a critically acclaimed and commercial hit like no other -bringing Pixar back on the drawing board, after a series of lukewarm films and misses.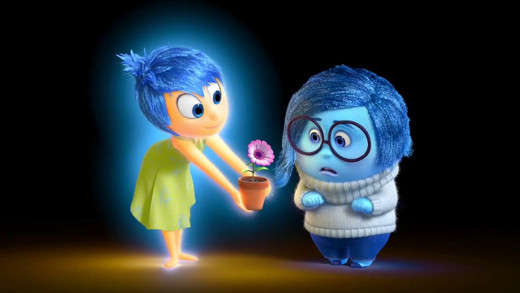 Inside Out
It was the first victory for Pixar since 2012's Brave.  Pete Docter (who won his second Oscar after Up) and co-director Jonas Rivera chose to refer to the difficulties of growing up in their acceptance speech. However, backstage they felt the need to get more talking about diversity and the Philippines artist Ronnie Del Carmen, co-director of the film, as one of the great visual storytellers in animation.
 The first Oscar for Chile came from a rather unexpected source. Bear Story by Gabriel Osorio (dir) and Pato Escala (producer) invests on a personal and family story with strong political undertones.
Both Osorio in his acceptance speech and Escala backstage stressed the fact that they need to get this message to the next generations, to kids, so they cannot make the same mistakes again (call me Pinochet dictatorship).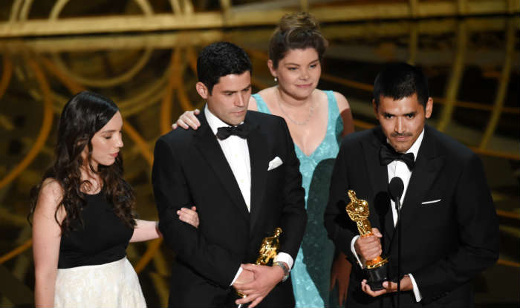 Pato Escala, Gabriel Osorio Win the Oscar for Best Animated Short
In a category that also included Pixar's Sanjay's Super Team (Sanjay Patel), Prologue (Richard Williams),  We Can't Live without Cosmos (Konstantin Bronzit) and the Sundance-awarded World of Tomorrow (Don Hertzfeldt) Academy members chose not a give a double victory to Pixar.
On the other hand, even though Osorio's film is not schmalzy and its story has carefully constructed its dramatic effects,  3D computer animation and animals were again rewarded in animation. This is not to diminish the effort taken by Osorio (it took two years to complete the story-within-story structure of the film).
It only states that Academy voters cannot easily accept and award animation with humans (photorealistic or non-realistic) and that 2D animation is generally perceived to be outmoded in United States.
Thankfully, even the five films included in the Academy Award nominations (both animation feature and short categories)  show otherwise -let alone the films that were not nominated.
The 88th Oscar ceremony took place 28 February 2016.
Vassilis Kroustallis
Read More About: