Josep, And Then The Bear WIn 2021 César Awards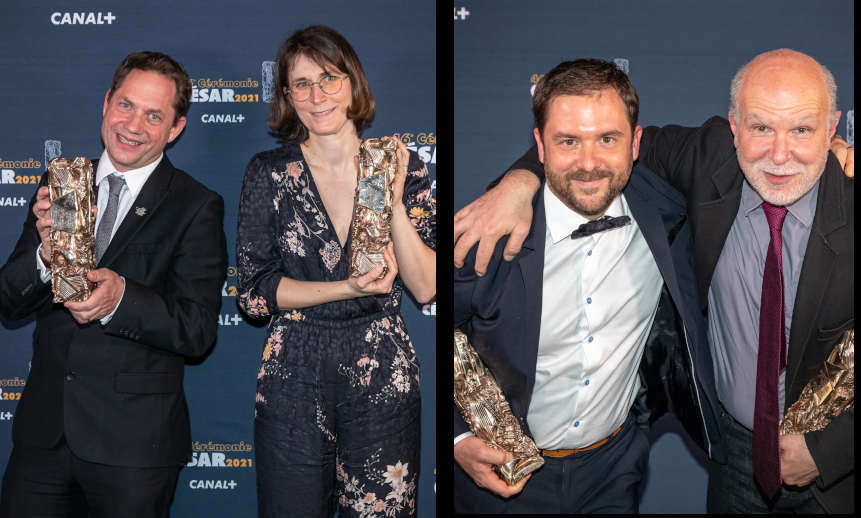 Agnès Patron and producer Ron Dyens (Sacrebleu Productions) won the César  for best French animation short at the  46th César Awards, presented by the Académie des Arts et Techniques du Cinéma,
The film And Then the Bear is a sober and also engaging, blackened drama of characters.
That very night, houses will burn. Men and women will tremble. Hordes of children will come together and howl as they dance alone on the ashes like wild bears. It only takes one cry to awaken them all from their slumber!
Agnès Patron was also in our list of  21 Emerging Womean Animation Directors to Watch in 2021
The other nominees for best animation short were:
Bach-Hong by Elisa Duhamel (prod: Sophie Fallot)
Shooom's Odsyssey by Julien Bisaro (prod: Claire Paoletti)
Nettlehead by Paul Cabon (prod: Jean François Le Corre, Matthieu Courtois)
The César award for best animation feature went to Josep by Aurel (Aurélien Froment, production Serge Lalou, Les Films d'Ici Méditerranée) also his first animation feature  on the Spanish Civil War and the artists left behind.
February 1939. Spanish republicans are fleeing Franco's dictatorship to France. The French government built concentration camps, confining the refugees, where they barely have access to hygiene, water and food. In one of these camps, separated by barbed wire, two men will become friends. One is a guard, the other is Josep Bartoli (Barcelona 1910 – NYC 1995), an illustrator who fights against Franco's regime - Film Synopsis

The 2 other nominated animation features were
Calamity, a Childhood of Martha Jane Cannary,

dir: Rémi Chayé

Little Vampire

, dir: Joann Sfar
The 46th César awards ceremony took place 12 March 2021
SIGN UP: Want to read more free articles like this? Sign up for Our Newsletter
Read More About: