21 Emerging Women Animation Directors to Watch in 2021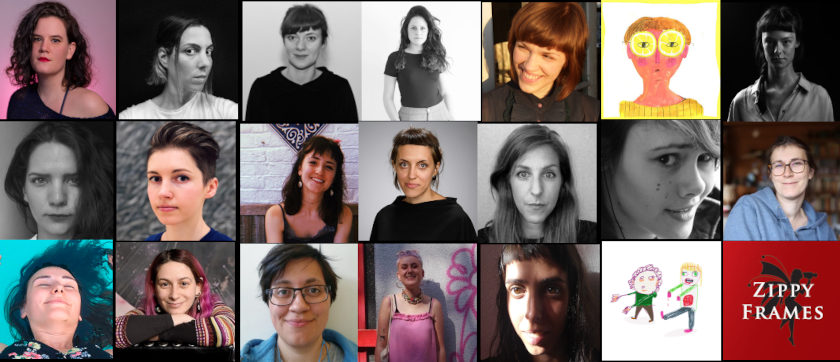 Our idea was to showcase the women independent animation directors talents that have made a number of films during the previous years, awarded and acclaimed at various international festivals and events.

Our contributors picked up exclusively emerging women animation directors from the European countries (yes, UK is included; a separate tribute to US/Latin America/Asia could follow as well). We didn't limit ourselves to directors pinpointing certain causes or themes; we wanted to have a spectrum where both these issues and a lot of other range of topics can be showcased as well in our choices.
Our criterion in a task for selection was to pick up acclaimed women animation directors, who have signed as directors so far up to three short artistic, independent films. (We did allow for more films in few cases, where the director had more student films in the making).   
There is a huge talent pool of women animation directors both in Europe,We did consider other names as well, and it was a hard decision to limit to 20 choices. Here our honorable runners-up:   Nadja Andrasev,  Natasza Cetner, Eva Cvijanovic, Nadya Fedotova, Nica Harrison, Simone Hooymans, Ekaterina (Katya) Mikheeva, Lucija Mrzljak, Jelena Oroz, Britt Raes, Barbara Rubik, Veronica Solomon, Petra Zlonoga- you should definitely check their work as well.
The 21 Emerging Woman Animation Directors in Europe 


(alphabetical order):
María Álvarez and Elisa Morais (Spain, Lithuania): They are two young women who have been developing a very expressive work forming the Sois de Traca collective based in Manchester, UK. They met each other during a telecom engineering course but made a slow transition to the animation world after finishing an MSc in audio production at Salford University. The highlighted short "Three fitted flies" was a result of an artist residence program in Kaunas, Lithuania. It shows a surreal ritual made by a woman to bring back her husband. On the other hand, the experimental animation "Spines" brings us a different visual mixing  of animated techniques. Maria and Elisa create a logic into the non-logical world between characters and weird situations. The concepts of "real" and "unreal" in their work is very instigating, leaving us very curious about their future creative works. - Eliane Gordeeff
Works: Three Fitted Flies (2015), Spines (2019)



Flóra Anna Buda (Hungary): She managed to have a Teddy Award at Berlinale with her student film Entropia, and she meticulously weaves the world of female identity and sexuality. Even with its triptych of characters, Entropia feels in essence like the first part of a series portraits; all of them navigating (but never completing) a track between natural affinities and cultural insensitivities. Flóra Anna Buda has a knack for saturated colours and freewheeling designs and movements, and a sense of editing that constantly alerts you. She now prepares her 27 short, writing another chapter on her woman character's fascinating  process of self-discovery. - Vassilis Kroustallis
Works: Entropia (2019), 27(forthcoming)

Emily Downe (UK): Emily Downe is a recent graduate of the RCA, and co-director of London-based animation duo 'Studio Desk'. Downe directed 2018's The Redness of Red, then 2019's 'Better': deploying a controlled, scribbly looseness, the two films share the trait of striking jump-cuts to signify the discordance between two opposed lifestyles in distinctly separate worlds. Downe brings a highly fluid drawing approach, with strong echoes of 1960s British Pop painting, to an interesting story which explores how the fetish of cultural perfectionism impacts on subjective experience. This is an unusual work due to its story of an oppressed individual escaping a consumerist lifestyle, and rebuilding their own identity through a connection with nature. Foley builds a deep and disquieting atmosphere, an intimate escape into nature. - Joseph Norman
Works: The Redness of Red (2018), Better (2019)


Florentine Grelier (France):
A graduate of Institute Sainte Geneviève in Paris, Grelier is a unique voice in contemporary animation. Her film 'Pixel Joy' explored erotic sensuality through the prism of Nintendo DS.  Her most recent film, 'My Juke-Box', shows a meticulous attention to surface detail. Her animation process fuses a 2D cut-out approach with a magical, with playful textures bringing the screen to life. Made at Novanima Studios, the film received rave reviews at many festivals internationally. Her work is a standout because of the confidence with which she mobilises textural cut-outs in contrast with fluidly drenched painted forms, to tell a moving and humorous story about family connection and memory. - 
Joseph Norman
Works: Pixel Joy (2012), My Juke-Box (2019)
Daria Kashcheeva (Russia/ Czech Republic): She was catapulted into international animation stardom (and an Oscar nomination) with her student puppet film, Daughter. Daria Kashcheeva knows how to handle her puppets on camera to give both a familial and anguished feeling. The full-blown drama enables her to move from documentary techniques to staging to theatre. Kashcheeva has a firm hand on her material, in which technical innovation stems from precise narrative articulation and the definite need to tell a single, powerful story. Her new film Electra, an hallucinogenic pixilated/stop-motion effort takes her deeper into the classical Greek, father-daughter dynamics.  - Vassilis Kroustallis
Works: Daughter (2019), Electra. A Poem (forthcoming)



Pernille Kjaer (Denmark): Pernille is an artist who is always exploring and evolving. Since Tiger we have been able to watch an artist curious about the new narrative ways and the different animation means. After Mammon, when Pernille started her (2D and 3d) geometrical experimental films, she fully caught my attention:  you have to be brave to explore your potential even if it takes you out of your comfort zone, and she did it. Her films are playful and challenge us to decipher or simply enjoy them. Her last film On ambition, courtship and ambition is simply brilliant and mesmerizing. Pernille Kjaer is definitely a talent to follow - Kropka
Works (Selective):Tiger (2016), Amoeba (2018),  On ambition, courtship and procreation (2019)


Anna Mantzaris (Sweden): Anna has a special talent exploring in her characters the tension of their emotions before exploding or transforming into longer lasting feelings. She has a great technique for stop motion and a remarkable instinct when placing the camera to tell her characters' stories. Her films have a Nordic atmosphere and sense of humor, and are always something to enjoy. She is a very recognizable artist on the Scandinavian and international animation scene. In short, Anna is the possessor of a talent that should certainly be closely watched. - Kropka
Works: But milk is important (2012), Enough (2018), Good Intentions (2019)
Maria Manero Muro (Spain): She was born in 1986. As a student, Manero always had an interest in theatre and cinema. However, she got her degree in Fine Arts at the KABK in the Netherlands during an Erasmus stay. Patchwork is her first animation work, the final short realized during her Animation Masters at Universitat Politècnica de València. Although the film is her first, it was recognized internationally - the Best Student Short from Quirino Awards - and leaves us waiting for more from Maria. The short was inspired by the real story of a 60-year-old woman, who needs a liver transplant. The title plays with this personal drama in a very intimate and delicate way. She has also worked very well with the textures and the scene's colors, creating beautiful sequences with a Latin look on women's issues. - Eliane Gordeeff
Works: Patchwork (2018)


Nata Metlukh (Ukraine/US): Born in Ukraine, got there first degree in mathematics (which probably shows); then she moves to San Francisco, strives for design/illustration skills and jobs, then dives into new temptation and goes to Vancouver to study 'classical animation', after that to Tallinn for not so classical schooling under Pärns, and back to SF, working commercially and on personal projects. With few exercises/films in and out of schools, on top of numerous witty- daring sketches, gifs and the like, all marked by the taste to sharply-modern looks and clever-smashing gags, she is quite recognizable, if not already influential. While merging with more ambitious take on absurdity of the order of things and mores, that hints to intriguing perspectives ahead. - Mikhail Gurevich
Works (selective): Fears (2015), Paper or Plastic (2019), Awkward (2020)
 
Christina S. Nerland (Norway): Christina jumped to the international scene of animation with Leave a Print, a sad and joyful story that conquered both audience and jury. Christina's works are connected with nature and the deep matters of life, always with a look of tenderness. She has been working in numerous commissioned films around the world. With a clean style and honest narratives she is slowly becoming one of the most representative talents from Norway on the animation field. Her new film Nora is coming in 2021 - Kropka
Works: Leave a print (2016), Nora (forthcoming)


Julia Orlik (Poland): A very young and prolific animator that keeps a high quality and quantity in her relatively short (so far) career. With stories focused on their characters and their exceptional situations, Julia Orlik is perhaps the most remarkable new artist in the stop motion animation in Poland right now. She brilliantly mixes fine stories replete with sarcasm, irony and drama, with well made puppets and a technique that improves with each film. Let's see what she has to tell us in the near future - Kropka
Works (Selective): Banquet (2016), My strange older brother (2019), I'm here (2020)
Agnès Patron (France): She is a virtuoso in manipulating open, wild space and anger and rage to epic proportions; at the same time, her work looks like a humble black canvas with red or gray spots in between.  A graduate of École nationale supérieure des Arts Décoratifs (EnsAD), Patron creates worlds where her subjects have to both to suffer and cause suffering to others; and she does it in the way that brings an immediate identification with the perpetrators, thereby moving the pendulum from the painterly (but still minimal in color) tableau to the ethical realm. A forceful directorial voice to follow - Vassilis Kroustallis
Works:  Widow Caillou (2011), Chulyen, A Crow's Tale (co-directed with Cerise Lopez), And then the Bear (2019)


Alexandra Ramires (Portugal):
She has a degree in Painting from the School of Fine Arts at Lisbon University, but it was in the engraving that Alexandra found a perfect aesthetic for her animation work. She is a prominent Portuguese animator who recently won the António Gaio Award at Cinanima. The striking feature of her work is the line. The line of the drawing resembles the result of an etching work. Due to this connection, I identify the influence of Regina Pessoa's works, whose work, in its turn, has an inspiration in woodcut. In her first work with a documentarian character, Alexandra developed a partnership with Laura Gonçalves. However, in "Elo (Tie)", her second one, I can see the strength of an intimate and metaphorical narrative in development. I can see the strength of a special and metaphorical narrative in development, and a personal form to construct these animation narratives -
Eliane Gordeeff

Works: Drop by Drop (co-directed with Laura Gonçalves) (2019), Elo (Tie, 2020)
Lydia Reid (UK) : Lydia Reid is an emerging animator, a recent graduate from 2019, whose work seeks to challenge key contemporary issues such as stereotypical representation: this includes a critique of gender-based identity, enacted through formal elements which challenge preconception. Reid has a vibrant and punky aesthetic, humorously mobilised through spontaneous drawing, wonky compositions and garish colour schemes. Her work offers a fresh approach to telling stories with harsh topics; Reid is an exciting and challenging new voice, whose work defies generic categorisation.  - Joseph Norman
Works: You're Fit (2019), This is Why Girls Go to the Bathroom Together (2020).


Martina Scarpelli (Italy): A young woman's constant struggle with her own environment takes an energetic turn and geometric proportions in Scarpellis' animated universe. Things can be elongated, curved, in and out of frame, but definitely measured and reasoned about in her work. This mathematico-philosophical cinematic approach to traumatic issues is exciting, fresh and has been justly awarded in the festival circuit. Scarpelli won't be afraid of the high and mighty concepts, and she has a way to painstakingly picture them as personally relevant as ever. She now prepares her own, soul-related, animated (and filmic) opera -Vassilis Kroustallis
Works: Cosmoetico (2015), Egg (2018), Psychomachia (forthcoming)

Birutė Sodeikaitė (Lithuania): Her films looks like a magical puppet fairy has descended from (or ascended towards) the sky and its celestial elements. The glacial movements of Sodeikaitė's puppets, their intimate character design and the glowing, warm light are only a gateway to the sincerity and seriousness of her subject matters. Sodeikaitė as a director is deeply empathetic and moves carefully from the concrete to the abstract. She needs to employ nature in her work, but she won't forget the human factor in need. Acclaimed for her Last Stop Is the Moon, she's now preparing another puppet short with a young woman facing the calamities of love clouds. - Vassilis Kroustallis
Works: When the Tree Grows (2013), Last Stop Is the Moon (2017), Elena (forthcoming)

Luca Toth (Hungary): Since her first film, The Age of Curious, Luca showed an unique style and an inner world brimming with magnificent narratives. In that world the  stories unfold in symbolic spaces, where the feminine and an oneiric-mysterious aura permeates everything. Her films abound with a strange sensuality, the characters follow their primitive instincts in games that are not always clear but fascinating. Luca is part of the influential, new Hungarian wave of artists who are showing us how powerful animation can be. We are certainly looking forward to her next films - Kropka
Works:The Age of Curious (2013), Superbia (2016), Mr.Mare (2019)
Anu-Laura Tuttelberg (Estonia): You need to understand Anu-Laura Tuttelberg's films as meta-narratives where nature itself comments on human actions taken. Even the anguished Fly Mill and the main character's actions do provoke a silent reaction. Live-action settings and shootings are used as a framework coming from another era; lighting becomes the factor to put time and timing in the sequence of the events. In her two last films featuring women characters, Tuttelberg makes them explorers and absorbers of sensations and events, neither agents nor victims. They are precious (like porcelains are) but less fragile and ready to inhabit their world. - Vassilis Kroustallis
Works: Fly Mill (2012), On the Other Side of the Woods (2014), Winter in Rainforest (2019).

Paulina Ziółkowska (Poland): She made the best covid film (Bless You!) long before covid was on the horizon. Yet, the talented animation director from Poland has more to offer in her arsenal. For a starter, a much needed sense of humour in otherwise very socially troubled situations. She excels in role shifting as well; families and strangers become in turn the strong and the weak by carefully manipulated bodily dimensions and perspectives, color contrasts and a vast arena of space (empty or densely populated) ready to offer all possibilities. Her new film makes up for more social role shifting with three women on stage. - Vassilis Kroustallis
Works: Oh, Mother! (2017), Bless You! (2018)

Varya Yakovleva (Russia): She's one of the most distinctive and promising talents in the newest 'women's wave' of Russian animation, gentle and brave in her artistic standing. Having graduated from VGIK in animation/film design and computer graphics, she then went for director's training to School-Studio Shar. Her student work there The Square presented, in tastefully simple drawing, a sharp look at art spectatorship and perhaps at Malevich's masterpiece too. Then studio film, Anna, Cat and Mouse, in rough yet elegant cutouts, with a surreal twist, gives no less drastic take on gender roles/tensions. And in forthcoming Life Is a Bitch, changing style/technique again, she makes a bold move to rather unconventional animadoc. -Mikhail Gurevich
Works: The Square (2016), Anna, Cat and Mouse (2019), Life Is a Bitch (forthcoming)
Contributors: Eliane Gordeeff, Mikhail Gurevich, Kropka, Vassilis Kroustallis, Joseph Norman.
The story about 21 Emerging Women Animation Directors to Watch in 2021 first appeared at Zippy Frames.
SIGN UP: Want to read more free articles like this? Sign up for Our Newsletter