Josep Wins European Animated Feature Award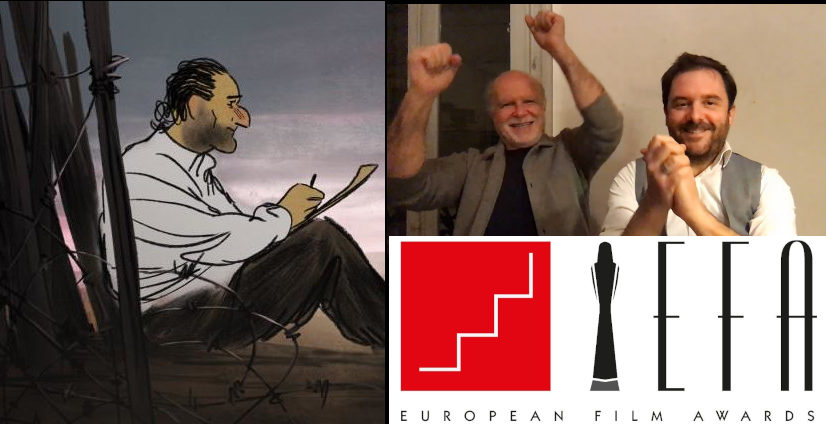 Based on four nominations, the winner was voted for by the more than 3,800 EFA Members.  Josep, th 2D animation feature by Aurel won the European Animated Feature Film 2020.
The film was previously selected for the Cannes 2020 Film Festival, gaining the coveted 'Cannes 2020' label.
JOSEP ,France, Belgium, Spain, DIRECTED BY Aurel
WRITTEN BY Jean-Louis Milesi | PRODUCED BY Serge Lalou
February 1939. Spanish republicans are fleeing Franco's dictatorship to France. The French government built concentration camps, confining the refugees, where they barely have access to hygiene, water and food. In one of these camps, separated by barbed wire, two men will become friends. One is a guard, the other is Josep Bartoli (Barcelona 1910 – NYC 1995), an illustrator who fights against Franco's regime.
The film is produced by Les Films d'Ici Méditerranée (co-produced by France 3 Cinéma,  Imagic Telecom (Spain), Les Films du Poisson Rouge, Lunanime (Belgium), Promenons nous dans les bois, Tchak, Les Fées Spéciales and Effecto,
Here's the acceptance speech
The three other nominees were:
CALAMITY France, Denmark, WRITTEN & DIRECTED BY Rémy Chayé |
KLAUS, Spain DIRECTED BY Sergio Pablo
THE NOSE OR THE CONSPIRACY OF MAVERICKS (НОС, ИЛИ ЗАГОВОР "НЕ ТАКИХ"), Russia  DIRECTED BY Andrey Khrzhanovsky
The winner was voted for by the more than 3,800 EFA Members. The nominations were decided by a committee consisting of: EFA Board Member Béatrice Thiriet (France), director Anca Damian (Romania), producer Antonio Saura (Spain) and, representing CARTOON, the European Association of Animation Film, Diogo Carvalho (producer, Portugal), Camilla Deakin (producer, UK) and Norbert Laporte (institutional, Luxembourg).
Last year's recipient was Buñuel in the Labyrinth of Turtles by Salvador Simó.
SIGN UP: Want to read more free articles like this? Sign up for Our Newsletter
Read More About: