My Life as a Courgette Wins at 2016 European Film Awards
 The European Film Academy and EFA Productions awarded for the first time a stop-motion film the highest honor.
Out of the three animation features competing, the 66-minute My Life as a Zucchini (Ma vie de courgette) by Claude Barras won the European Animated Feature award for 2016.
Director Claude Barras, in his acceptance speech, stated: "Culture is like a rainbow, separate colors, but only one long grade"
In a year that was strong on adult-themed features, such as the Spanish outcast thriller Psiconautas, The Forgotten Children by Pedro Rivero & Alberto Vázquez, and Michael Dudok de Wit's wordless The Red Turtle (France, Belgium), the Swiss dramedy (written by Céline Sciamma and produced by Max Karli) managed to capture the hearts and votes of the 3,000 European members.
Short animated films were not that lucky.  The 3 animated shorts competing with 12 fiction shorts for the prize, Amalimbo by Juan Pablo Libossart  (Sweden/Estonia 2016, 15 min), Edmond by Nina Gantz (UK, 2015, 10 min) and In the Distance  by Florian Grolig (Germany 2015,  7 min), did not manage to win.
It's rather time for the European Academy to consider a separate category for animated shorts.
Browsing through the last years' editions, it is rather difficult to prove that no animated short was good enough to win in this category for Best Short Film, which (at least since 2009) is monopolized by live-action victories.
The European Animated Feature Film 2016 have been presented at the European Film Awards Ceremony in Wroclaw, Poland (European Capital of Culture 2016) on Saturday, 10 December 2016.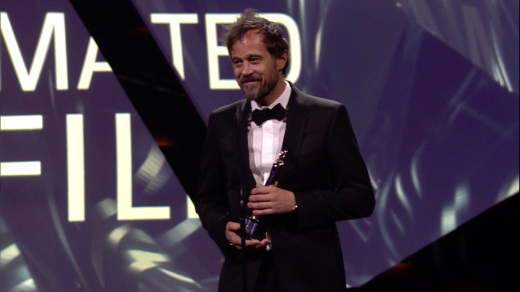 Claude Barras at the 2016 European Film Awards (c) EFA
Read More About: