15 Animation Shorts in the Oscar 2022 Race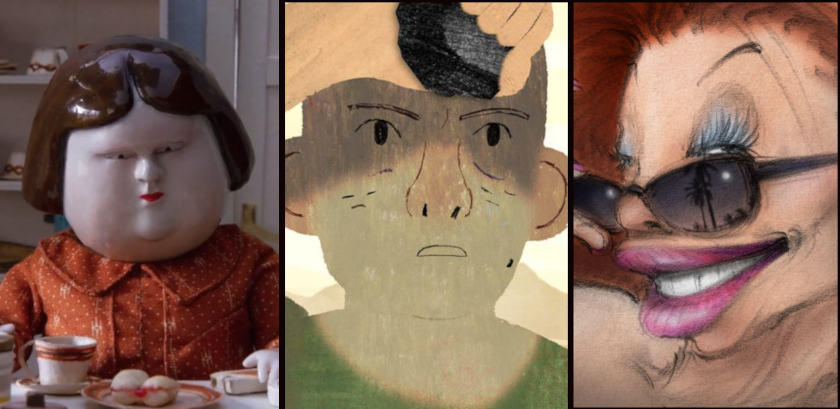 The Oscar 2022 shortlist for animation films has been published. It is a mix of mid-brow family animation offerings and auteurish films (and, as usual in recent years, many of those fine films who have qualified have been left out).
We're glad that Joanna Quinn (Affairs of the Art), Hugo Covarrubias (Bestia), Bastien Dubois (Souvenir, Souvenir) advance to the next stage. In the fine surprises of this selection, the Canadian puppet film 'Angakusajaujuq: The Shaman's Apprentice' by Zacharias Kunuk,  which talks of an initiation journey in the Inuit community; also, the sensitive Sandra Desmazières film, 'Flowing Home', also made the cut.

The full list:
Affairs of the Art, dir. Joanna Quinn (UK/Canada)
Fifty-nine-year-old factory worker Beryl is totally obsessed with drawing, and her fixation dominates the entire household. Apart from her husband, Ivor, Beryl's model and muse, the whole family is addicted to something.
Angakusajaujuq: The Shaman's Apprentice by Zacharias Kunuk
A story about the traditional Inuit role of the shaman, the film centres on a grandmother and granddaughter who travel to the underworld in an effort to heal an ill young hunter
Bad Seeds by Claude Cloutier
Bad Seeds takes us to a bizarre world populated by carnivorous plants that can change shapes the way a chameleon changes colours.
Bestia, dir. Hugo Covarrubias (Chile)
Inspired by real events, "Bestia" enters the life of a secret police agent in the military dictatorship in Chile. The relationship with her dog, her body, her fears and frustrations, reveal a macabre fracture in her mind and a country.
Boxballet by Anton Dyakov
One day, a delicate ballerina named Olya meets the rough, surly boxer Evgeny. 
Flowing Home by Sandra Desmazières
Sao Maï, the eldest is 17. She will stay in Vietnam with her parents. In her loneliness, she lives with the ghosts of the past.
Mum is Pouring Rain, dir. Hugo de Faucompret
Jane must spend Christmas with her grandmother in the countryside as her mother is struggling with depression. However, she surprisingly meets new friends, Cloclo, Sonia and Leon.
Navozande, the Musician by Reza Riahi
During a vicious attack, a young musician and the love of his life are brutally separated from one another
Namoo by Erick Oh
The film, completely hand-painted, follows the journey of a man from his beginning to his end. As a young man, he falls in love with painting and as an adult, he falls in love with another person.
Only A Child by Simone Giampaolo
A visual poem which gives shape and colour to the words spoken by 12 year-old Severn Suzuki at the United Nations' Rio Summit in 1992.


Robin, Robin by Mikey Please
A chirpy young robin is adopted by a family of mice
Souvenir Souvenir, dir. Bastien Dubois (France)

For 10 years a filmmaker tries to make a movie out of his grandfather's Algerian war souvenirs.
Step Into the River by Weijia Ma
Lu and Wei are two young girls living in a village nestled on the banks of a river. As the one-child policy has led some families to drown baby girls, they both have a special relationship with this river which looks like a cradle of tragic stories
Us Again by Jach Parrish
"The Windshield Wiper" by Alberto Mielgo and Leo Sanchez
The Windshield Wiper is a very personal and particular vision on Love and relationships.
In addition, the animation documentary 'Flee' by Jonas Poher Rasmussen has been selected in both the International Feature and Documentary shortlist.
The 94th Oscars will be held on Sunday, March 27, 2022, at the Dolby Theatre at Hollywood & Highland Cente.
SIGN UP: Want to read more free articles like this? Sign up for Our Newsletter