'Pinocchio', 'The Boy, the Mole, The Fox and the Horse' in the Oscar Winners 2023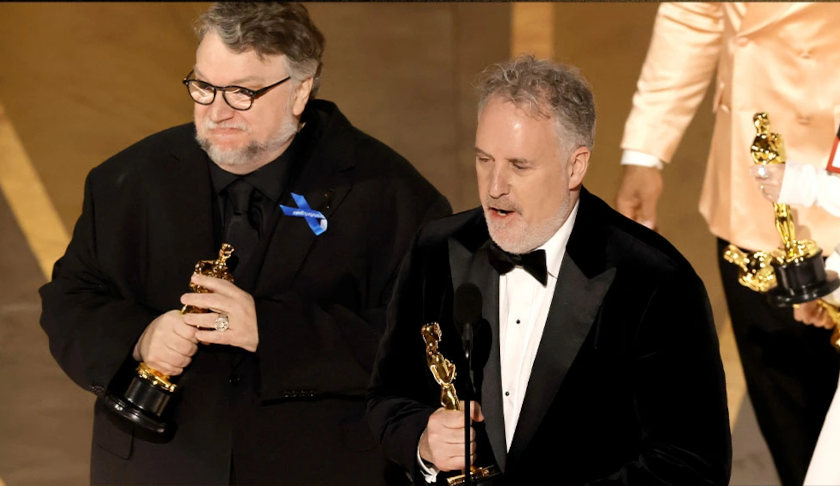 With the now oft-repeated motto "Animation is cinema. Animation is not a genre' Guillermo Del Toro accepted the well-deserved Academy Award for Best Animated Feature for 'Pinocchio' (co-directed by Mark Gustafson), promising  the readiness of animation 'to be taken to the next step'.
The more adult 'Pinocchio' than its classic 1940 Disney incarnation won in a field that included another stop-motion film (Marcel the Shelle with Shoes On), Pixar (Turning Red), another Netflix film (The Sea Beast), and DreamWorks (Puss In Boots: The Last Wish).
It had to take Del Toro's caliber (who has already won an Academy Award for 'The Shape of Water') to upstage Disney/Pixar companies -which have won the trophy continuously since 2019. Both companies combined have 15 victories overall in the category.
This is the first victory for Netflix in the category; at the same time, this is just the second win in the history of the category for a stop-motion feature (after Aardman's 'Wallace & Gromit: The Curse of the Were-Rabbit' in 2005). A fact that prompted co-director Mark Gustafson to exclaim that 'the art form of stop-motion is very much alive and well' -and sometimes recognized by the Academy members as well.  
The other nominees (dir/prod):
MARCEL THE SHELL WITH SHOES ON
Dean Fleischer Camp, Elisabeth Holm, Andrew Goldman, Caroline Kaplan and Paul Mezey
PUSS IN BOOTS: THE LAST WISH
Joel Crawford and Mark Swift
THE SEA BEAST
Chris Williams and Jed Schlanger
TURNING RED
Domee Shi and Lindsey Collins
In the short animation field, things were more traditional. The 34-minute film 'The Boy, the Mole, the Fox and the Horse' by Peter Baynton & Charlie Mackesy (only Mackesy was credited as the director at the Academy Awards ceremony) is a tender coming-of-age story, based on the eponymous 2019 novel by Charlie Mackesy.
The film was a far cry from more challenging (thematically and aesthetically) candidates, such as the Portuguese 'Ice Merchants' by João Gonzalez and 'My Year of Dicks' by Sara Gunnarsdóttir (which should have won).
The other nominees (dir/prod)
THE FLYING SAILOR
Amanda Forbis and Wendy Tilby
ICE MERCHANTS
João Gonzalez and Bruno Caetano
MY YEAR OF DICKS
Sara Gunnarsdóttir and Pamela Ribon
AN OSTRICH TOLD ME THE WORLD IS FAKE AND I THINK I BELIEVE IT
Lachlan Pendragon
The 95th Academy Awards ceremony took place at the Dolby Theatre in Los Angeles, on 12 March 2023.
SIGN UP: Want to read more free articles like this? Sign up for Our Newsletter
Read More About: