Wreck-It Ralph tops the Annies 2013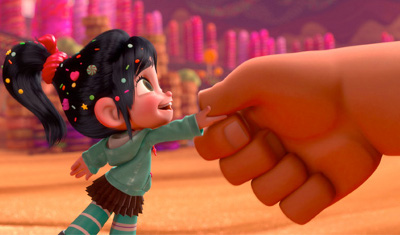 Apart from Best Animated Feature, the Disney feature won Annie Awards for directing (Rick Moore), writing (Phil Johnston, Jennifer Lee),  music (Henry Jackman), and Alan Tudyk for his voice acting as King Candy.
Dreamworks' Rise of the Guardians scored 2 wins (out of 10 nominations): Animated Effects (Andy Hayes, Carl Hooper, David Lipton), and storyboarding (Johanne Matte).
Laika's ParaNorman won 2 Annies: outstanding achievement in character animation (Travis Knight) and character design (Heidi Smith).
Pixar's Brave won for production design (Steve Pilcher) and editing (Nicholas C. Smith, A.C.E, Robert Grahamjones, A.C.E., David Suther).
The critics' favorite, Tim Burton's Frankenweenie (5 nominations), and Sony's Hotel Transylvania (8 noms) left empty-handed from the Annies. 
 Disney scored another victory with John Kahrs-directed, Oscar-nominated short, Paperman [watch it here], which won the Annie for best animated short subject.
Its Oscar rival, the UK stop-motion short, Head over Heels by Tim Reckart won the Annie for best student short film, a new addition to the Annie categories.
Major TV and video game awards:
Best Animated Special Production: "Despicable Me: Minion Mayhem" (Illumination Entertainment)
Best General Audience Animated TV Production for Preschool Children: "Bubble Guppies 

'A Tooth on the Looth'" (Nickelodeon Animation Studios)

Best Animated Television Production for Children: "Dragons: Riders of Berk 'How to Pick Your Dragon'" (DreamWorks Animation)
Best General Audience Animated Television Production "Robot Chicken 'DC Comics Special'" (Stoopid Buddy Studios)
 Best Animated Video Game "Journey" (Sony Computer Entertainment America)
Juried awards honoring career achievement and exceptional contributions to animation were also awarded.
Three Winsor McCay recipients were selected by the ASIFA-Hollywood Board of Directors - Oscar Grillo, Terry Gilliam and Mark Henn for their career contributions to the art of animation; June Foray Award – Howard Green for his significant and benevolent or charitable impact on the art and industry of animation; and Ub Iwerks – Toon Boom Animation/Toon Boom Animation Pipeline for technical advancements that make a significant impact on the art or industry of animation.
The Oscar-awarded Rango was the recipient of 4 Annie Awards in the 2012 awards ceremony. The 40th Annual Annie Awards took place at UCLA's Royce Hall, in Los Angeles, California.
View all the winners at Annie Awards official page.
∓
Read More About: