News
Moomins on the Riviera: English Trailer for the Finnish Feature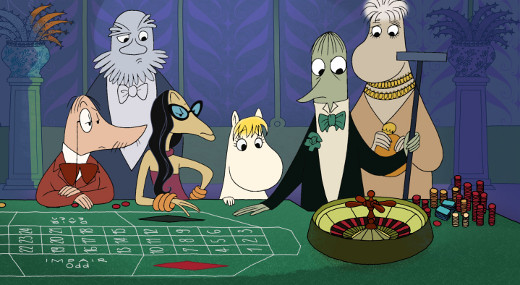 The carefree Moomins are the brainchild of Swedish-Finn illustrator and writer Tove Jansson. Nine pictures books and a comic strip (all released between 1945 and 1993) feature the adventures of the lovable creatures.
A new film (and the first feature-length attempt) has now being developed by Finnish flm producer-director Hanna Hemilä and French animation film director-producer Xavier Picard  (the latter credited as the film's director).
Moomins on the Riviera is based on Tove and Lars Jansson's books "Moomin, the complete Tove Jansson Comic Strip". It features The Moomins, Snorkmaiden and Little My in a journey to the French Riviera.  Nature adventures, but also cases of jealousy and mistrust try their peaceful co-existence.
Watch the seductively simple first English trailer, which needs to match the simple life of Moomins with the extravagance of the French Rieviera:
Its hand-drawn animation technique is accompanied by a reduced color scale for the backgrounds, in order to maintain the feel of the black-and-white comic strips.
Moomins on the Riviera was released in October 2014 to celebrate the 100th anniversary of Tove Jansson's birth. The film has already been sold to Finland, Sweden, Norway, Denmark, Iceland, France, Switzerland and Japan.
 Moomins on the Riviera has already opened in France & Belgium, and its UK release and English version is scheduled for 22 May 2015. I n the English version Moomin is played by award winning British actor Russell Tovey (The Pirates! Band of Misfits, Grabbers, Being Human, Him and Her).
 Nathaniel Parker (Merlin, Stardust, The Haunted Mansion, The Chronicles of Narnia: The Voyage of the Dawn Treader) and Tracy Ann Oberman (EastEnders, Filth) play Moominpappa and Moominmamma respectively. Stephanie Winiecki plays Snorkmaiden. The irrepressible Little My is played by Ruth Gibson.
 Watch  the video for the English voice recording (including director Xavier Picard):
 Philippe Smolikowski is Moominpappa's new best friend, the wannabe artist, Marquis Mongaga. Dave Browne plays the upper-crust playboy Clark Tresco, who sets his sights on Snorkmaiden. Shelley Blond (Tomb Raider video game, Cruise of Gods) plays Audrey Glamour, the Hollywood actress, idolised by Snork. Other roles are played by Dominic Frisby (The Inbetweeners Movie), Ian Conningham, Alison O'Donnell, Bernard Alane, Bruno Magnes, Maria Sid, Beata Harju, Andy Turvey, Kris Gummerus, Glyn Banks and Lee Willis.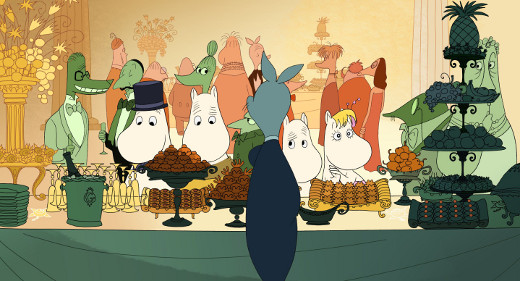 Read More About: