Cartoon Movie 2020: Our Top Picks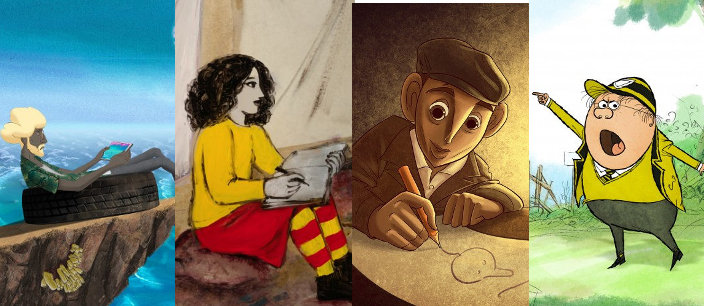 Three years later, perhaps one will even have to look up the dictionary or google 'coronavirus' to know what happened in 2020 film industry events -and they had better do so. Still, the 2020 CARTOON Movie, one of the French film-related major  events to take place in the spring calendar (the one to "slip through the net" as the CARTOON general director Marc Vandeweyer says), it had its usual vibes of project excitement, busy meetings and heavy input of animated images to come. With 10% of the participants dropping out of the event (and a management move to Asian participants to refrain coming to Bordeaux, which was heavily discussed), CARTOON Movie felt less exuberant, but project-wise somehow more meditative and reflective -not a bad sign.
There are voices out there struggling to be heard, and in the adult animation they are becoming stronger. The programme (especially during the first day of the event) seemed equally divided between feature films for children/family and adult animation projects. Is this specific, adult-oriented European market suddenly starting to shape up or is just the case that creative voices need to investigate new topics and ideas? It is safe to assume the latter, even though it would be hopeful to go for the former.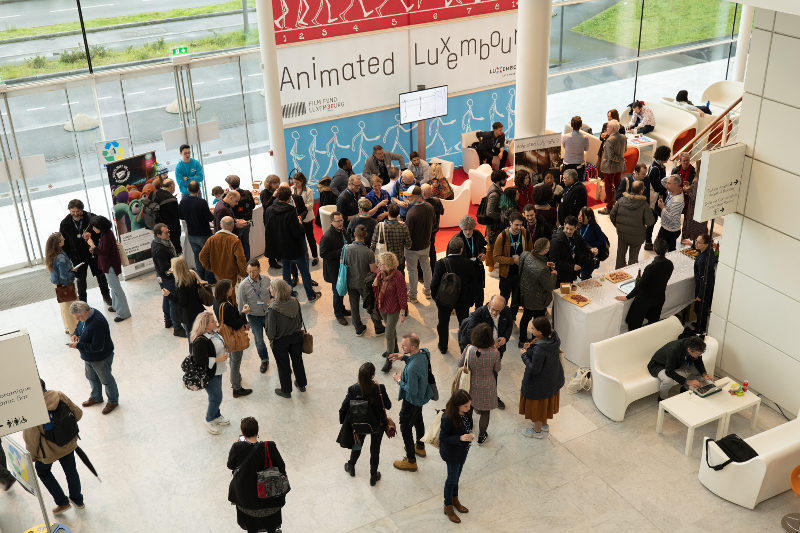 Eastern European Animation projects still struggle to find their way to the big market. 8 of 66 selected projects came from former Eastern European countries as the main countries of production; most of them were presented in the 'in concept' category, meaning there's a long way to go in terms of funding. Anca Damian's The Island (in development) and Even Mice Belong in Heaven (in production) by Jan Bubinecek and Denisa Grimmova are two of the most prominent examples of what is to come for this region in the upcoming years, even though co-productions like the Czech participation (Maur Film) in Florence Miailhe's The Crossing are a case in point. And if the tiny Luxembourg of 600,000 inhabitants can manage to become the grand-duché of animation co-production (as the Luxembourg Film Fund Deputy director Karin Schockweiler states - Luxembourg was on the spotlight in CARTOON Movie this year), then perhaps co-production is the first step for more underrepresented countries to make their mark visible.
Content-wise, and in the year of Bong Joon-Ho's Oscar-winning Parasite, there was a meticulous discussion of art vs. commerce, the old-time honored distinction is now coming up with a vengeance. Whether it is a deep delve into the artist Leonardo da Vinci and his expectations (vs. the harsh reality) in the stop-motion project The Investor by Ratatouille director Jim Capobianco or the abuse of an artist in Juul by Tom van Gesten or a strata of class functions in Franck Dion's The Legacy of the Depanurges, this concern with art and harsh reality was horizontally embedded in many of the projects presented.
Art here will not necessarily mean graphic art: the role of music as a moving force proved to be paramount in Fernando Trueba and Xavier Mariscal's They Shot the Piano Player, the Holocaust drama Shkid by Fernando Cortizo or Maria Trenor's account of Robert Whyatt's psychedelia in Rock Bottom.
Our Top Picks from CARTOON Movie 2020
(Sneak Preview Category - Films finished)
The Crossing, Florence Miailhe (France, Germany, Czech Republic)
Story: A plundered village, a fleeing family, and two stray children on the roads of exile: Kyona and Adriel are trying to escape from their pursuers and to reach some more welcoming country. During their initiatory trip from childhood to teenage, they will have to cross an entire continent obsessed with hunting down migrants, and to go through many trials, both real and surreal, in order to discover a New World, free at last!
Zippy Frames Sneak Review: Florence Miailhe's first feature film is ready to be released, and its neorealism is nothing but spectacular. Painterly awe-inspiring aesthetics aside, the graphics still allow the film to breathe and tell its own story. The narrative itself moves beyond the usual dilemma of immigrants and hostile, inhospitable nations.These are two kids who have to grow up in the most adverse circumstances, and you can feel every pulse of them both.
Calamity, a Childhood of Martha Jane Cannary, Rémi Chayé (France, Denmark)
Story: 1863, in the midst of a convoy heading West on its way to a better life, Martha Jane's father gets hurt. It is she therefore who must drive the family wagon and take care of the horses. Learning is tough and yet Martha Jane has never felt so free. And since it's more practical for riding horses, she doesn't hesitate to slip into trousers. But this is all too bold for Abraham, the leader of the convoy. Accused of theft, Martha has to run away. Dressed as a boy, searching for the evidence of her innocence, she discovers a world undergoing change where her original personality will assert itself. An adventure full of dangers and rich in encounters that will reveal the mythical Calamity Jane.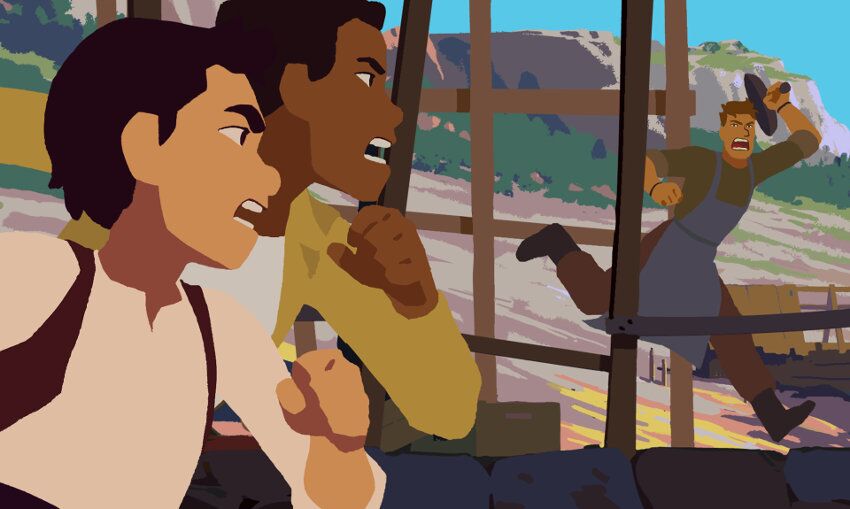 Zippy Frames Sneak Review: In 21st century, women still need to be gutsy to be taken seriously, yet Calamity (one of the most attended CARTOON Movie projects) has a solid narrative thread by the director of Longway North. The 16-minute clip shown during the event describes Martha Jane's formative experience that led to her Calamity status, and moves narratively like a charm. This welcome French treatment of a US story has also enough character stylization to move the horses all along.
(in production)
The Island, Anca Damian (Romania/ Belgium)
Story: "The Island" is a musical comedy and an upside-down Crusoe story. Robinson is a doctor and unlike Robinson Crusoe, his solitude is voluntary but his island in the Mediterranean Sea is invaded by migrants, NGOs, guards. Friday is a castaway, the only one from his boat to have survived when sailing from Africa to Italy. During his strolls on the island, Robinson confronts his own solitude by keeping a diary - that works like augmented reality - filled with extraordinary beings and events, which both fill and trouble his daily life. The island becomes a representation of our contemporary existence.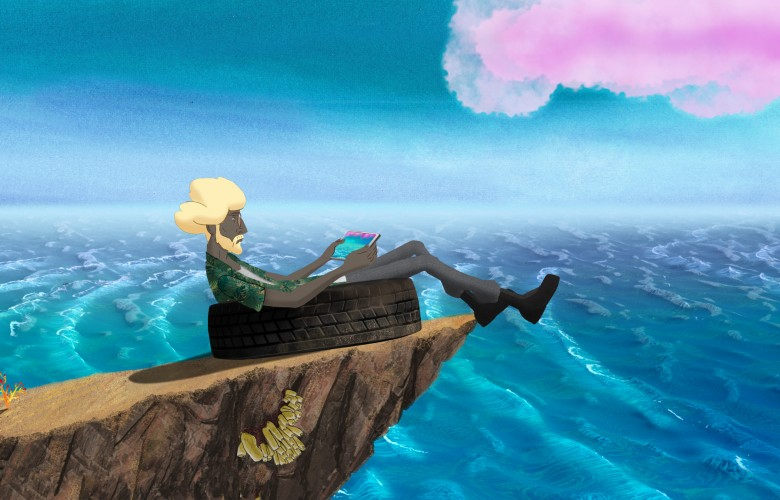 Zippy Frames Sneak Review: Anca Damian describes the project as an "augmented reality" project, with a post-modern, tablet-invested version of Robinson Crusoe; singing dialogue here abounds, with the main character recreating visually his own supporting characters and situations. This is one of the projects that would be hard to work in live-action, so the trademark mixed-techniques aesthetic that Damian uses in all her works really augments the story itself. There's nothing pure nor new in this world, which nevertheless looks a world ready to be visited and explored.
"The Neighbours of My Neighbours are Neighbours of Mine," Léo Marchand & Anne-Laure Daffis (France)
Story: An ogre breaks his teeth the day before Saint-Festin, the ogres' great celebration day. A magician botches his trick of sawing a woman in half, and loses his assistant's legs. An over-equipped hiker gets stuck in the elevator for several days. An old man falls in love with a runaway pair of legs. A mother asks her neighbour to look after her children on the eve of Saint-Festin… In one building, the lives of ten next-door neighbours, or the neighbours of neighbours, intertwine as they grapple with the dramas, joys, surprises and dangers of everyday life.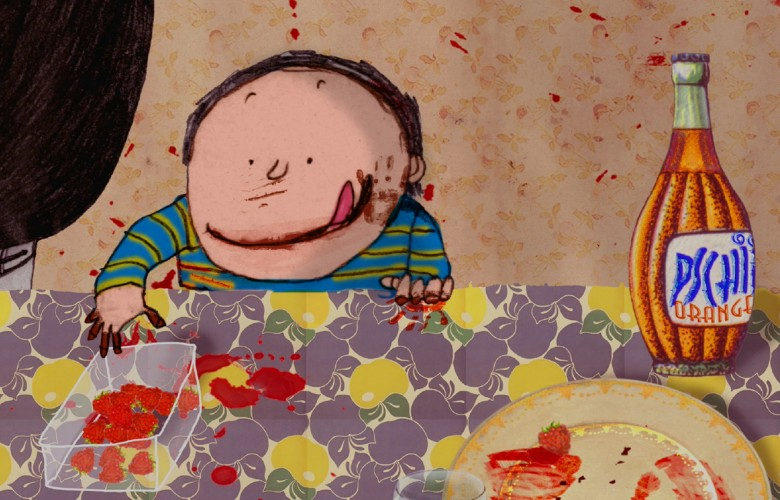 Zippy Frames Sneak Review: Self-described as Robert Altman's Short Cuts for children, the film has 4 stories that crisscross with each other, and spitfire dialogue exchanges that almost determine the posing of the visuals as well. It is energetic, varied and hilarious. 
(In development)
Molesworth, Uli Meyer (U.K., Luxembourg)
Story: St Custard's School for boys is in dire trouble! Someone has been stealing school funds to pay off shady gangsters. The school is now broke and may have to close. Young pupil Nigel Molesworth suspects one of the staff. He gets wind of a devious plan to nobble the school's star football player, bet against St Custard's to lose the National Schools' Cup Final at Wembley, pocket the cash and flee the country. Determined to stop the culprit, rescue their star player and save the school, Molesworth embarks on a chaotic and hysterical race across 1950s London involving bank heists, wild animals, smog, the Kray twin gangsters, stunt-driving double-decker buses, Winston Churchill and the Queen!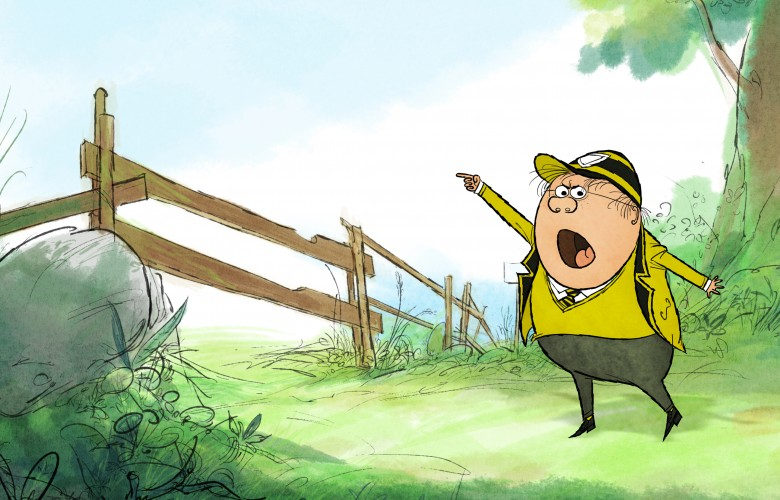 Zippy Frames Sneak Review: Resurrecting the classical Disney aesthetics (but thankfully not its content) Uli Meyer gets a grip on Roland Searle's Molesworth books. Set in post-WWII UK, it is a high-spirited take on school anarchy to compensate for teachers and principals' debauchery. Its creators want to reignite the feeling of Ealing comedies, and Uli Meyer's style certainly suits this purpose.
Sirocco and the Kingdom of the winds Benoît Chieux (France)
Story: Juliette (4) and Carmen (8), two intrepid sisters, discover a passage between their world and the extraordinary universe of their favorite book: the kingdom of the winds. Transformed into cats at their arrival, they are imprisoned and separated by the mayor of the village following Juliette's clumsiness. Juliette is offered as a pet to Selma, a singer with whom the mayor is secretly in love, and Carmen is sentenced to marry his son, a desperately lonely teenager. Thanks to Selma, the two girls will find each other. But how will they manage to come back to their world? Only Sirocco, who Selma once knew, may help them. But is he as terrifying as the villagers think and that the book implied?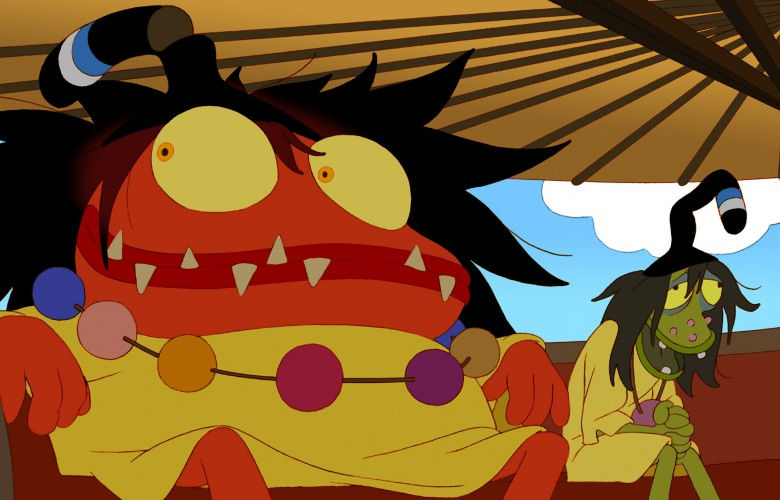 Zippy Frames Sneak Review: An immediately appealing graphic style of contrasting saturated colors, as if you are being transferred to a new land of Oz. Benoît Chieux drew the pictures before screenwriter Alain Gagnol (A Cat In Paris, Phantom Boy) was inspired to write the script. The result looks like a European version of a Miyazaki universe, more tamed, but still breezy and captivating.

(In concept)
The Legacy of the Depanurges," Franck Dion (France)
Story: The Depanurge Baron has just passed away. He left behind an empire in wool manufacturing and an old lighthouse. It is Christmas Eve and the Depanurge siblings return to open the will, which will name the future heir. Among them are the quadruplets, large, chatty and self-important sheep, and their brother Romulus, a small, fearful and silent horned wolf. He carries the stigmas of an ancient curse that the Depanurge lineage has endured for centuries. In each generation, a horned wolf is born among the siblings, never to inherit the title of Baron. The opening of the will unleashes harmful emotions followed by disappearances, reminiscences, ghosts and journeys into the family's troubled past.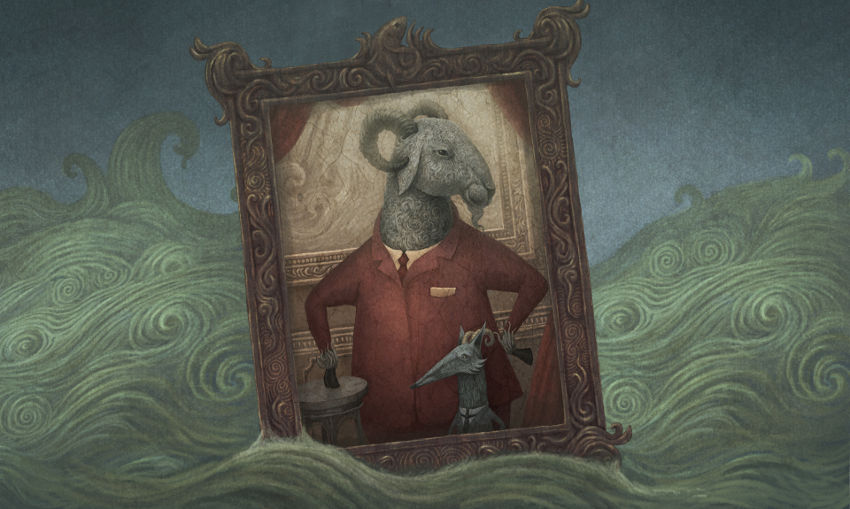 Zippy Frames Sneak Review: If Franck Dion manages to keep narrative control of his family and class satire of little wolves with hornes, we can safely talk about the Budapest Hotel of animation. The Legacy of Depanurges looks like a master case of lighting and settings, and a very complex (but gripping) story of a family in close disintegration is the main dish.
Juul, Tom Van Gestel (Belgium)
Story: Circus Kavaros suffers major difficulties. After a performance goes wrong, 17-year-old acrobat, Juul, falls into a coma. Her father, magician Bor, wanting to keep his daughter with him, kidnaps her from the hospital. When he performs with Juul as a living puppet, the general public rush back to fill the stands. Bor is convinced that he's doing his little girl credit. But with in Juul, who still appears to be conscious, the inner frenzy and despair grow. In silent protest against the humiliations and the loss of her own will, she slowly transforms into living porcelain, until she falls apart into pieces. With much love and patience, her cousin Kaz puts her back together like a human jigsaw.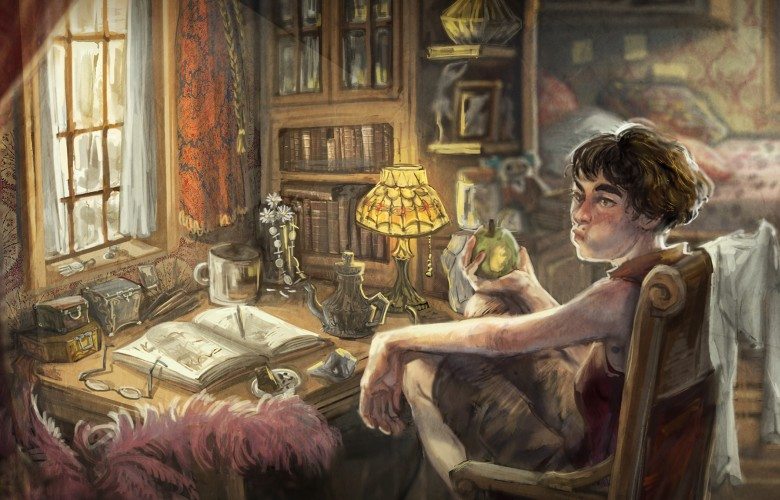 Zippy Frames Sneak Review: Juul promises to be one of heart-wrenching project of the upcoming years, and it's ready to bend its 3D computer aesthetic to match its goals. Its message is "learning to let go", yet its treatment shows a more elaborate process than a simple slogan.
They Shot the Piano Player Fernando Trueba & Javier Mariscal (Spain, U.K., France)
Story: A New York music journalist (Jeff Goldblum) goes on a quest to uncover the truth behind the tragic disappearance of young Brazilian piano virtuoso Tenorio Jr. A celebratory origin story of the world-renowned Latino musical movement Bossa Nova, "TSTPP" captures a fleeting time bursting with creative freedom at a turning point in Latin American history in the 60s and 70s, just before the continent was engulfed by totalitarian regimes. The mystery behind Tenorio's tragic fate, and the enduring quality of his music leads us on a journey of discovery, featuring a who's who of the best of Brazilian musicians who knew him: João Gilberto, Caetano Veloso, Gilberto Gil, Vinicius de Moraes.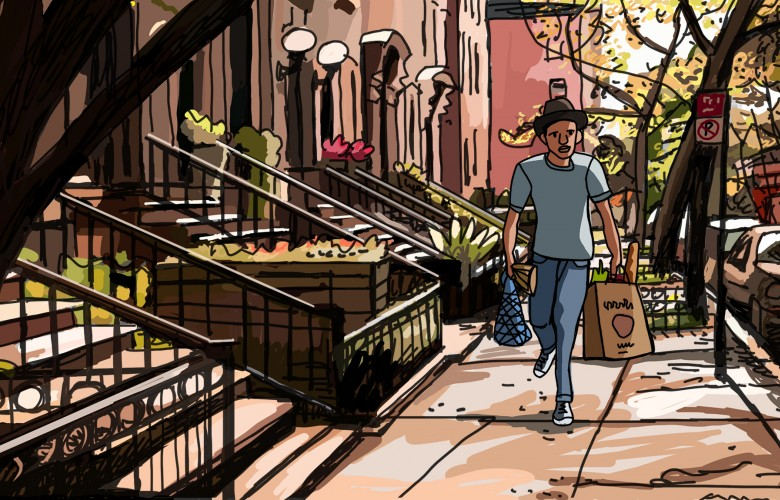 Zippy Frames Sneak Review: Trueba and Mariscal recreate another musical project (after Chico and Rita), again split between different cities and countries. An investigative story of sorts, They Shot the Piano Player looks more heavily political than Chico and Rita, and its differentiated aesthetics between past and present heighten the interest. A long line of research on bossa nova music has been built into this film, and it shows.
SHKID, Fernando Cortizo (Spain, Mexico)
Story: This film is a tribute to the children of Terezin, a heroic history, an adventure that will show us his exemplary attitude of solidarity and resistance in the middle of the Second World War. We will discover their experiences trough their clandestine magazine, their drawings and their poems. It will be a legacy that will be part of a much-needed educational campaign today.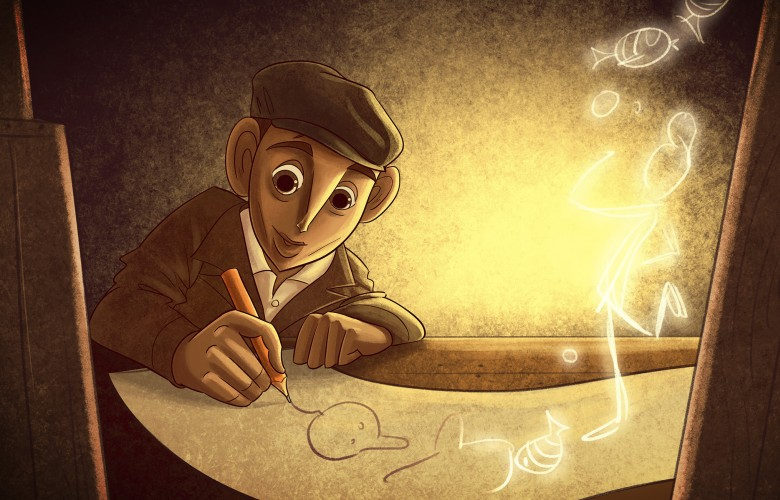 Zippy Frames Sneak Review: Shkid is the name of the clandestine magazine Therezin children publish. Fernando Cortizo (of stop-motion gothic thriller The Apostle) now moves to recent history, and original kids drawings will be used as part of the animation feature. This is a tricky topic in many respects, but the creative team has made a whole lot of research on this, and the film's tone is neither condescending nor mawkish. 3 characters drive the (musical) plot around. Let's watch it unfold.
Our notable mentions:
"Fleak," (Finland, Malaysia Poland, France): Its scenery and settings bring a fantasy world into life
"Hikari," Santiago López Jover (Austria): An unknown story about 19th century Nagasaki and religious persecutions, and a political animation drama in the making
"Maryam and Varto," Gorune Aprikian & Alexandre Héboyan (France): It is a political reconciliation story in 1915 Anatolia that needs to be told
"Melvile," Romain Renard (Belgium, France): Convoluted and interesting, we are intrigued by this coming-from-the-dead dramatic story.
"The Hand That Feeds," (Hungary): this post-apocalyptic dog tale about kindness and survival has a very contemporary flair indeed.
"The Character of Rain," Liane-Cho Han (France): A girl who thinks it's God it's one of the most high-concept stories this year, yet seems to be developed in a welcome, almost tender way.
"The Shrew of Destiny," Marcin Wasilewski (Poland, Bulgaria): shrews, the always-hungry animals can be also appealing. The Shrew of Destiny is a project of good-natured characters, which come from the most unexpected places
"Twice Upon a Time," Vojin Vasović (Serbia, Canada): it's a real paper world transferred into 3D computer animation, and a story of children getting to choose their parents, with a strong main character of a girl and a princess.
"The Horn Quartet: Go to the Sacred Cow Country," Arnaud Demuynck & Benjamin Botella (France, Belgium): These cows dare go anywhere, as long as they are together - next place: India.


Vassilis Kroustallis
CARTOON Movie took place in Bordeaux, 3-5 March 2020.
SIGN UP: Want to read more free articles like this? Sign up for Our Newsletter