CEE Animation Forum 2021: Our Top Picks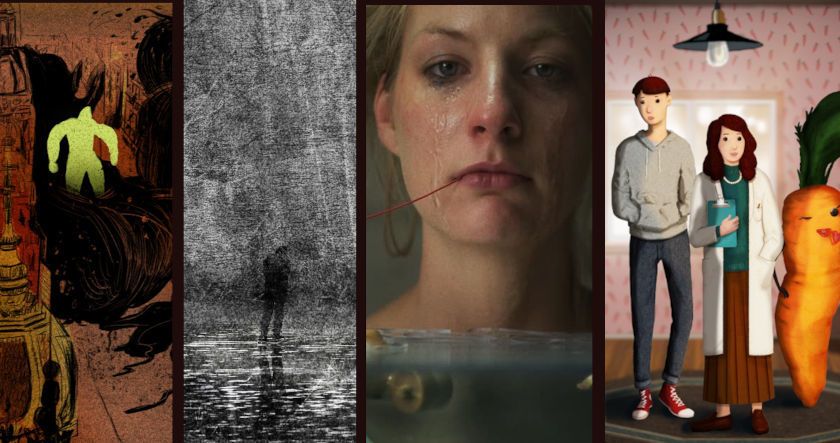 It seemed to be business as usual in the 2021 CEE Animation Forum, organized for a second time (impeccably) online, 26-29 April & 6-9 May 2021. Whether they were the directors presenting their pitches, or feature-format presentations (such as Even Mice Belong In Heaven) or industry talks and seminars (the Wendy Bernfeld talk on VOD distribution was a standout) CEE Animation has managed to bridge the networking gap between former Eastern European countries and all the rest.
Always routing for expansion, this year we had the option to treat ourselves with the Rising Stars (student projects competition); animation funding becomes even more complicated than ever, and student projects -to be developed into first films- cannot just fund themselves. CEE Animation Forum gives its spotlight to efforts and talents who also acquire the skills to talk about their project in public, to present their work in an increasingly competitive environment.
There were a lot of high-profile projects presented with both professionalism and passion; we picked up those made a more lasting impression on us. Yet all of them need to get further developed and produced. There are themes and approaches that add to our perception of independent animation present in all those pitches. They had better come out in the open.
Albert (Hungary)
Director: Szandra Pataki | Producer: Krisztina Endrényi | Production company: Mythberg Films Kft
Albert is a neurotic perfectionist who, with all his might, is ready to help to his colleagues, even if they don't want to.
ZF Review: Albert short film project has this now familiar needle felt tactile quality, and it seems it has its heart in the right place. Introducting perfectionism in the main character and pitching him against community and real friendship, it also delights by its Tetris constructed environment -always imperfect. Its budget is 27,000 EUR, now looking for minority co-producers (post-production).
Autumn (Poland)
Director: Wojciech Sobczyk | Producer: Aneta Zagórska, Robert Sowa | Production company: Krakow Film Klaster – Animation Center
The film "Autumn" is an original, metaphorical story about fundamental existential questions about the purpose of existence, the nature of man and his place in the world, both ontological and strongly empirical sense.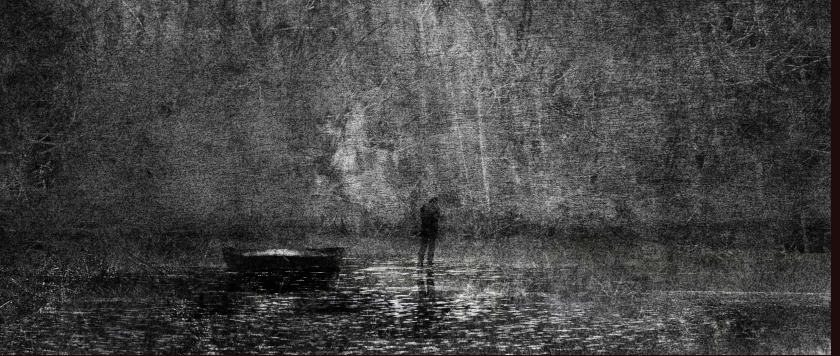 ZF Review: It's a shame this project left empty-handed from the CEE Animation Forum awards. The third project from Wojciech Sobczyk in his series of season shorts ("Spring" and "Summer" have been completed, "Winter" to follow) it tells the story of a person who has happiness yet he loses everything. More philosophical than this simple logline, but striking in its visual universe of limited color palette (plus a calculated correspondence between sound and image). The project has secured production funds from the Polish Film Institute; it will take two years to complete, but we think it is worth the waiting.
Electra. A Poem (Czech Republic)
Director: Daria Kashcheeva| Producer: Zuzana Křivková, Martin Vandas | Production company: MAUR film Film and TV School of Academy of Performing Arts in Prague – FAMU
Electra is not telling her own story. Electra is re-living her memories, colouring them, changing shades, then coulours as well. It is all just fiction. Electra's world is a game that she invented herself.
ZF Review: Clearly the most adult offering at the CEE Animation Forum, and both a rich and complex story that fits its Electra's Complex Freudian story. The pixillation technique and live-action make the whole 20-minute universe feel more real and concocted at the same time, detailing the fight between the two sides of the sexually distanced Electra. If Daria Kashcheeva can tame the 20-minute running time of free association thoughts, there are more awards to follow this project.
Hello Summer (Slovakia)
Director and Producer: Martin Smatana | Director: Veronika Zacharova | Production company: Studio Bororo
Mom, dad, son and a daughter are going to have the best summer holiday ever. But things get complicated and they start to argue, because everybody has a different taste of how to enjoy holidays.
ZF Review: Martin Smatana (The Kite) and Veronika Zacharova bring forward a well-rehearsed but still charming premise of a Central European family who needs to go to the sea for the first time, in bright, vibrant colors and charming 2D designs. A Czech/Slovak co-production (budget: 65,000 EUR) in development, it looks as eager to both entertain and talk about our family bond at the same time.
Ibis (Spain)
Director and Producer: Maria Burgués | Director: Enric Sant | Production company: Bliss
Alba and her best friend, Pili, sneak onto the roof of a neighborhood building. In this isolated and special place, Alba embarks on a dreamlike journey that will change her completely: something that she will only understand thanks to friendship.
ZF Review: A friendship and fears story between teenagers Alba and Pili in La Verneda, Barcelona. Mixing realism and fantasy in a coming-of-age story, the project is both graphically bold and narratively familiar to all those who have to suffer for their unnamed fears. The magical fantasy element of the 8-minute 2D animation film puts it into anime territory, yet its European character of social connection and angst is unmistakenly present.
Anselmo Wannabe (Italy)
Director: Massimo Ottoni | Producer: Federico Tourani | Production company: IBRIDO
Anselmo's imaginary adventures as he tries to answer the question "What do you want to be when you grow up."
ZF Review: Anselmo is the full of possibilities and forever indecisive hero in this charmingly conceived and designed TV series pitch. The 1,2M EUR series proposal wants to teach us the failure is the road to success, and that is more than a good lesson for children to learn in its 26x7 planned episodes -in a project which promises it won't separate between male and female jobs.
Rosie and Sapphire (Hungary)
Director: Kata Lovrity, Producer: Bálint Gelley | Production company: CUB Animation
Rosie is a young girl living with her horse Sapphire on a big field full of pink grass. One day, she gets an invitation from her penfriend, Fannar who lives far away in the land of snow.

ZF Review: This 2D animation project for pre-school children is described both as minimalist and non-abstract, and it succeeds on both counts. It is a story of empathy and understanding between a girl and a horse, and the natural environment surrounding them. With its 700,000 (26x5 episodes),the series has already a pilot ready ("Pink Grass") and a Hungarian funding interest; looking for co-producers.
Starting With Hope I Voix d'espoir (France)
Director and producer: Kèota Dengmanara | Director: Sonia Velivien | Production company: Moukda Production
They found a ray of light and fought their way out of the darkness of depression. These are their stories.
ZF Review: Depression is a menace as an illness, and the 13x4 TV series project attempts to unveil its many aspects. By visualizing the depression threat, the Starting with Hope project functions in the format of an animation documentary (the protagonists narrate their own stories). The creators go for a rich spectrum (also expressed in the particular animation style of its episode -the first images are dramatic enough), but they do retain a single narrative trajectory (before- triggering incident -living with and facing depression) in each episode in this interesting project. 
The Olive Bunch (Cyprus)
Director: Magnus Kråvik | Producer: Maria Pavlou | Production company: Pixel giants
The Olive Bunch is an adventure comedy show, featuring three best friends embarking on a coming-of-age journey, in a world wedged between strong traditions and the mystical world lurking beneath the surface.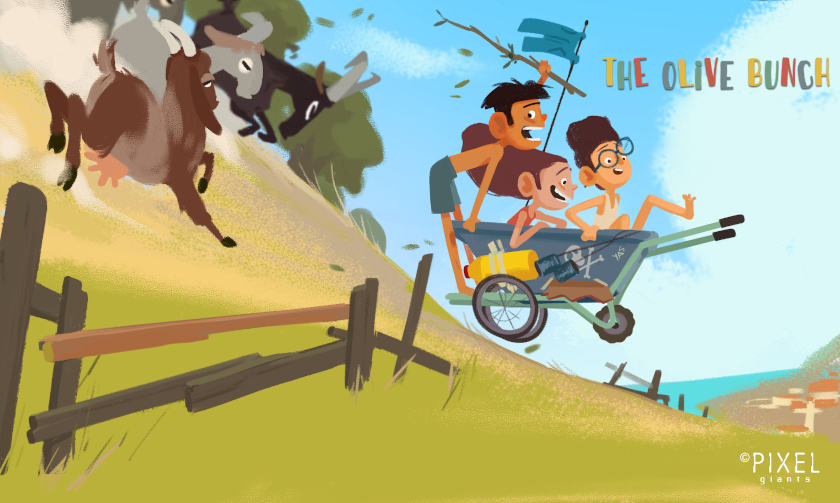 ZF Review: The 26x11 animated TV series project, created by Maria Pavlou and Katerina Pantela, has its Mediterranean heart all over its material, from its graphic universe to its warm magical realism. The 2D animation project (2,3M EUR budget) has a source of childhood holiday adventure stories in its arsenal, and a lot of fine talents to realize them.
Birds Don't Look Back (Les oiseaux ne se retournent pas, France)
Director: Nadia Nakhlé | Producer: Sébastien Onomo | Production company: Special Touch Studios
Amel, 12 years old, has to leave. This is not a matter of choice. His country is at war. The story follows the child's journey to Paris and his meeting with Bacem.
ZF Review: A first-person refugee story which picks up the rich and detailed visual elements of its backgrounds and character design to express its own version of hope. The film is at the early development stage, and is a promising one.
Dreamworld (Croatia)
Directors and producers: Veljko Popović, Milivoj Popović | Production company: Prime Render Studio
The film follows a group of kids who escape toxic reality of pear pressure and social media bullying, finding refuge in the world of lucid dreaming. But not everything is as it seems...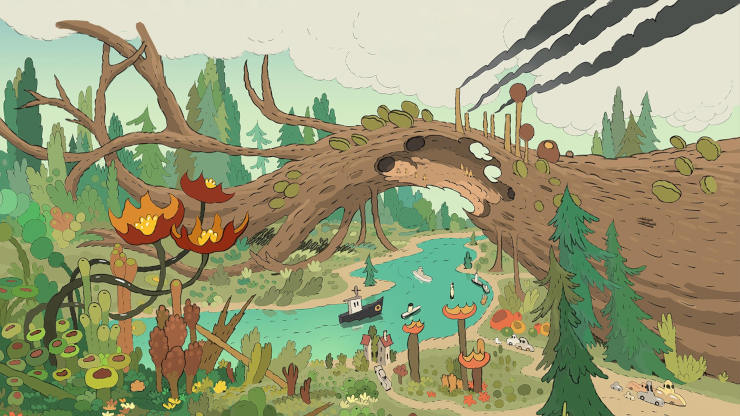 ZF Review: There are 4 creative forces in this lush project for children (and older children); Veljko & Milivoj Popović (Dove Sei, Amor Mio), Pedro Rivero (Birdboy: The Forgotten Children) and Dave Cooper (The Absence of Eddy Table). Inspired by our new refreshed need for acceptance in the increasingly online world, the team builds up a world of lucid dreaming heaven, which soon unveils its dark side. Dreamworld looks an expanded field of view in which everything can happen -and this is a positive thing for the project itself.
The Night Falls Over Madrid (La noche cae sobre Madrid, Switzerland)
Directors: David Epiney, Daniel V. Villamediana | Producer: Eugenia Mumenthaler | Production company: Alina film
Madrid 1938, Spanish Civil War. A militiaman, traumatized by what he just experienced, and a young idealist french war journalist cross their different visions and feelings on the war.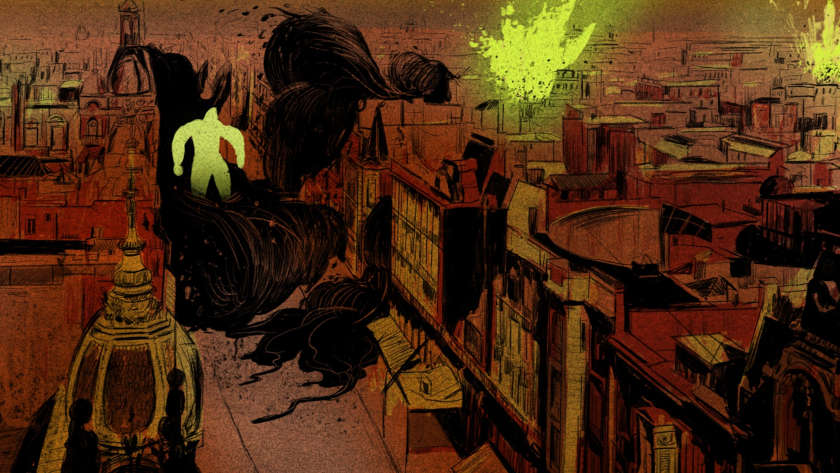 ZF Review: It looks like a seductively devastating visual journey into one of Europe's bloody civil wars; Two opposing viewpoints are contrasted in the film by David Epiney and Daniel V. Villamediana. An inviting project that makes you curious and concerned.
Vast Blue Antarctica (Cypurs)
Director: Christos Panagos | Producer: Charalambos Margaritis | Production company: Kimonos Animation Studio
Through the eyes of Alexandre, Antarctica unfolds as an inner space - vast, fearsome, beautiful. A place where you can find a shelter for your dreams and be in constant danger at the same time.
ZF Review: A really interesting hybrid live-action and animation doc project, narrating the stories and dreams of an artist in the Antarctic and the chaos these thoughts convey. Filming in two continents, the sheer vastness of the project aims to mix the universal with the deeply intimate.
RISING STARS (STUDENT FILMS)
Desire to Win (Czech Republic)
Director and Producer: Michaela Režová | School/Production Company: Academy of Arts, Architecture & Design in Prague
When a series of statues, the silent witnesses of the former Communist regime, come to life, they tell the moving story of their author.
ZF Review: That's a solid animation documentary project about Zdeněk Němeček, the author of many sport sculptures (cyclists, hockey players) in Communist Czechoslovakia. Sports and politics here mix stop-motion and 3D animation in an enchanting way in this student (Academy of Arts, Architecture, and Design in Prague) project - now looking for a producer.
Kurent (Slovenia)
Director: Miha Reja | Producer: Boštjan Potokar School | Production company: University of Nova Gorica School of Arts
A boy entering teenagehood runs from home to join the yearly local carnival.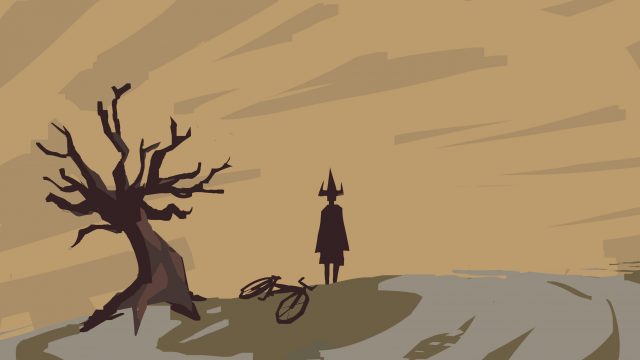 ZF Review: Miha Reja convincingly describes a world of a a teenager and a cyclist who needs to move from childhood to adulthood through a single episode -and a carnival in a small town. The sharp-edged design is beautifully thought of and gives the project its edgy feeling, also supported by the progression of the narrative. Already in production, the film looks for a co-producer.
Orange You Glad (Germany)
Director and Producer: Daniel Sterlin-Altman School | Production company: Filmuniversity Babelsberg Konrad Wolf
Dr. Shari Tremor is finding herself seduced by one of her botanical test subjects, and her 16-year-old, Nadav is secretly writing an explicit gay erotica in his bedroom. Lust can be a funny thing...
ZF Review: Gay erotica of a teenager, his own erotic discoveries, and the sex life of a 40-year-old woman are joined in a carrot world, surrounded by puppets. Daniel Sterlin-Altman (Hi, it's your mother!) consistently explores the world of queer adolescence, alternating between bright colors and themes which could have been sober and sad if treated otherwise. Another queer empathetic comedy in the works, Orange You Glad seems ready for its carrot close-up.
CEE Animation Forum took place 26-29 April & 4-6 May 2021 (online).
SIGN UP: Want to read more free articles like this? Sign up for Our Newsletter