4 Animation Projects to Look for in the CEE Animation Forum 2023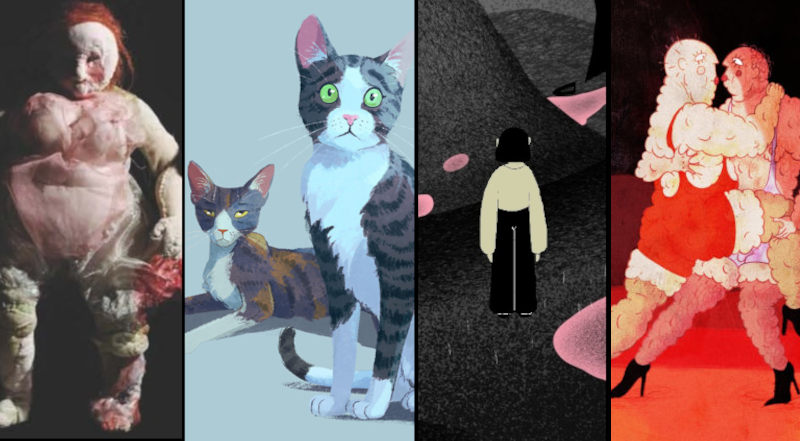 CEE Animation Forum has established itself as one of the leading European forums in animation projects -quietly expanding from shorts to feature films (and even including student projects in its 'Rise and Shine' section.
Its current edition (8-9 November 2023, Pilsen, Czech Republic) features 28 animation projects in 4 categories (Short Films, TV Series, Feature Animation, Student / Rising Stars); have a look at the full selection.
We decided to take a closer look at four projects to be pitched, each representing a different pitching category: the French TV series animation project 'Dolls' by Joachim Herissé (Skinned), the Finnish short animation 'Wrestlers' by Joni Männistö (Swarming), the Greek feature animation project 'Nine Lives Left' by Zacharias Mavroeidis, and the Hungarian student film project 'Eruption' by Zoé Nagy.
Joachim Herissé has made a multiply acclaimed stop-motion horror film with two sisters 'Skinned'; he now embarks on an anthology TV series (13x13min) called 'Dolls', produced by the French Komadoli studio. We read that each original horror story in the Dolls series features a new set of stop-motion animated textile dolls set in painted surroundings reminiscent of expressionist cinema. Will this be the new Netflix 'The House' thing?
"The biggest challenge of this series, Dolls, stems from its nature", Joachim Herissé tells Zippy Frames. "An anthology series can't be thought of as a classic series, as each episode is a different story. It's as if we had to make a new short film every time". This proves both exciting and demanding in turn, yet Herissé is motivated by the success of the similarly-themed 'Skinned' (Ecorce).' "The feedback from audiences and festivals has reinforced my desire to go further in exploring the anxieties linked to the body, to build a complete work on this theme, to travel further into this universe".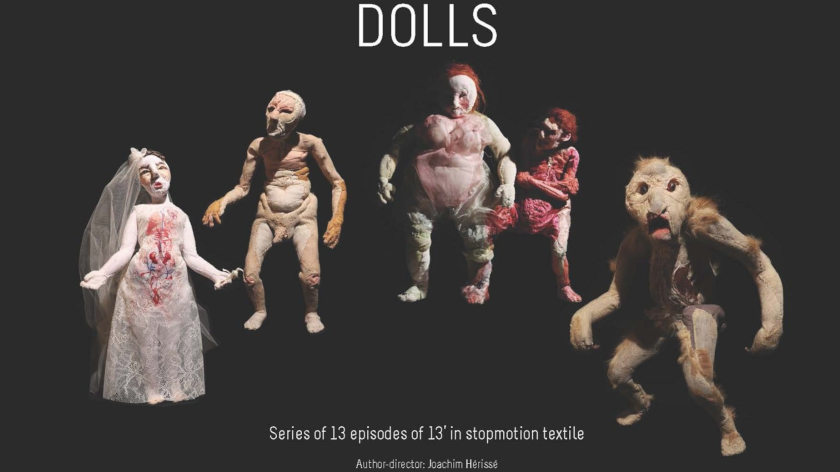 'Dolls' has already finalized the scripts and puppets for 2 episodes, trying to give equal weight, creativity, and sensitivity to each of its episodes. As producer Stéphanie Launay tells Zippy Frames, a broadcaster (including potential co-productions with Czech partners) will lift the project to the next stage. Still keeping its current production budget (2,1m EUR) under control, its CEE Animation Forum presentation is the first public one in this arena.
Finnish animation director Joni Männistö (Swarming) -and Turku Animated Film Festival artistic director- moves forward in the artistic short animation field with the queer-themed 'Wrestlers', a 17-minute hybrid of 2D animation and stop-motion, which showcases 'the passionate struggle of two wrestlers' life', here both 'passionate' and 'struggle' both emphasized. 
Watch the 'Wrestlers' teaser:
"Joni is a perfectionist", Finnish producer Jani Lehto (Bohle Studio) details. Calling it an "epic animation", and with an estimated budget of 300,000 EUR ("definitely the most expensive short film ever made in Finland"), 'Wrestlers' is built on two parallel realities, a sports story, and a more complicated love story. It promises an emotional animation journey like no other - and its development journey (the first script was written in 2017) has its history. 
"I'm not a filmmaker that usually finds some topic to be inspiring or important to write a story about", Joni Männistö comments. "I have a visual idea, a scene, or an image in my mind that fascinates me. Then I start to develop a story around the idea. Soon the story will have a topic and it will help me to write the story further".
The inspiration for the film came from the movements and poses of wrestling which are undeniably sensual and sexual yet at the same time utmost masculine ("a juicy subject for an animator"). His previous 'Swarming' film was both pleasant and uneasy to watch, and  Joni Männistö promises something similar in 'Wrestlers' as well (albeit on a bigger scale). "I want to make the people blush a bit, but also to laugh and be puzzled". The playfulness of animation is his ally here in a film that this pas de deux between the two men becomes a changing reality.
'Wrestlers' will also be presented for the first time at CEE Animation Forum 2023, having already advanced a production pipeline -and a sales agent secured. Personnel and co-production funding is now needed, and that is what this forum is about. "Our challenge in CEE Animation Forum is to make people truly see why 'Wrestlers' is a film that must be made. But I hope the material speaks for itself", Jani Lehto adds. And, as the film director will suggest,  it is a film that needs to be surprising (even for the director himself), funny, and it needs to go under the skin. 
Moving into smaller-scale projects (but still in the shorts format), we find 'Eruption', the student film by the Hungarian Zoé Nagy (MOME Anim), in the Rising Stars pitching section. A girl travels into her subconsciousness to find the root of the toxic relationship with herself.
This is a personal story for the director, a self-described 'self-discovery journey'; the idea progressed from self-noticing and healing to the crafting of an animated story, that pinpoints our obsession with self-image as the root of many unhealthy things. But  Zoé Nagy doesn't want to make it into a message film. "I would like to get away from it in some ways and make it experimental, while also keeping it narratively understandable. I'm constantly searching for symbols, colors, that match to the essence of the film and also help move the story further".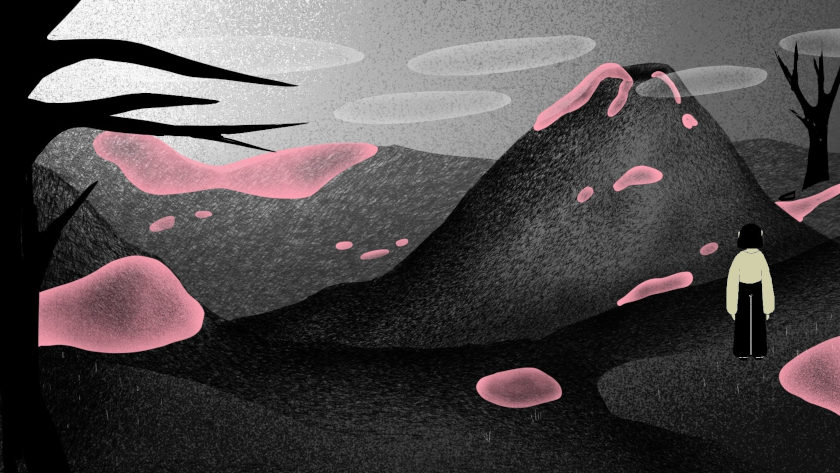 The balance between the personal and the universal is of constant concern since this is the first film on this subject matter by the director -with more films on the large issue of mental health to probably follow ("I feel like mental health naturally became my main topic now").  In the meantime, the first CEE Animation Forum presence for 'Eruption' (now in the early development stage) aims to attract like-minded producers and co-producers, residency opportunities (and also creative crew) for this always present and always relevant storyline.
Bookending this selection with the feature format, we find the Greek director Zacharias Mavroeidis and his producer Maria Kontogianni (Wild At Heart) co-developing their feature animation project, 'Nine Lives Left', a children's feature film (8-13 years old target audience), and a coming-of-age story. Budgeted at 3,2m EUR, 'Nine Lives Left' tells a different Greek fall story.
As winter turns their tourist village into a ghost town, a young female cat along with a bunch of strays set on an odyssey across a small island, in search of foster humans - Film Synopsis
"This 'road movie on four paws' is the best vehicle to speak directly to kids (9-13 years old) on important matters like identity, sexual arousal, true instincts, wild nature, and domesticated life", Maria Kontogianni tells Zippy Frames. Gentleness and simplicity are to be expected from the project -and, incidentally, the first international feature animation in development coming from Greece that directly addresses a children's audience.
The 2D animation technique looks more suitable to the project, yet the demands of the story itself (narrative and character movements) will further define the style of the film. "Using cats to portray these important coming-of-age topics is the biggest challenge and inspiration of this project", Kontogianni adds.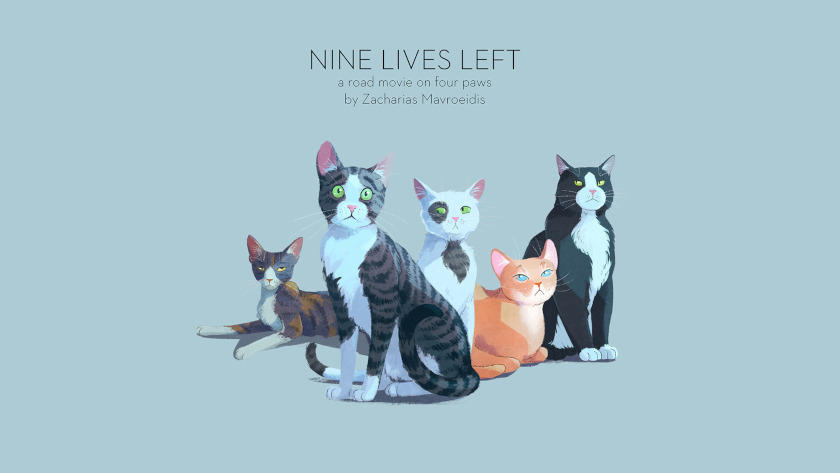 A feature film coming from a low-production capacity country has a long way to go. Having already participated in Kids Kino Industry (now Young Horizons, 2021) and Cinekid (2022), it now reaches, armed with a second script draft, the CEE Animation Froum. Creative Europe funding, and Greek Film Script and Development funding are the projects' next targets; in terms of partners needed, 'Nine Lives Left' needs to attach the right Visual Development co-producer, character designer, animation co-director, and animation studio. As always in a feature film, the animation workflow is a challenging one; yet this project wants to depict both "the beauty and hardness of the Greek archipelago", in Kontogianni's phrasing. Something that makes it an intriguing idea and inviting project for its audience.
CEE Animation Forum takes place on 8-9 November in Pilsen, Czech Republic.
SIGN UP: Want to read more free articles like this? Sign up for Our Newsletter