Kapaemahu LGBT Animation Short Now A Book and a Doc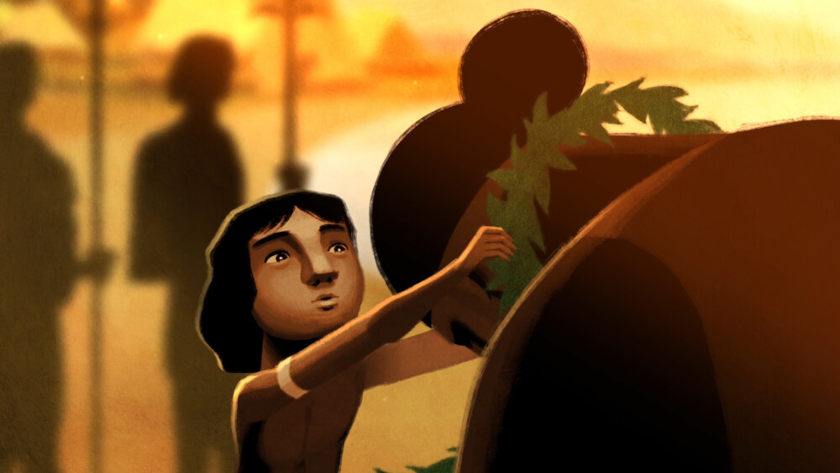 'Kapaemahu' animation short reveals the healing power of four mysterious stones on Waikiki Beach in Hawaii - and the legendary dual male and female spirits within them. An Oscar-shortlisted 2D animation film, it is co-directed by Hinaleimoana Wong-Kalu, Dean Hamer and Joe Wilson  with  Daniel Sousa (Oscar-nominated for Feral) as an animation director.
The film went on to compete at the Annecy Festival and Tribeca Film Festival, among other festival selections.
As Hinaleimoana Wong-Kalu, a native Hawaiian and herself mahu, said to Zippy Frames in a interview piece about the film, "we spent over five years researching the tradition of Kapaemahu before even starting the script. The breakthrough was the discovery of the original handwritten manuscript of the story, which had been recorded a century ago by a Hawaiian member of the noble class who may have heard it from the last queen of the Hawaiian Kingdom. Our script followed the manuscript closely".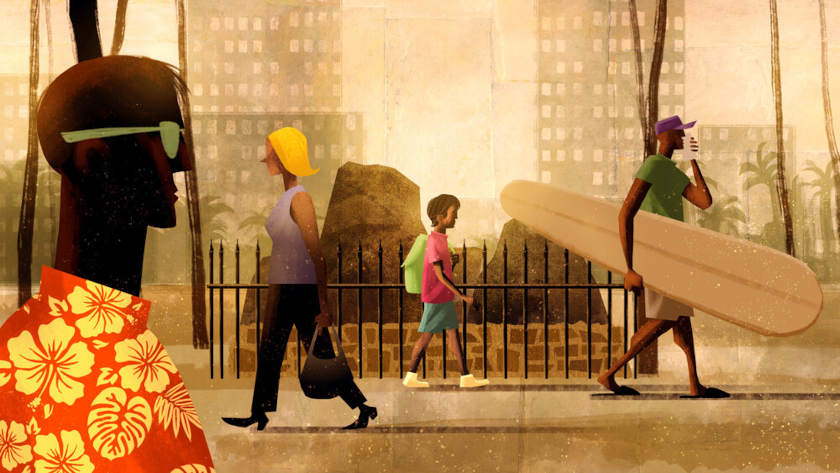 Now the film will become a book (to be published by Penguin Random House), in a large format aimed at children and parents, and illustrated by Daniel Sousa. It is the first-ever bilingual book in the ancient Niihau form of the Hawaiian language. "Kapaemahu is a monument to an indigenous Hawaiian legend and a classic in the making," said Namrata Tripathi, editor of the Kokila Penguin Young Readers imprint.  
The animated legend will also be the centerpiece of an immersive multimedia exhibition at the Bishop Museum, the largest collection of Hawaiian and Pacific culture in the world.  Occupying the entire 8,500 sq.ft. Castle Memorial Hall, the exhibition will feature 30 foot tall replicas of the four transgender healers standing in front of glowing facsimiles of the stones dedicated to them on Waikiki  beach.  An animated timeline will document the suppression and resurrection of their story, and the work now being done to restore the stones as a permanent monument. The exhibition is scheduled for June 2022.  
Here's an animated teaser video
At the same time, PBS will premiere the feature documentary 'The Healer Stones of Kapaemahu" on Pacific Heartbeat, bringing this hidden Hawaiian history to life for millions of viewers across the U.S.
When I decided to tell the story of Kapaemahu in animated form, it was the best way I could imagine to express my understanding of this legend from a cultural point of view. It's exciting now to see that vision expanding, delving deep into history and bringing it into view on multiple platforms that have the capacity to reach so many new and different audiences. It will be transformative  - Hinaleimoana Wong-Kalu.
The 'Kapaemahu' book is expected to be on bookshelves by early 2022.
SIGN UP: Want to read more free articles like this? Sign up for Our Newsletter
Read More About: