News
Tomm Moore's Song Of The Sea Opens December, 19
The independent distributor GKids has announced that Tomm Moore's animated feature, Song of the Sea, a 2D feature coming after his Oscar-nominated The Secret of Kells (also distributed in North America by GKids) will open on December 19, 2014 in the US.
The film will open at the IFC Theater in New York and the TIFF Bell Lightbox Theater in Toronto, before expanding to Los Angeles and other major markets in the holiday time period.
The film will qualify for the Academy Awards® and other awards season contests.
Watch the US trailer:
Song of the Sea is set in 1987, and tells the story of siblings Ben and Saoirse, who are forced to live with with their grandmother, after their mother has mysteriously disappeared. The 4-year-old Saoirse has never spoken. Her father, Conor, is a lighthouse keeper, and a rather bitter man. The children's mother mother Bronagh has her own relation to the myths she narrates Ben, and the dog Cu is the loyal companion to the children.
The film takes inspiration from the mythological Selkies of Irish folklore, who live as seals in the sea but become humans on land.
Director Tomm Moore said, "I am delighted to be working again with GKIDS after our successful partnership on The Secret of Kells. The two companies are perfectly aligned in their vision for animated filmmaking and GKIDS' special focus and experience make them ideal partners to bring our next feature film to North American audiences"
The animated feature has already secured release in the UK, Ireland (StudioCanal) and France (Haut et Court), and will have its North American Premiere at Toronto Festival (6 September).

The Irish production studio Cartoon Saloon is behind the animated feature, along with the Big Farm from Belgium, Melusine Productions from Luxembourg, Norlum from Denmark and Superprod from France.
Brendan Gleeson, Fionnula Flanagan, David Rawle, Lisa Hannigan, Pat Shortt and Jon Kenny are included in the voice cast of the film. The composer Bruno Coulais and the Irish band Kila return, after Secret of the Kells,  to score the film's soundtrack.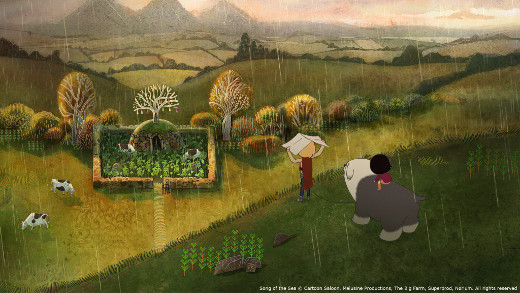 Visit the Song Of The Sea blog for updated news, and the Gkids film page.
Read More About: