Training /Residencies
1st Bauhaus and 3rd Boddinale Stop Motion Academy, 4-8 & 11-17/2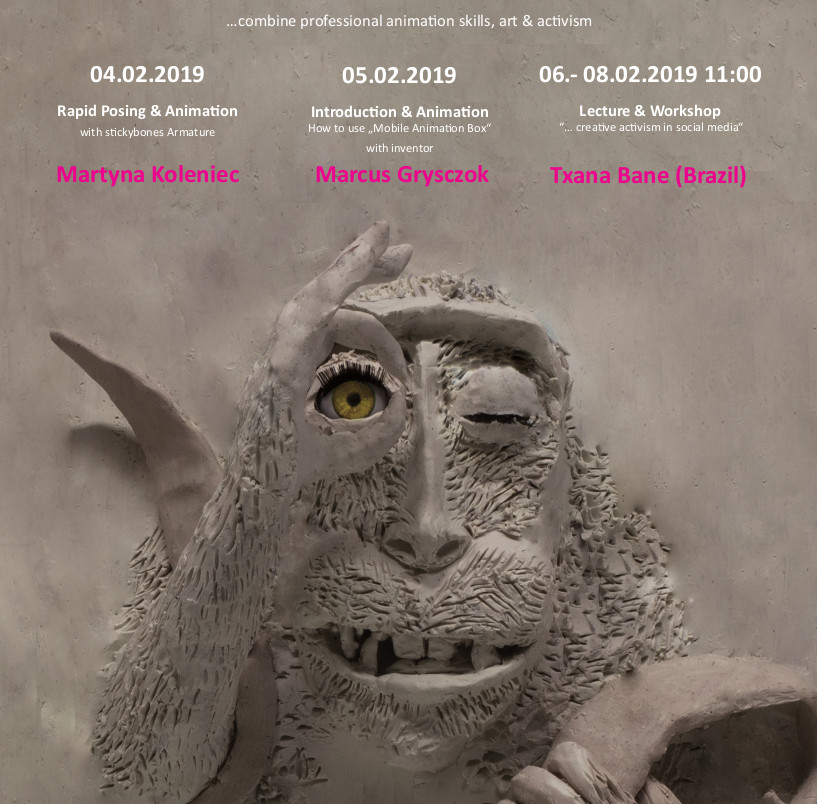 Its creators want to combine professional animation skills, art & activism. A series of workshops and an open laboratory for the art of analog animation - Stop Motion takes place in two separate events
The workshop will take place, for the first time in Weimar at Bauhaus University & for the third time in Berlin during Boddinale Communtiy Movie Festival. The temporary academy opens it´s doors for all who have an interest in practical experience and besides acquiring new skills in the field of stop motion animation, it will be about creative activism in the social media. At Bauhaus Uni in Weimar participants will  work together with an activist from the international movement of climate justice, to develop a short animation for a campaign. 
1st Bauhaus Stop Motion Academy
Weimar @bauhaus_uni
apply via This email address is being protected from spambots. You need JavaScript enabled to view it.
4.02.2019 10:00 - 18:00
Introduction "Stickybones" by Martyna Koleniec
Rapid Posing & Animation Made Easy. A revolutionary animation figureperfectly calibrated to bring your ideas to life. Participants could learn basic principles of animation, theory of movement, timing and spacing, silhouette and poses.
10 participants
5.02.2019 10:00 - 18:00
Introduction "Mobile Animation Box & Claymation" by Marcus Grysczok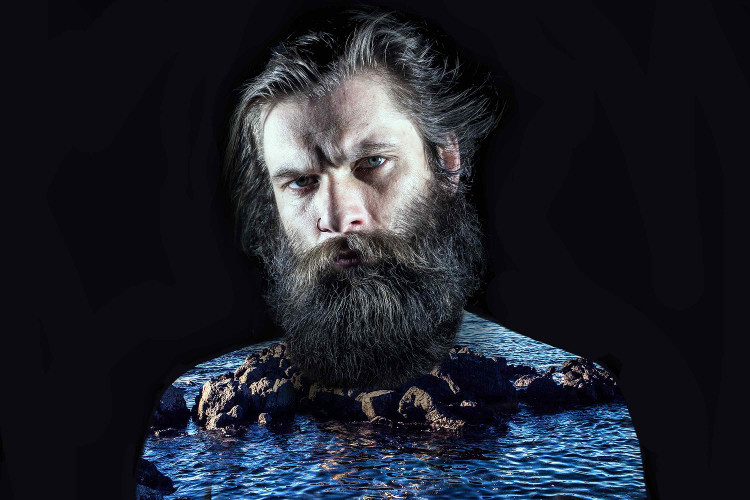 Participants will focus on simple andcreative art of analogue animation that doesn't consume a lot of time and everybody can make it without a budget. During the workshop participants will design their own characters (clay - plasticine), learn principals of animation, how to make a loop and animate it.
10 participants
6.02. - 8.02. 2019 10:00 - 18:00
Introduction "... creative activism in the social media". Lecture by Txana Bane - open to all
Workshop by Marcus & Martyna
In this interdisciplinary 3 days workshop, together with Txana Bane (son of a tribe chief) of the people of
Huni Kuin - who live in the Brazilian forest on the border to Peru. We will develop a concept & produce a short animation for a campaign.
10 participants
3rd Boddinale Stop Motion Academy
Berlin @flutgraben e.V.
apply via This email address is being protected from spambots. You need JavaScript enabled to view it.
11.02.2019 10:00 - 18:00
Lightning for Stop Motion Animation by Ondra Nedvěd - Cinematographer of the "The Kite"
Participants could learn about basics of theoretical and practical aspects in lighting the stop-motion setup. They will earn practical knowledge of setting the lights for stop-motion camera for basic stop-motion scenography settings.
8 participants // 50€ per day
12.02.-14.02.2019
Stop Motion Animation by Julia Peguet - Animator Aardman Animations
This workshop will be based on three exercises, one per day. We will cover strong body poses as well as time and space which are the most crucial tools an animator has to convey meaning and emotions to the spectator through their puppet. The exercise of the last day is also a game. The aim is to have maximum fun while learning!
10 participants // 50€ per day
15.02.-17.02 2019 10:00 - 18:00
by Roos Mattaar - Armature Builder John Wright Model Making
This three day armature building workshop will be an intensive course on armature building for stop motion animation. The participants will go away with a better understanding of industry standard processes of armature fabrication, pros and cons of wire and ball and socket armatures and what tools and materials are
needed for the different processes.
8 participants // 50€ per day
Stop Motion Academy Team, Workshop Supervisors, Partners & Friends
Marcus Grysczok
Martyna Koleniec
Julia Peguet
Roos Mattaar
Ondra Nedvěd
Txana Bane & Friends
Theresa Grysczok & Sticky Frames
Stickybones
Hypertrashwonderland
Boddinale Community Movie Festival
Bauhaus Universität Weimar
Flutgraben e.V.
More Info: Stop Motion Academy
SIGN UP: Want to read more free articles like this? Sign up for Our Newsletter
Read More About: