Shorts
A Little Too Much by Martina Scarpelli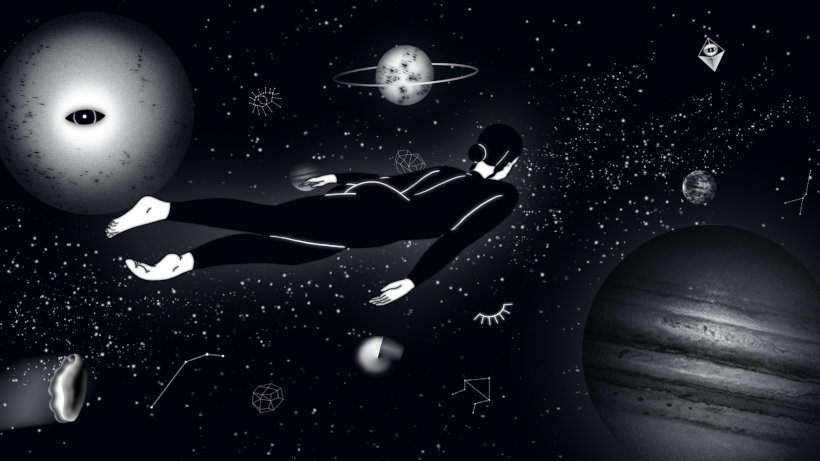 In an imaginary space a woman lets go of herself and overcomes fearing her own greatness. She discovers her body, she embraces her emotions, and learns to own all the parts that make her HER.
Martina Scarpelli, the director of the highly appreciated and awarded Egg, signs the music video by Kai, A Little Too Much.
As he herself states, both Kai and creative director Danna Takako found her via Vimeo (they both wanted to work with a female Italian creative); the March lockdown worked as a catalyst to facilitate the already good impression made by her previous work.
It's about overcoming fearing your greatness and squashing your light, and owning all the parts of you that make you YOU. Your shadows, your emotions, your sensitivities, your uniqueness, your passion, your quirks, your empathy, your heart -Kai
Watch A Little Too Much
Scarpelli first wrote a first draft of the concept and a short script, before kai landed in with references and stories -and the final script was a reality.  She emphasizes her artistic side of  taking risks and being vulnerable, trying to write stories "sexy, funny, a little rude at times, and smart".
I tried to use animation to visualize the emotions that the song suggests without being too literal, in order to expand kai's intentions visually while keeping space open for others to see themselves into it. We ended up creating a slightly surreal universe, a subconscious space, where too much is beautiful - Martina Scarpelli
A tightly constructed video ("the edit follows the logic of discovering, exploring, understanding, acceptance and celebration"), this is Scarpelli's first foray into the music video direction -helped with artists such as Denish Chapon, Flora Anna Buda and Heidi Holmeå Christianse  -working from Viborg, Denmark, but at different workstations
In the end, A Little Too Much makes up for a universe where all is surrealistically possible - let's tune in.
CREDITS:
A little too much (2020, 2D animation)
Director: Martina Scarpelli | Animation: Denis CHAPON, Flóra Anna BUDA, Heidi HOLMEÅ CHRISTIANSEN, Martina SCARPELLI | Script: Martina SCARPELLI
Storyboard & Layout : Martina SCARPELLI, Denis CHAPON, Flóra Anna BUDA | Background design : Flóra Anna BUDA | Compositing-rendering -Film editor: Martina SCARPELLI | Creative direction : kai & Danna Takako | Soundtrack: kai
Distribution: Miyu Distribution
About Martina Scarpelli
Martina Scarpelli (1988) is an Italian filmmaker with a bachelor in Fine Art from "Academy of Brera" in Milano, and a bachelor in Animation from "Experimental Cinematography Center" in Turin. Martina's short film EGG was awarded with a Crystal for first film at Annecy, received a Golden Dove at Dok Leipzig, Golden Horseman at Filmfest Dresden, Grand Jury Award at AFI Fest, among others, and was nominated for best short film at the European Animation Awards 2018. She is a board member of Viborg based Art Collective "Plastic" and she is currently developing her first feature film "Psychomachia", an animated Opera.
About kai 

On her solo debut EP Like Water, Toronto-bred singer/songwriter kai brings her raw creativity to a deeply intimate form of alt-pop/R&B, delivering a batch of songs both melodic and meditative, boldly original and undeniably magnetic. The L.A.-based artist dreams up much of her material alone in her apartment, where she feels entirely free to follow her most left-field instincts—an element previously glimpsed on hits like "Never Be Like You," her Grammy Award-nominated 2016 collaboration with Flume. 

SIGN UP: Want to read more free articles like this? Sign up for Our Newsletter
Read More About: