Shorts
Animation Hotline: Ode to Bikesharing by Dustin Grella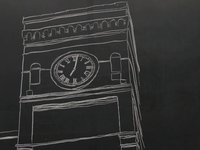 Dustin Grella set up a voicemail service to allow people to leave messages. He then chooses to animate some of them.
The Ode to Bikesharing film is inspired by a message from Thatcher Keats, who looks forward to New York City's bike-share programme. The film and its rationale featured at NYTimes.
Ode to Bikesharing is as fluid, colorful and meditative as a bike ride in The Big Apple.
Dustin Grella is a New Yorker animator and visual artist.
His animated doc Prayers for Peace won many festival awards, including the award for best graduation film at Ottawa Int'l Animation Festival 2011.
Read More About: