Shorts
Arka by Natko Stipaničev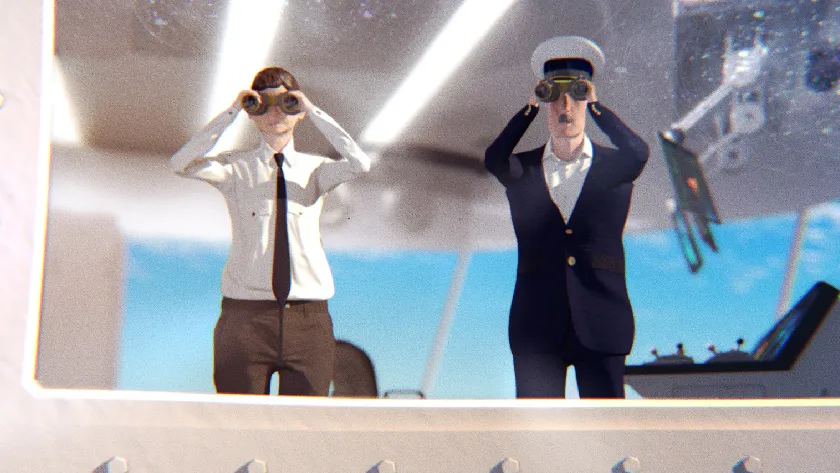 There are many stories of human folly in the sea; the 3D computer animation short 'Arka' by Croatian animation director Natko Stipaničev tells the story of 'a grandiose transoceanic cruise ship sailing the seas'. Too good to be true, it seems.
The film was recently released only, after a successful festival run, and Natko Stipaničev talked to Zippy Frames.
ZF: 'Arka' is a film of many characters in a single location -and with a single fate. Is that what attracted you to the first place in making the film (switching between different characters) and what does the title signify here?
NS: When writing the film, we soon realized we cannot have one leading role because the film is about the ship, so we wanted to include many stereotypical figures in a cruise ship and give them the same amount of focus, but the main character is the ship itself.
ZF: Since you wrote the script yourself, I was wondering whether you had more characters and scenes than those we see in the final scene -or was it easy to add/remove scenes and characters at will?
NS: I wrote the script with the help of Maša Seničić and Damir Juričić. In the beginning, we agreed on what characters and how many of them should be in the film and then we focused on developing their stories. We tried not to "overpopulate" the script, but to keep as many as necessary. More scenes were added later because new ideas came during the production phase.
ZF: The film offers a glimpse of surreal elements (rhinos, camels) without going for full-fledged surrealism. Was that your intention in creating the style of the film?
NS: The idea of the animals arose in the middle of the production, but I liked the idea so much that I had to include them, so I had to go back and remade the existing shots. The idea was to keep animals just as part of the mise-en-scène to give a touch of the surreal and the allusion to Noah's Ark. All the animals come in pairs except the dove at the beginning, but the dove, instead of bringing the olive branch, poops on the ship's bridge. In the end, I decided to name the film Arka just in case you missed it.
Watch 'Arka':
ZF: The camera movements and the story follow each other almost hypnotically, never accelerated. Considering that the film is mostly in 3D computer animation, I was wondering how the choice of the technique helped you in this.
NS: I like slow-paced and atmospheric films and I like working in a 3d environment because it gives me absolute control of the production.
ZF: You're also a composer, but here you chose to get classical pieces for the film's music (and you're credited as responsible for the 'music performance').
NS: Stabat Mater by Vivaldi that I found on Youtube fitted perfectly in the whole solemnly and sarcastic feel of the film, but Universal Music asked too much money for the copyright that our small budget couldn't afford;  so I found notes on the internet and recreated it in my home studio. I found the beautiful singer Maja Kordić and recorded her voice in my living room.
ZF: Was 'Arka' a relatively easy or difficult film to make, considering its different plateaus of action? And would you make a film like that in the future?
NS: It was a big challenge that I really enjoyed being committed to because I knew it could be a nice film at the end and I learned a lot on the way. I am now working on a new one. It's about a small cat and a couple that adopts her but in general, it's about the human relation to the "other". I think it's going to be a slow-crawling thriller.
Film Review (Vassilis Kroustallis):
What if Titanic was filmed in slow-motion (but still in 3D)? Natko Stipaničev makes much more of the common story than its live-action counterpart, adding specifically selected surrealistic touches -in an otherwise decadent environment. Characters are designed to look mildly inflatable -and contrast this with Vivaldi's 'Stabat Mater', and you get the picture of a slow-burning environment, whose inner contrasts have only one solution. 'Arka' works like an orchestrated piece, which combines ancient beauty with modern exuberance, and it makes an impressive statement of why you should never board a transoceanic cruise ship.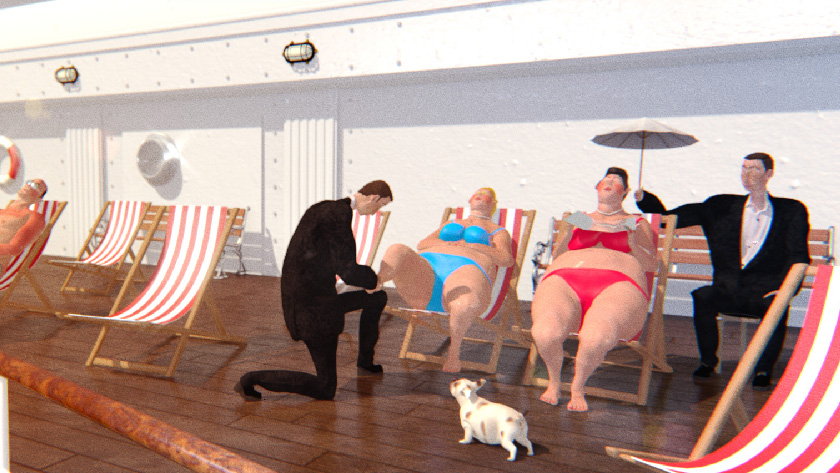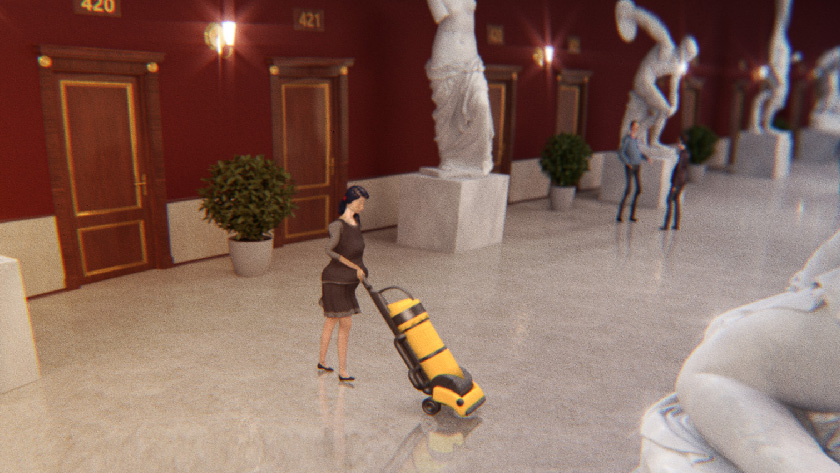 Credits:
'Arka', 3D/2D animation, 2020 (14'40", Croatia)
Director, screenwriter, animator, editor: Natko Stipaničev | Script consultants: Maša Seničić, Damir Juričić | Additional animation: Pavao Stanojević | Music performance, sound design: Natko Stipaničev | Singer: Maja Kordić | Music used: A.Vivaldi – Stabat Mater, J.S.Bach – French Suite No.2 in C minor | Executive producers: Marta Užarević, Mia Bučević, Sara Jakupec | Producer: Igor Grubić | Production: Kreativni Sindikat | Distribution: Bonobostudio
About Natko Stipaničev:
[He graduated with a Bachelor's degree from the Arts Academy in Split, Department of Film and Video, and earned a Master's degree from the Academy of Fine Arts in Zagreb, Department for Animated Film and New Media. He makes animated films and music. 
 Contributed by: Vassilis Kroustallis
SIGN UP: Want to read more free articles like this? Sign up for Our Newsletter