Shorts
Ayam (Days) by Sofia El Khyari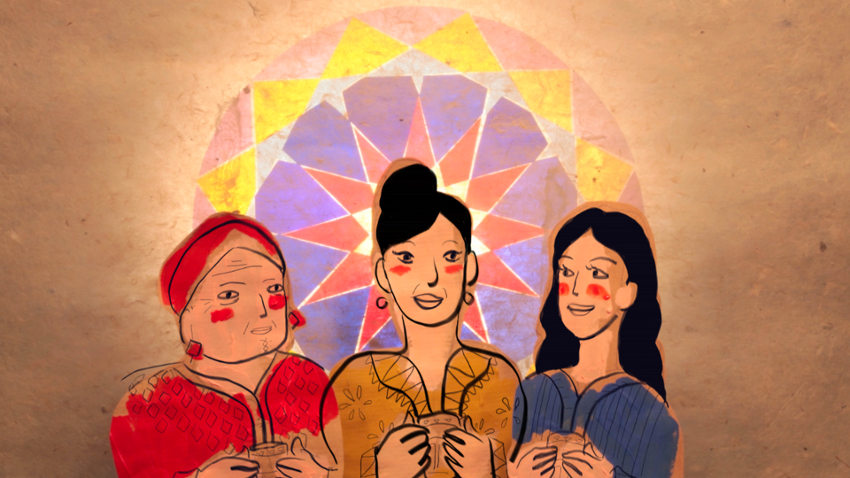 Three generations of Moroccan women exchange feelings and anecdotes while preparing the traditional ceremony of Eid Al Adha. Sofia El Khyari. This is the storyline behind the new animation short Ayam (Days) by animation director Sofia El Khyari. The director talked to Zippy Frames on her Royal College of Art project.
Watch Ayam (Days):
The Eid Al Adha ceremony setting
One of the main themes in the film is the idea of sacrifice. I always grew up with the idea of Moroccan women being strong, generous and very dedicated to their children's happiness, they sacrifice their dreams to help their kids. Eid Al Adha is a ceremony that symbolises the ritual of sacrifice : family and friends reunite and enjoy together a copious meal.
Family, art and animation
When I wrote the script, I was living in London, with my family still living in Morocco. Even though I wrote the dialogues based on real memories, I enhanced some lines in order to deliver the right message.
Calligraphy is the art of writing, and I loved animating it. My grandmother learned to read and write by herself, and this is why animated calligraphy was the perfect way to illustrate her story. Calligraphy is beautiful, it reminds one of both abstraction and figurative art and can evoke both words and images.
I drew, painted and cut out hundreds of frames that I put down together on a multiplane. Only some bits, like the animated calligraphy were hand-drawn. The main objective was to create the feeling of an old album/book, as if the viewer would suddenly be transported in a beautiful "Arabian nights" style story. I used many traditional Moroccan patterns in the film, such as the "zellige", which is a mosaic tile work inspired by sacred geometry. Some smaller patterns also pop up in the film: those one refer to berber symbols that are very present in Moroccan culture.
My main concern was time. The film was made when I was a first year student at the Royal College of Art (London), and we had 6 months to make up a film, from pre-concept to final production. The animation process that I chose was very time consuming, because it was stop motion replacement. It meant I had to animate everything 2D, and then to cut almost every frame.
A story about women and cultural transmission
I would say that this is a story about transmission between women of different generations. The grandmother represents the past, the mother the present, and the granddaughter the future, but they are all learning and giving to each other. It's a film about transmission, and sorority.
Film Review (Vassilis Kroustallis):
The sound of a liquid poured into a glass, the manipulation of space in order to have at all times a triangle of the women family members, sometimes these details tell more than a detailed narrative. In Sofia El Khyari's Ayam (Days), three generations meet within a framework of religious/cultural framework to mediate about their own, small or large sacrifices. Yet the result is as effervescent and light-hearted as the calligraphy symbols used to denote both difference and tradition. Cut-out figures are carefully distinguished  with their background environment, as if they were stickers to be put back into the family album; and the culturally-laden symbols now become more testaments of beauty than anything else. To prove, check the role reversal of the slender and thin male (the alif letter) with the strong, stable and solid (the "ba letter") representation of woman. Days asks for our re-education of sorts, and it makes it look simple, playful and appealing.
About Sofia El Khyari
Sofia El Khyari grew up in Casablanca. She moved to Paris to study cultural management, and learned animation by herself. She directed her first short film and then obtained a Master's degree in animation at the Royal College of Art in London. Her films have been awarded and screened at various international festivals.
CREDITS:
Ayam (Days)
Animation assistants : Diana Ilies, Kiah Liwag
Music : Abdelhak Tikerouine
Sound mixing : Luke Elliott
Sound Recording : Sigma Technologies
Cast : Amina Rachid, Nadia Boulal, Sarah Addouh
Special Thanks : Ines Chaqroun
Distribution : Pentacle Production

SIGN UP: Want to read more free articles like this? Sign up for Our Newsletter
Read More About: