Shorts
Enough by Anna Mantzaris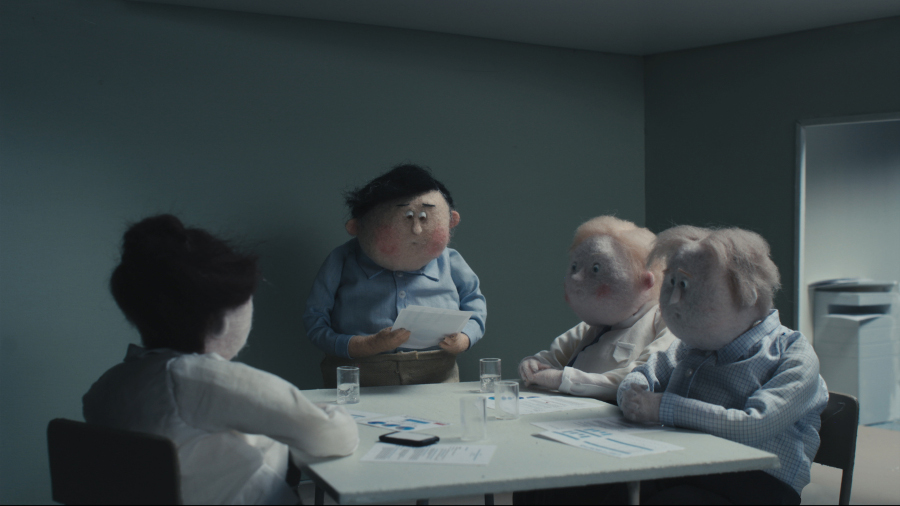 Anna Mantzaris is a London-based Swedish animator, who graduated (M.A.) from the prestigious Royal College of Art -also worked at Wes Anderson's Isle of Dogs. Enough is her first-year stop-motion short.
This film centers around impulses we all can feel but never act upon. Showing glimpses of emotional anarchy and moments of lost self-control.
Following the school of felted wool made famous by Emma De Swaef and Marc James Roels in Oh, Willy...  (2011), Mantzaris instead puts the warm-feeling puppets in the most neurotic urban environments. Every shot  becomes a complete scene, each reflecting a snippet of modern working life, in which public and office space is the only outlet her characters are allowed to have. No close-ups, no intimate moments are here relevant.
Still, the comedic result is familiar enough, from the bank ATM waiting line to the business meetings to unpredictable bus behavior. The director cleverly escalates the tension, until an open-ended question arises at the bus stop; if you're looking for happiness, may be it's better to step down and relax for a little while. It is a perfect ending for a film which still invokes empathy, notwithstanding its cold blue walls and indifferent home cubicles. It's the group human frailty that matters.
View also her previous stop-motion film (co-directed with Eirik Grønmo Bjørnsen), But Milk is Important.
SIGN UP: Want to read more free articles like this? Sign up for Our Newsletter
Read More About: