Shorts
(EXCLUSIVE): Ice Merchants by João Gonzalez: Making Of Part 2 - Music and Sound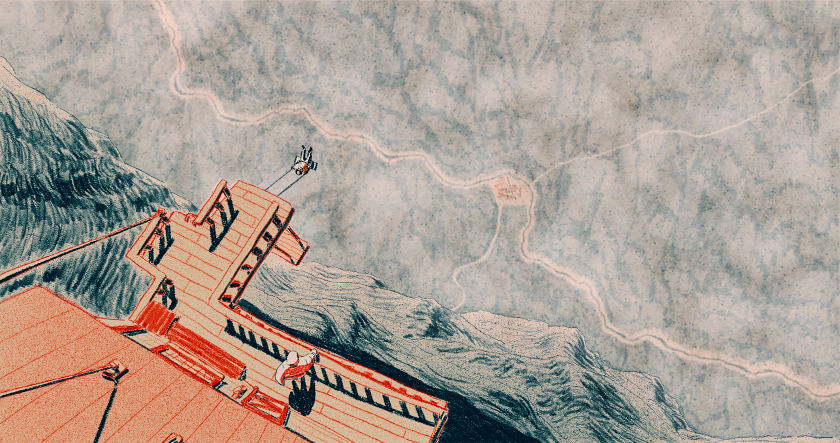 Portuguese animation filmmaker João Gonzalez ('Nestor', 'Ice Merchants') has certainly had a winning year. The 14-minute animation short 'Ice Merchants' had a sweeping premiere at Cannes Film Festival. The film won the Jury Prize for Best Short film in the competition at Critics Week.
90+ festivals later, and multiple Academy Awards qualified for Best short, 'Ice Merchants' continues its route to the Oscar shortlist.
Every day, a father and his son jump with a parachute from their vertiginous cold house, attached to a cliff, to go to the village on the ground, far away where they sell the ice they produce daily.
The film, which is produced by COLA, Royal College of Art, and Wildstream (with financial support from Instituto do Cinema e Audiovisual), is also nominated for the European Film Awards 2022 (Best Short Film). Here's the film's trailer.
I spend a good amount of time "day dreaming" and exploring that reality through drawings and writing, until I feel like I found something that resonates with me. This is my only way of doing location scouting since my film's locations don't actually exist in real life. And that's when the ideas for the actual film's narrative start to occur, that naturally end up covering topics that are personal and dear to me - João Gonzalez.
Our contributor Eliane Gordeeff watched the film at the recent Cinanima Festival.  Her own take:
A very impacted narrative with a well-done use of contrast and color. In some moments,
it seems like poetry with the camera movements, having a robust sound design.
Here's one of the making of 'Ice Merchants' on the film's music and sound (music by João Gonzalez, sound design by Ed Trousseau). João began both designing images and composing the score, and both processes continued to influence the other throughout production.
Watch the Making of Ice Merchants (Part 2: Music and Sound)

'Ice Merchants' is distributed by Distribution Agência - Portuguese Short Film Agency.
Read More About: