Shorts
Mr. Pascal by Alison de Vere (Classic Animation Frames)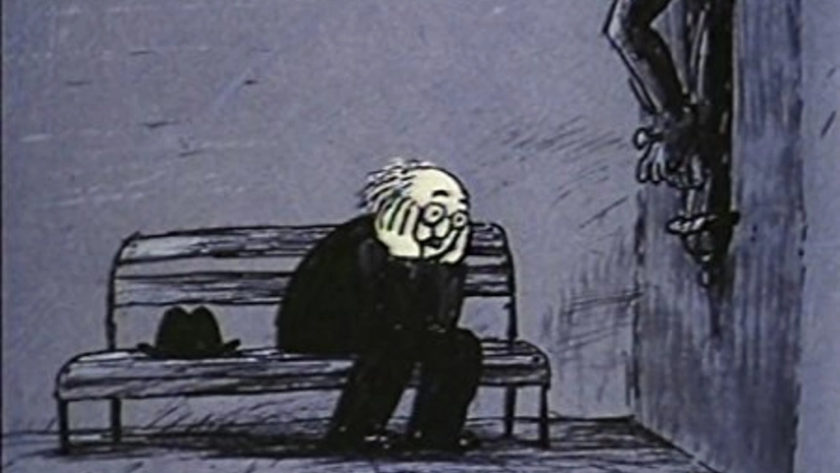 UK animation director Alison de Vere (1927-2001) belongs to a generation of indie animation directors who were both talented and lucky to see their works produced directly for TV broadcast (Channel 4 productions during the 1980-1990s). 'Mr. Pascal', her 1979 film, was an earlier effort, but still an awarded one -the film won the Grand Prix (later to be called the Annecy Cristal) at the 1979 Annecy Festival -ex aequo with 'Afterlife' by Ishu Patel.
'Mr. Pascal' starts as a poignant nostalgic story of an elderly person sitting on a bench outside a church. He reminisces about his youth, love, and family (here the scene suddenly turns to a colored one). de Vere is no puritan, and we see our naked share of the object of desire. But what follows is a surprise indeed. A cross of Jesus Crucified appears in Mr. Pascal's view. Mr. Pascal being a shoe-mender feels bad for Jesus' wounds, and he needs to fix them. And life follows as a result.
de Vere designs her characters as the everyman, and her Jesus looks more Middle Eastern than the blond-eyed Jesus of Franco Zeffirelli. Her whole film unfolds like a prescribed magical fantasy, but deeply rooted into the care for the outcasts. Music (street musicians) give the film's magical solution in the third act its definite ethereal accompaniment.
This is a film that in its 7 minutes manages to be both eventful and character-focused at the same time. Mr. Pascal is energetic, caring, and lost in thoughts at the same time. Its companions are there to help him in return to come back to whatever reality the morning brings.
Perhaps because of the subject matter (faith and religion in a very socially committed person and world), de Vere eschews the usual metamorphoses tricks that could accompany her film; only the last part of the film brings the 'otherworldly' atmosphere that Mr. Pascals of this world cannot dream of. With an assured directing hand and a strong concern for human affairs, she makes a film that lasts far beyond a single night; it is caring, it is immediate and it is involving.
Watch Mr. Pascal
SIGN UP: Want to read more free articles like this? Sign up for Our Newsletter
Read More About: