Shorts
Planemo by Veljko Popović
Planemo is a solitary wanderer, a sentinel of the galaxy. It is an orphaned world, a celestial body booted from its solar system by the chaos of planetary migration. In a society where everyone mindlessly orbits around their daily routines, what happens when a person gets ejected from the system? They might just find themselves rapidly pushed out of the habitable zone.
Even in his good-natured films, like his newest Cyclists film,  Veljko Popović always evokes the feeling of trying to clinging on to something (happiness, human connection, old memories), which you eventually have to let go. In Planemo, this safety valve has been released, and the railroad guy has to face the consequences of his encounter with the deer.
Based on a real-time train catastrophe, the infamous 2009 Rudine derailment, Planemo's mockumentary character study brings 3D computer fragmentation as its essential bread and butter to present human disconnection with oneself. The film belongs to the same league of connecting the personal with the universal as the Jérémy Clapin 2008 Skhizein, another excellent film. But here Popović is at the same time more cruel and more kind to his main character: third-person, impersonal narration authoritatively  competes with first-person narration, and informs us, semi-scientifically, of the inevitability of turning back. On the other hand, glimpses of color include the hope that the railroad guy, a solitary wanderer, might get some relief and a new start after all.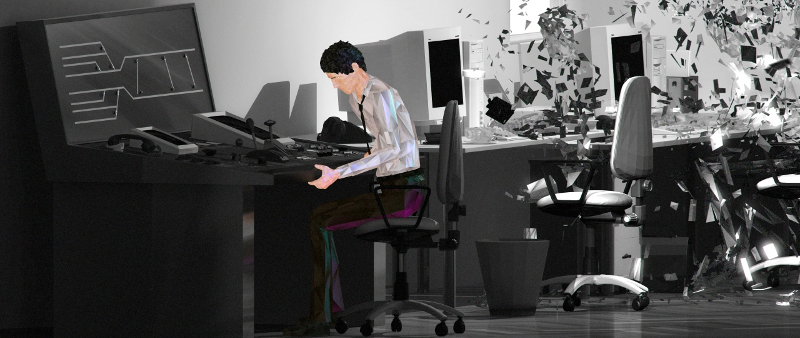 A constant play between empathy and aloofness permeates the whole film. Compare the almost 2-minute car horn of the beginning with the orchestral ensemble of the end (music and sound design: Sina Jakelić).  Aerial shots make the universal more distant, while tracking shots only emphasize the struggle between a man and his fragmented self.
Whatever the outcome may finally be for the character (sea seems to be a haven here), Veljko Popović's Planemo has all the characteristics of a film which painstakingly controls its aesthetic choices, while at the same leaving space for its characters to breathe and confront their own future - a truly remarkable film effort.
CREDITS:
Director, scriptwriter, art director, editor: Veljko Popović
Lead modeler: Milivoj Popović
Animators: Siniša Mataić, Natalia Marcos, Kristijan Dulić
Compositing: Sina Jakelić, Gordan Mihalec, Darko Kokić
Music and sound design: Sina Jakelić
Voices: Ben Colchecster, Christian Galea, Brian Willems, Gwyan Rhabyt
Producers: Veljko Popović, Milivoj Popović (Lemonade3d)
Co-producer: Lado Skorin (3D2D animatori)
Production: Lemonade3d
Distribution: Bonobostudio
SIGN UP: Want to read more free articles like this? Sign up for Our Newsletter
Read More About: