Shorts
SH_T Happens by David Štumpf and Michaela Mihályi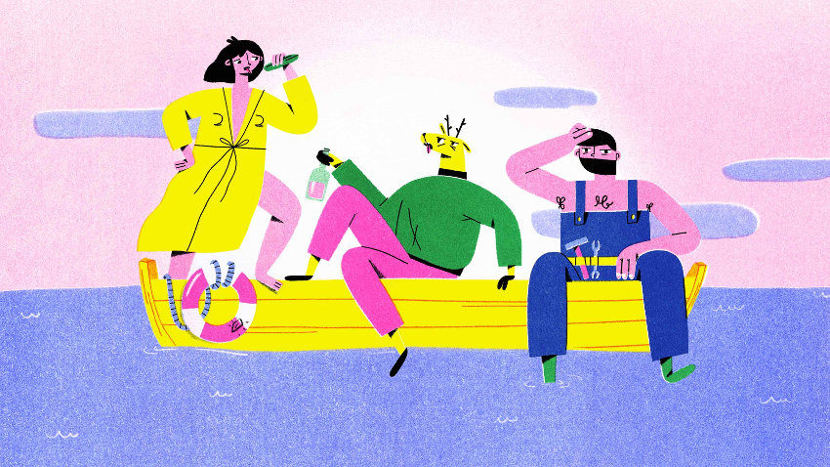 It is radiant, it is appropriately sex-invested, and it is tinged with nostalgia of an era where a healthy dose of sh_t  and comedy manners would help deal with improbable interpersonal relationship problems.
The film SH_T Happens (dash intended) by David Štumpf and Michaela Mihályi has its world premiere at the 76th Venice Film Festival (Orizzonti Short Competition); its directors were "quite shocked and didn't even consider Venice as an option", for Biennale wouldn't  probably select many animated shorts -the 2018 Orizzonti line-up had no animation shorts. Well, things change for the better.
The 2D, 13-minute animated short started out as a FAMU graduation project. David Štumpf had already completed Cowboyland and Michaela Mihályi finished her own Food. Development funding kept the project rolling, and led to the collaboration with Peter Badač (BFILM). Production was financed by Slovak Audiovisual Fund, Czech Film Fund and MEDIA programme. An Annecy MIFA 2018 pitching event led to the co-production with French Bagan Films and the French Arte TV channel.
The caretaker exhausted by everything, his frustrated wife and one totally depressed deer. Their mutual despair leads them to absurd events, because... shit happens all the time - Film Synopsis
Zippy Frames had a short Q&A with both directors:

ZF: How did you come up with the idea for the script? Also, how did you two work together dividing directing duties?

MM - DS: The very base of the film was a part of Michaela's bachelor film, when we were studying at VŠMU in Bratislava 6 years ago. She was developing her script, when the teacher Patrik Pašš jr., came up with the great metaphor for the theme that she was working on. Michaela ended up never finishing VŠMU or the film. At that time, it would probably be very shitty film, ha!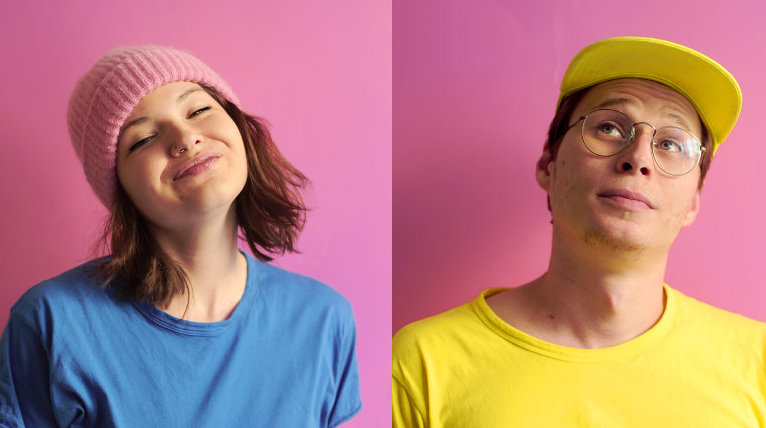 But, we thought the idea had potential, so we teamed up, switched schools and continued to develop it together. Working as a directing duo can sometimes be quite complicated. We worked on a few projects prior to this film already, so we divided our duties in the same way as on our previous projects, the design was in Michaela's hands and the animation in David's. But with writing and directing it was a bit different,​ we decided that the stronger argument wins. ​ We think that it made our film much better, because we had to double check everything. Also the fact that you are not alone in the production aspect of filmmaking made us less afraid of it. On the other hand we argued for hours about the size of the brush for one scene, haha!
ZF: The film has a chapter sequence, right? It actually reminds me of Mikaela's Food film.

MM - DS: We love the use of chapters or any literary elements in the film narrative. We think it is a very creative tool for playing around with the structure of the story-telling. ​ Actually, the division into chapters was one of the first things we decided to use, because it gave us the freedom to experiment with the form and also made our story easier to read.
ZF: Was it the biggest challenge you had to face? The length, the story, the budget or the schedule?
MM - DS: We think there were some challenges in every aspect you mentioned, but writing a story was definitely the longest and the most challenging part of the film. The story has changed dramatically since the start. We were not very experienced in writing, so we had to learn from our mistakes. It took some time to become more confident and trust ourselves with what works and what not. With this nonlinear causality it's really important that everything fits together, so we have been stuck many times over the course of development. The production part was easier, but we worked on a very tight schedule so sometimes it was more of a bootcamp with little time for sleep and loads of coffee.

ZF: David Stumpf's Cowboyland was in black and white, but filled with absurd incidents. Do you multiply those incidents here?

MM - DS: Yes! We love when absurdity builds comedy in the narrative. We love to play a game of "what if?", where you try to find strange and absurd solutions for characters and situations. When we were in the beginning of the writing process the film Wild Tales (Relatos Salvajes) by Damian Szifrón was released, and we were like: "Oh, shit!:  It was quite impressive comedy writing, so it became a big influence on us for this film.

ZF: Why did you decide on hand-drawn 2d, instead of cut-out animation? Because of the film's length?

MM - DS: When we work together, we usually work using digital hand drawn animation, so it was a natural decision for us. On the other hand, a hand-made feeling is really important for us as well, but we knew that we couldn't accomplish it with this length and time. That's why we decided to combine digital hand drawn animation with scanned RISOgraph printed backgrounds. Also we used scanned RISO prints for texturing, so the animation imitates the style of these printed backgrounds and creates a complex feeling of the film.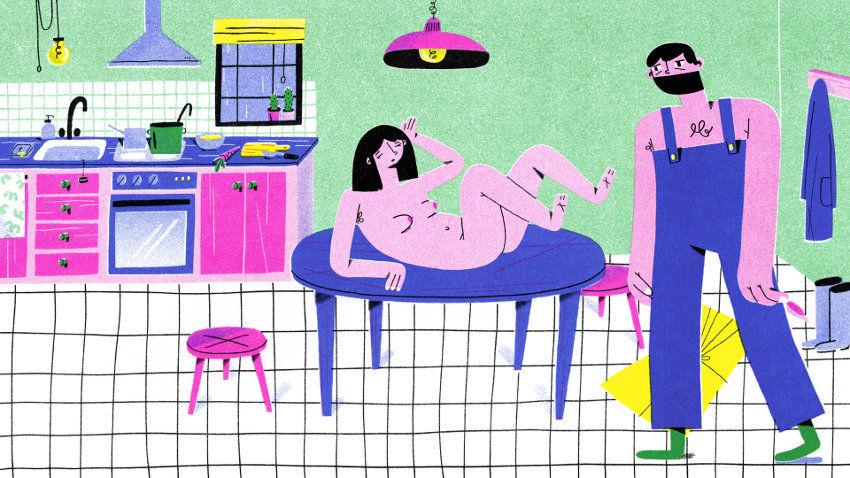 ZF: Any script or design ideas that came up to you, and you had to abandon in the creative process?

MM - DS: We have to let go many, many ideas for script. We really liked some of them, but it simply didn't fit into our story or characters. At first it was the most painful thing to do, but now, when we think of them, we laugh at some of them because they would not definitely work! The same thing happened with design. We were researching multiple possibilities, because we were not satisfied with the first design concepts. This final RISO print design is actually the fourth design concept we tried, and it works perfectly with the film and it's aesthetics. Because the development process took around 4 years on and off, we naturally changed our minds plenty of times.

ZF: Why you need the dash (_) in the film's SH_T title?
MM - DS: It was kind of spontaneous idea. We were discussing the title possibilities with our producer Peter, and when we were talking about the title SHIT HAPPENS, someone pointed out that maybe for some people it can be a little bit vulgar. So we had this idea to put a dash in there, so it won't be a word: shit anymore. But we all know that it is :)

ZF: If you wanted to say one thing about the film and human relationships, what would that be?
MM - DS: Well, shit does happen!


SH_T Happens has its world premiere at the 76th Venice Film Festival (28.08 - 07.09.2019) and its directors are looking forward to watching for the first time the film with an audience.
CREDITS:
SH_T Happens, 2019
Directors: David Štumpf, Michaela Mihályi
Script: David Štumpf, Michaela Mihályi
Producer: BFILM - Peter Badač
Co-producers: BFILM.cz (CZ), Bagan Films (FR) - Patrick Hernandez, Véronique Siegel, FAMU (CZ), Arte (FR)
Art Director: Michaela Mihályi / Animation: David Štumpf
Coloring: Matej Mihályi, Diana Cam Van Nguyen, Kriss Sagan, Bára Halířová, Peter Martinka, Kateřina Karhánková, Michaela Mihályi
Editor: Katarína Pavelková  / Visual postproduction: David Štumpf
Music: Olivier de Palma / Sound Design: Damien Perrollaz, Francesco Porcellana
The project is realized in the co-production of BFILM.cz (CZ), FAMU (CZ), Bagan Films (FR) and Arte (FR). The  realization was supported by Czech Film Fund, Slovak Audiovisual Fund, the programme of European Union Creative Europe MEDIA, CNC, Procirep-Angoa and Literary Fund.

SIGN UP: Want to read more free articles like this? Sign up for Our Newsletter