Shorts
Sleeping with the fishes by Yousif Al-Khalifa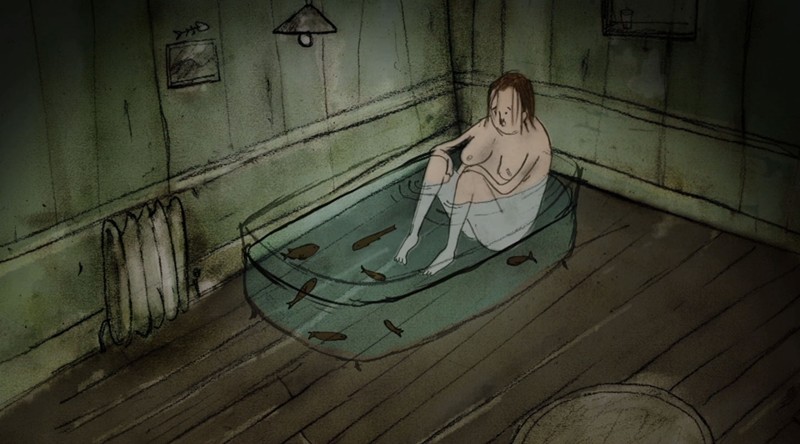 In a water-dominant and imperfect water-colored world, Sonja leads a lonely life as a fishmonger, more at ease with her fish than her customers, until one day a delivery man turns up who looks like a rainbow trout.
Sleeping with the fishes is Yousif's graduation project in the National Film and Television School (2013) and a multiple award recipient -with its most distinguishing success being the prize for Best Animated Short film in 2014's BAFTA awards.
The short offers us an insight into an unconventional love, the story between a socially awkward and phobic of human contact character and a delivery man who tries his best to win her touch and trust by bringing to her the most impressive creatures in the ocean.
From a technical viewpoint, Yousif draws on paper, a seemingly simple but distinct technique, who opens up the creative space for a more poetic, emotional and sentimental approach. The moving smudges, the "unconventional" physical presentation and posture of characters, the vast blue sea, the grotesque plot twist which brings the characters together, all contribute into fabricating a subtle and touching graphic imagery of one of the most important values – the values of love.
Also the realization that all creatures are in need of it, no matter how profound they try to keep it from emerging. Sarah Woolner offers a simple but emotional and sweet storyline and music by Matt Kelly frames this romantic atmosphere with a crafted elegance.
Credits:
Director: Yousif Al-Khalifa
Producer: James Jose Walker
Writer: Sarah Woolner
Editor: Johannes Bock
Lead animation assistant: Chris Wilder
Cinematographer: Timothy Chen
Production designer: Jonathan McGonnell
Sound designer: Nikola Medic
Composer: Matt Kelly
Online editor / Colourist: Doychin Margoevski
Visual effects: Zach Du Toit
Lead Compositor: Paolo Zappala
Production Manager: Derek von Sternick
(c) National Film and Television School 2013
Yousif Al' Khalifa is an animation director/story-artist/writer and animator. He studied Animation at the University of Westminster and completed a master on the Directing Animation course at the National Film and Television School, UK.
SIGN UP: Want to read more free articles like this? Sign up for Our Newsletter
Read More About: