Shorts
Substance by Utrecht School of Arts Students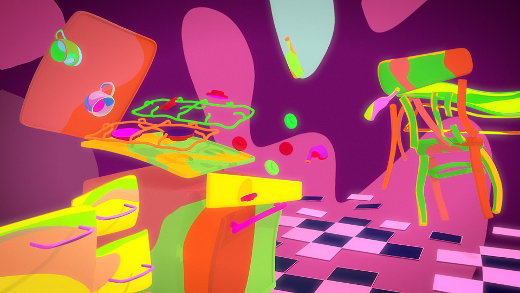 A man driven insane by the loss of his wife finds an unexpected solution.
 The major advantage of Substance is its colored, hallucinatory world that overcomes the gloomy and anguished behavior of the main character.  Not at all a rigidly defined environment, it enhances the feeling of being together in a no man's land.
Quentin Haberham,  Bram Vermaas,  Tim de Haan,  Wesley Vet, Rutgher Jousma, Esther Diepenhorst and Dieuwer Feldbrugge are 4th year animation students at the Utrecht School of the Arts in 2013.
CREDITS
Quentin Haberham – Story & Animation Direction - vimeo.com/quentinhaberham
Bram Vermaas – Story & Technical Direction - vimeo.com/bramvermaas
Tim de Haan – Art Direction & Production - vimeo.com/timdehaan
Wesley Vet – Animation & Editing - vimeo.com/wesleyvet
Rutgher Jousma – Rendering, Lighting, Modeling - vimeo.com/rutgherjousma
Esther Diepenhorst – Modeling & Painting - vimeo.com/waffles
Dieuwer Feldbrugge – Compositing - vimeo.com/dieuwer
Audio by:
Zebracat Productions - facebook.com/zebracatproductions
Read More About: