Shorts
The One-Minute Memoir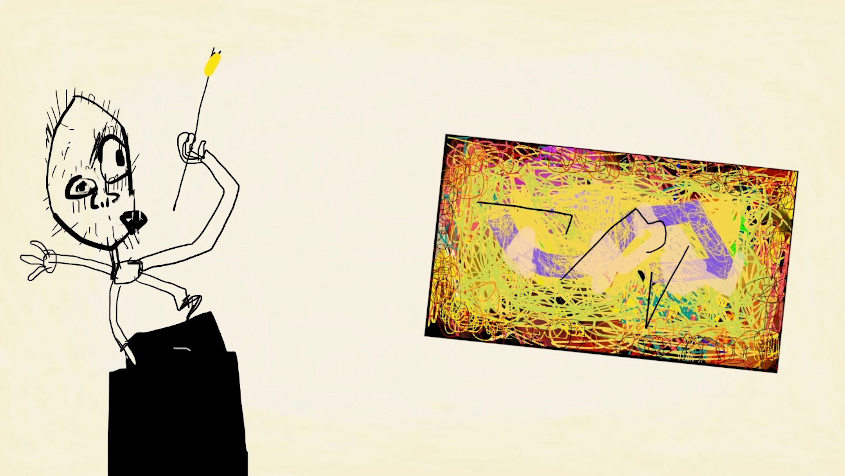 Blah Relief, Chris Hinton
When Academy Award–winning animator and painter Joan Gratz asked eleven filmmakers if they would contribute to an omnibus film, she wasn't sure what to expect—after prompting them to make a "one-minute memoir," she let them figure out the rest. The One-Minute Memoir is the exuberant result: eleven stories ranging from the heartfelt to the absurd, all reflective of each director's personal style.
Here they are: (in sequence order): Chris Hinton, Paul Driessen, Dennis Tupicoff, Joan Gratz, Theodore Ushev, Janet Perlman, Marv Newland, Jim Blashfield, Bill Plympton, Diane Obomsawin, Chel White.
Chris Hinton plays with painting, Janet Perlman plays with her life, Paul Driessen plays with postcards, Joan Gratz plays with the moon, Dennis Tupicoff plays with rivers, Theodore Ushev plays with family hens, Marv Newland plays with sowbugs, Jim Blashfield plays with space, Bill Plympton plays with paper and hamburgers, Diane Obomsawin plays with background memories, and Chel White plays with ageing gravity. Joan C. Gratz directs the whole piece -kudos to composer Judith Gruber-Stitzer, who does her best in holding the whole aurally together.
Watch The One-Minute Memoir (Available till 7 June 2020)
CREDITS:
Director-Producer: Joan C. Gratz
Screenwriter: Chris Hinton, Paul Driessen, Dennis Tupicoff, Joan Gratz, Theodore Ushev, Janet Perlman, Marv Newland, Jim Blashfield, Bill Plympton, Diane Obomsawin, Chel White
Cinematographer: Chris Hinton, Paul Driessen, Dennis Tupicoff, Joan Gratz, Theodore Ushev, Janet Perlman, Marv Newland, Jim Blashfield, Bill Plympton, Diane Obomsawin, Chel White
Editor: Joan C. Gratz
Composer: Judith Gruber-Stitzer
US Distributor: Gratzfilm
Sequence Director: Chris Hinton, Paul Driessen, Dennis Tupicoff, Joan Gratz, Theodore Ushev, Janet Perlman, Marv Newland, Jim Blashfield, Bill Plympton, Diane Obomsawin, Chel White
The programme premiered as part of the global festival initiiative We Are One (Annecy Festival contribution),
SIGN UP: Want to read more free articles like this? Sign up for Our Newsletter