Shorts
Wade by Upamanyu Bhattacharyya & Kalp Sanghvi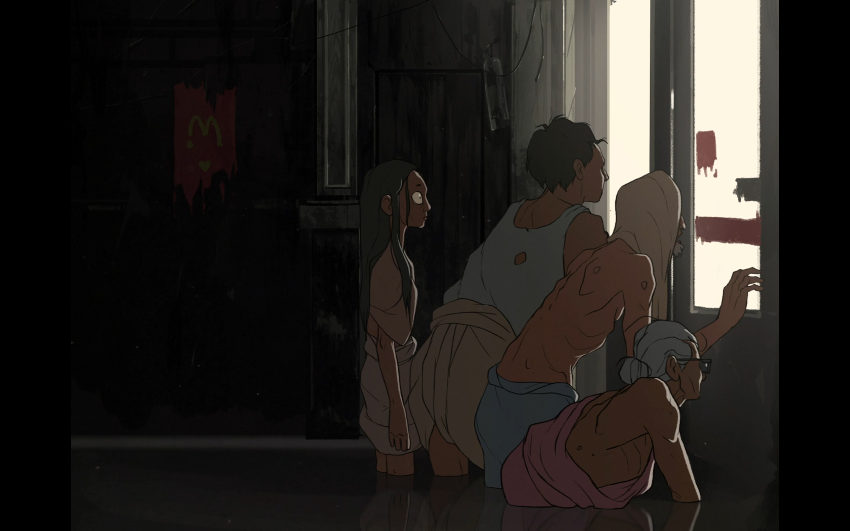 Wade by Upamanyu Bhattacharyya & Kalp Sanghvi is the product of Kolkata-based Ghost Animation studio and a product of Kolkata city itself in a way. An unapologetic statement about the environmental crisis, the 2D animation film, which started in 2016, presents a struggle for survival coming out of a paranoid world, full of news of rising temperatures, melting ice, etc.
Bhattacharyya & Sanghvi first read an article about an island sinking in the Sundarban Delta (just to the south of Kolkata) because of rising sea levels, leaving hundreds of residents displaced as a consequence. The lack of public and palpable response gave out the idea for a film that visualizes Kolkata's future.
"Climate change probably won't look like one world-ending tsunami" the directors tell Zippy Frames. "It may be more discrete, annoying even, creeping slowly into our lives and making survival more and more difficult over the years".
The early versions of the script contained a simple standoff between some people and a tiger.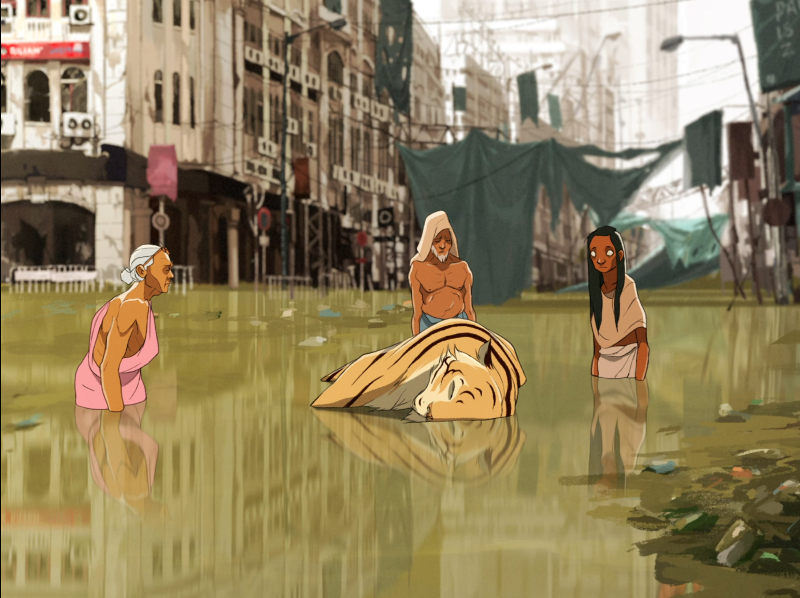 Yet research into climate change literature and people being forced to make choices in order to survive. In the finished version, there is a pregnant tiger and mother, tigers walk into water, the blind child and other supporting characters.
"We read about the potential evolution of 'super-species'" Bhattacharyya & Sanghvi explain, "which are very good at surviving the new environment when climate change wipes out large groups of living beings. We then felt the need to add that in, along with an overarching sense of balancing an equation. Conceptually, we became interested in how nature 'balances' things out when a life is unfairly lost. So, we added these new characters to represent these ideas".
Watch Wade by Ghost Animation
The film, a co-joint effort between the two directors had to represent faithfully Kolkata's life after the catastrophe, as well as its colors and aesthetics. A lot of buildings, abandoned advertisements etc. appear in the film. "Kolkata is not as immediately recognizable as a New York or Paris" Bhattacharyya & Sanghvi elaborate. The audience would need to see the city as a character as if transported there, and slowly uncover the history of the space from clues (wall graffiti, posters and damage). "To us, more than the obvious environmental damage, it was significant that signs of major social upheaval also be apparent".
The co-directors handled most processes jointly, and the team came together in 2016; seven animators helped realize the first batch of line tests. In need of more funds to animate the film, the team went on to a successful crowdfunding campaign (also reported at Zippy Frames); a two-month advance planning led Wade to hit its fund target in just two days (the campaign ended a month later well over the intended amount). " It was very heartwarming to see a lot of artists contributing promotional artwork based on the premise" Wade directors state. "We were able to post them for a sustained period to our social media networks and build intrigue in the idea of tigers in a flooded Kolkata. It also gave the project a lot of visibility and the impetus it needed to carry on to the finish line".
About 30 artists contributed to the film, which shares the aesthetics of traditional art from Kolkata itself. "It manifests in how eyes are drawn, and it also manifests in character construction. For instance, in the way, the male lead wears a mask on the back of his face. When local people enter the tiger-infested forests for resources, they try to avoid being attacked by a tiger from behind by tricking the tiger into thinking it is being 'watched'. Ironically, the trick doesn't work for our character."
Upamanyu Bhattacharyya & Kalp Sanghvi learned the animation medium as 2D animators and used 2D animation to depict both imperfections and details -plus see what it would be like to make a large 2D indie animated project in India.
"We made an attempt at a grim colour palette as seen in the first trailer. However, it was vastly improved by the efforts of Sandhya Prabhat, who helped us with the color design for the film. We gave her adjectives and asked that the heat in the environment and the stench be very apparent to the viewers. So she took frames from our animatic and made us palettes which we would retain for the whole film".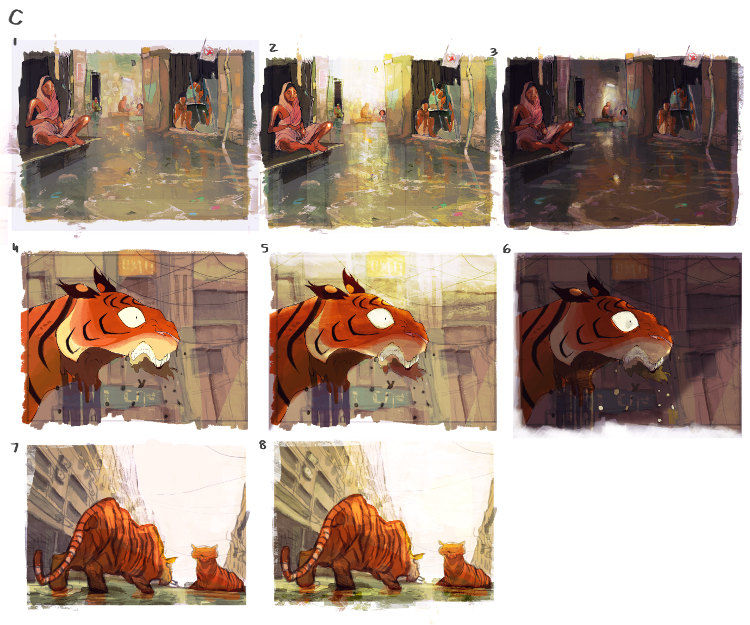 Sound here complements the tense atmosphere and (sometimes) violent film images. "We worked closely with Troy Vasanth, our sound designer, to make an effective soundscape for the film. We definitely required a tense sense of unease, and we asked him to establish and subsequently break sound patterns to throw off audience expectations frequently. He used very faint 'ghost' sounds of the city that was (rattling trains, cheerful crowds) to act like whispers in the deserted environment which is otherwise overrun by the sounds of the wild". In music, distinct themes were composed especially to herald magic and supernatural elements.
The film with the fight between tigers and helpless and mute humans as observers mirrors closely our own perceived fate in the face of climate change. "The people are forced to, for instance, sacrifice their own kind in order to save their own skins, as opposed to being able to meaningfully affect the outcome of the standoff in any way".
Both directors live and work in Kolkata which, being close to the delta, is in serious danger of being hit by the effects of climate change. "Climate change creeps closer to us every day, every year. Some islands in the delta in the Sundarbans nearby have been observably sinking due to sea level rise, so it's no surprise that Kolkata too is living on borrowed time", Bhattacharyya & Sanghvi report.
More than the understandable experience and newfound skills they all learned by making Wade, directors want to pass the torch to other filmmakers, writers and artists to talk about environmental climate change. "It's become more important than ever to work it onto our storytelling and engage with what our lives and societies look like post-global warming. It needs to find a space in festival programs around the world, and generally to be given more importance in our discourse and daily habits". Can't agree more.
Film Review (Vassilis Kroustallis):
The water as the primordial element that sustains and devours everything is omnipresent in this energizing and gripping environmental thriller Wade by Upamanyu Bhattacharyya & Kalp Sanghvi. Kolkata is another silent hero in the fight for survival unfolding among Bengal tigers, with humans both victims and observers. The washed-out color palette of the film somehow enhances (instead of diminishing) intensity. The abandoned cityscape and humans mix together in inertia, whereas tigers here undertake the role of the agent. Yet, it would be simplistic to describe Wade as exclusively a case of a post-climate change struggle for survival. Its narrative works like a calculated ebb and flow of abandoned hopes to be thrown away and again resurrected. While its subject matter invites despair (and the sound design carefully augments it), the individual fates of its members are both uncertain and perhaps even hopeful; this delicate contradiction in the film is depicted by the blind child in a raft made of plastic; whatever does not kill you, it can be of help to you, as long as you cannot see the underlying ugliness. A film that utilizes its themes in a resourceful way.
CREDITS:
Written and directed by: Upamanyu Bhattacharyya & Kalp Sanghvi | Key Animation: Anwaar Alam, Gaurav Wakankar, Shaheen Sheriff, Nikunj Patel, Upamanyu Bhattacharyya, Kalp Sanghvi | Music and Sound Design: Troy Vasanth Associate Producers: Arya A Menon, Prateek Sethi, Paolo Polesello

SIGN UP: Want to read more free articles like this? Sign up for Our Newsletter