Shorts
Welcome to the Welcome by Gabriela Sibilska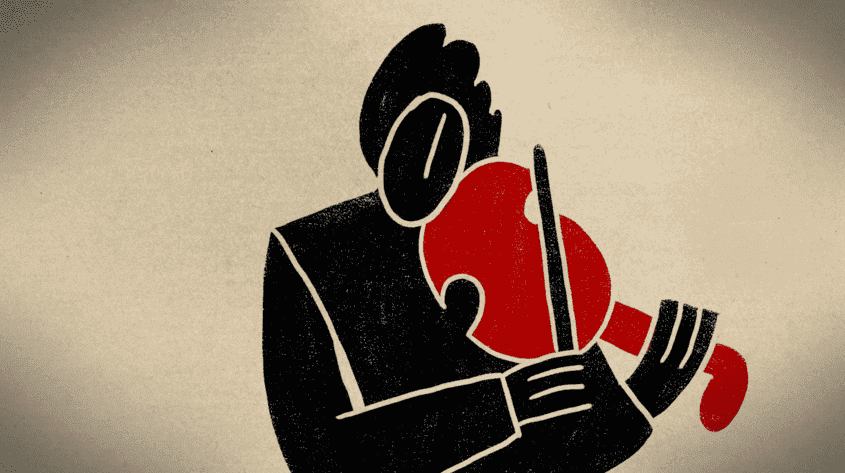 Animation director Gabriela Sibilska directs the 'Welcome to the Welcome' music video; this is a digitally hand-drawn music video for violinist Zoë Aqua. Inspired by traditional Transilvanian embroidery and folk art imagery. the film is sponsored by David Shneer New Yiddish Culture Grant. 
Gabriela Sibilska talks to Zippy Frames.
ZF: This is a breezy song and rhythm, but also a very cultural-specific one. Tell us the story about your own research for the film and how the music artist approached you (with a full-fledged concept or an idea etc).
GS: The artist approached me with an open mind and lots of enthusiasm, which made it just such a lovely experience overall. Zoë Aqua is a composer and violinist currently based in Transylvania (Romania), where she researches folk music transmission. For this album, she collaborated with local Hungarian and Transylvanian musicians. We started off by just having a very relaxed conversation about the visual inspirations she has been surrounded by during her time in Romania. One of the first things she mentioned was a horse carriage or the storks. We also talked about traditional tapestries and embroidery. I grew up in Poland and I could tell there was a lot of overlap between my native Slavic visual universe and the type of imagery Zoë had been immersed in over the past 11 months. It was like an instant click, and I knew what the video would look like. On top of gathering visual references on my own and receiving lots of reference photos Zoë herself took during her time in Transylvania, I also took a lot from my own personal aesthetic experiences.
Watch Welcome to the Welcome:
ZF: Did you use symbols from the Yiddish tradition or improvised?
GS: The album is a combination of a lot of genres including klezmer, Transylvanian music, Hungarian, Romanian, Hasidic, and Yiddish songs. We discussed incorporating certain Yiddish symbols but ultimately decided to focus on visual inspirations from present-day Transylvania and, more generally, Eastern European folk art.
ZF: The song is almost 6 minutes long, but you understandably only used an excerpt for the video. How did you choose this specific excerpt instead of others?
GS: Yes! I wish we could keep this going for all 6 minutes but it just wasn't possible. Once we figured out how long of an excerpt we were able to produce, the musician herself came up with this choice. We wanted to go with a part that would feel self-contained within the time restraints, and also looked for something energetic and upbeat.
ZF: The visual design has evident and broad strokes for its characters, and the color contrast is always pertinent. Tell us a little bit more about the design (was it completely digital as well?) Also, about the people who helped you.
GS: Yes, the whole animation is digitally drawn in Photoshop. I knew from the beginning I wanted to keep the animation fairly monochromatic and with simplified shapes, and I took great inspiration from traditional Eastern European embroidery, as well as woodcuts and linocuts. The character design for example is very strongly influenced by the linocuts of a Czech artist, Miroslav Houra. I got some excellent animation contributions from Emily Downe of the London-based Studio Desk. I had worked with Emily on a number of projects as a clean-up artist and I have learned a lot from her, so it was really great to have her as an animator on a project of mine. I also received some much-needed assistance from a brilliant artist and educator (and my former roommate) Hoda Ramy, who is known to come in and save the day whenever I need help completing my projects.
ZF: Usually, time is crucial in those assignments. Was it in your case as well?
GS: Zoë had reached out to me way back before we were given the grant to sponsor this production, so this video had been on my radar and in my head for a long time. But once the preproduction process was finished, the actual animation stage took only about 12 days.
ZF: Commissioned works are usually tailormade to the 'client's needs, but did you learn something from making this film?
GS: Definitely! I was given so much freedom in this commission and I was able to revisit some of the imagery I grew up surrounded by and explore new ways of non-narrative visual storytelling. This was also my first time working with this kind of music, and I felt that it added a whole new dimension to how I think about progressing from scene to scene through sound.
Film Review (Vassilis Kroustallis):

It flows like a bird and like the violin sound it accompanies; 'Welcome to the Welcome' makes sure that we get acquainted with both the natural and folk cultural elements of non-urban Eastern European life, at the same time putting them together in a well-designed mix of plants, animals and people -and musicians. It has energy, style and warmth.
Credits:
 'Welcome to the Welcome' | Designed and directed by Gabriela Sibilska | Animated by Gabriela Sibilska, Emily Downe, and Hoda Ramy
About Gabriela Sibilska:
Gabriela is an animator from Warsaw, Poland, who specializes in graphic and motion design for musical artists. She is best known for her work on music videos and visualizers. In addition to content creation, Gabriela often collaborates with musicians by producing stage projections for live performances. Her visual sets have screened at New York City's leading music venues, such as Elsewhere or The Bowery Electric. Her short films and music videos have been screened at festivals worldwide, including London International Animation Festival, Animateka, BFI Film Festival, and Aesthetica Short Film Festival. Gabriela holds an MA in Media Studies from the Pratt Institute as well as a BA in Media and Communications from Goldsmiths, University of London. She also graduated from Gobelins École de l'image in Paris Intensive Program in Character Animation. Coming from a Media Arts background, Gabriela always seeks to push the boundaries of her visual arts practice by incorporating experimental techniques and mixed media in her animations.
SIGN UP: Want to read more free articles like this? Sign up for Our Newsletter
Read More About: