Shorts
What They Will Think About You by Paulina Ziolkowska and ACUA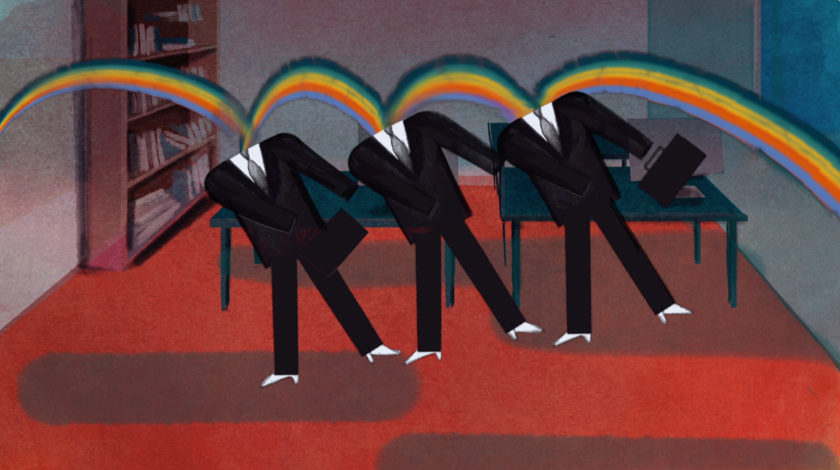 Paulina Ziolkowska is known for her quirky and  stylish shorts 'Oh Mother!' (2017) and 'Bless You' (2018). Here she collaborates with the ACUA band on the music video 'What They Will Think About You'.
Julia Lewicka talked to both ACUA and Paulina Ziolkowska.
Interview with ACUA
ZF: You have worked with other artists before to create animated music videos for your songs. What led you to work with Paulina Ziółkowska to create this one?
A: Right from the start we knew that we wanted an animated music video for our song 'What Will They Think About You'. So we did some research on Vimeo, which is where we had already discovered some artists we previously worked with. Paulina's channel amazed us right away because she has a very unique style. Her work is different from others and we were looking for something that would stand out from the rest. We also find that there is a level of detail and emotion in her videos that suits the song perfectly.
ZF: What does the creative process for the music video look like from your side: did you have a specific idea in mind when commissioning Paulina or did she have free reign over the visuals?
A: We liked the idea of giving Paulina as much creative freedom as possible. Before she started working on the project, we had a skype meeting to talk about the lyrics and the message of the song. For us, it was important to make sure that is reflected in the video. We also developed a color concept based on our artworks to create a connection between the different visual parts of our album. We then discussed the first sketches, backgrounds, and animations. It was great to give some input and see Paulina adapting everything in such an amazing way. We are extremely happy with the final video.
ZF: For the album, you also collaborate with Rufus Krieger, who made the album artwork. In spite of the artists' distinctive visual styles, the artwork and music video for the song mesh well with each other. What made you decide to go in this direction for your album?
A: We already worked with Rufus Krieger for our first album 'Head Under Water' in 2019/ 2020 and we are simply in love with his work. He lives in our beloved hometown, so we could meet up several times and talk about ideas, visions, concepts, and colors. We fully trust him and his work and he always comes up with amazing artworks. Like Paulina, he has a very unique style. As mentioned earlier, we tried to connect their work by using similar colors for the video as Rufus did for his artworks.
Watch the What They Will Think About You:
Interview with Paulina Ziołkowska
ZF: From what I have seen of your works, this is the first music video you have created. In your previous short films, you feature many sound effects as well as various forms of background music. How was this experience of creating an animation for a preexisting soundtrack different? Would you say you enjoy one or the other more?
PZ: I usually work on sound and animation in parallel. I like this interdependence, how sound and animation influence each other, change their meaning. Creating an animation to music was a new experience. I did not have the opportunity to interfere with the sounds and bend them to animation. But limitations are good for creativity, so I had fun creating the video.
ZF: Can you walk us through your creative process for this music video?
PZ: Listening to the song in the car, at breakfast, on the way to work, many many many times. Listening to the lyrics of a song and then forgetting them. Because then only the essence of the song, its meaning, remains. And that's the point I came from. I remember especially the phrase - ''don't care too much, boy. But watch out!''. To me, the song was about the heavy emphasis on being yourself, following the dreams and happiness that overwhelm a lot of people. A song about apparent freedom. And starting with those images - a man overwhelmed by a rainbow and walking down an avenue of stars that pull him down to earth - I started building the animation.
ZF: Throughout your animated films, especially the more recent works, you have developed a very distinctive style. How did it come to be?
PZ: I really like colors. Mixing colors and layering different textures. It gives me a lot of pleasure. Sometimes I try to keep the backgrounds simpler, but they get out of control and end up looking the way they look. I really like looking at Polish posters. The older ones from the 60s as well as the modern ones. They are amazing in terms of art and in one picture they convey a lot of content and transmit ideas. I am captivated by this visual language. I often refer to posters as a source of inspiration. In the case of the video, I tried to refer to the album cover and the band's poster but kept my own style.
Film Review (Julia Lewicka):
The music video for ACUA's 'What Will They Think About You', animated by Paulina Ziółkowska, follows the main character who is continuously mistreated by those around him: people throw things at him, attack him, push him around, etcetera. Throughout it all, he remains indifferent, even as others around him are affected in various ways. The video ends with the main character burdened by the weight of ignoring the actions of everyone else. These visuals are made more impactful with Ziółkowska's distinctive style, which features a masterful use of color and implements many textures that give the animation a more gritty look, making it match the song perfectly. The overall video is a worthwhile experience, fulfilling for both the eyes and the ears.
About Paulina Ziołkowska:
Paulina Ziołkowska is a polish film director, 2D Animator and illustrator based in Berlin/Mexico City. She studied animation at Lodz Film School in Poland and at Filmuniversity Babelsberg. Her debut film 'Oh Mother!' (2017) was screened in many festivals worldwide, and won many prizes. Her next film 'Bless you!' (2018) amongst others has won a special mention at 68th Berlinale and a special mention at AnimaFest in Zagreb. Her films have been shown at festivals like Clermont-Ferrand, Annecy, Krakowski Festiwal Filmowy, Melbourne IFF, Ottawa IAF, Stuttgart, and BOGOSHORTS. She took part in the Fontevraud residency and TAIS residency in Toronto.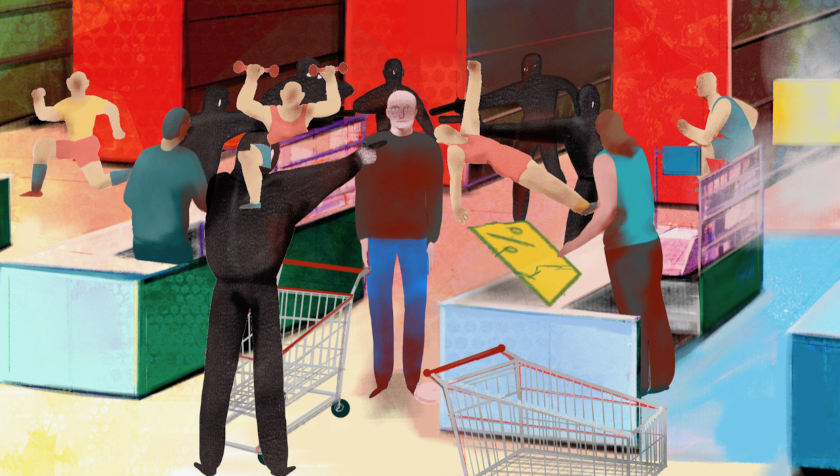 About ACUA:
ACUA is a Psych Pop/Alternative band from Cologne, Germany. They have been active since 2018 and built up a remarkable international reputation before the pandemic, going on tour in Canada from Toronto to Vancouver. In early 2020, they performed 8 shows in Japan across various cities, from Tokyo to Takamatsu. In addition to being a support act for FKJ, Japanese House, and OMNI, they played over 50 shows in the run-up to their debut album. Now they continue their journey by publishing their 2nd album, coming out this summer on Papercup Records.
Credits:
What Will They Think About You (song/music video, 3:50)
Artist: ACUA | Director: Paulina Ziółkowska | Album: What Will They Think About You | Licensed to YouTube by Believe Music (on behalf of Papercup Records)
Contributed by: Julia Lewicka
SIGN UP: Want to read more free articles like this? Sign up for Our Newsletter
Read More About: